Acclaimed author Margaret Atwood praises UCD alumnus James Joyce ahead of Bloomsday
Posted 15 June, 2018

Acclaimed author Margaret Atwood has lavished praise on UCD alumnus James Joyce for forcing the literary world to accept the "warts of man".

Ahead of this weekend's Bloomsday, the famed 'The Handmaid's Tale' novelist said it could not be "overestimated" how important the Irish writer's depiction of fictional hero Leopold Bloom in Ulysses was to developing modern literature.
"Leopold was not exactly Love's young dream… [but] serious novelists in the 20th century usually opted for Bloom while poor Heathcliff has been regulated to the gothic romance.
"Ulysses moved the needle in the direction of warts, that's why it was so widely ban… because it drew attention to the essential human," she added.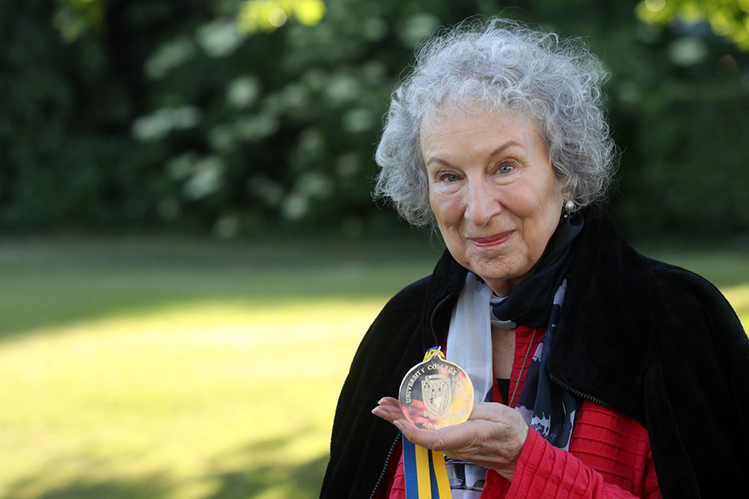 Acclaimed author and poet Margaret Atwood with her Ulysses Medal
The celebrated novelist made her touching remarks about Joyce, who graduated from UCD in 1902, while accepting a Ulysses Medal at the recent University event 'Imagining: Home', organised by the College of Arts and Humanities.

The evening was a celebration of the deep literary connections between Canada and Ireland.
The Canadian received the award, presented to her by UCD President Professor Andrew J Deeks, for her outstanding global contribution to literature.
As a writer and poet, Atwood has penned more than forty books of fiction, poetry, and critical essays encompassing a variety of themes including the power of language, gender and identity, religion and myth, climate change, and "power politics.

Inaugurated in 2005, the UCD Ulysses Medal is the highest honour the University can bestow, and was created to highlight the creative brilliance of UCD alumnus James Joyce.
Other recipients of the award include poet Seamus Heaney, Professor Noam Chomsky, and former US president Bill Clinton.

By: David Kearns, Digital Journalist / Media Officer