Eight UCD academics awarded Royal Irish Academy overseas research grants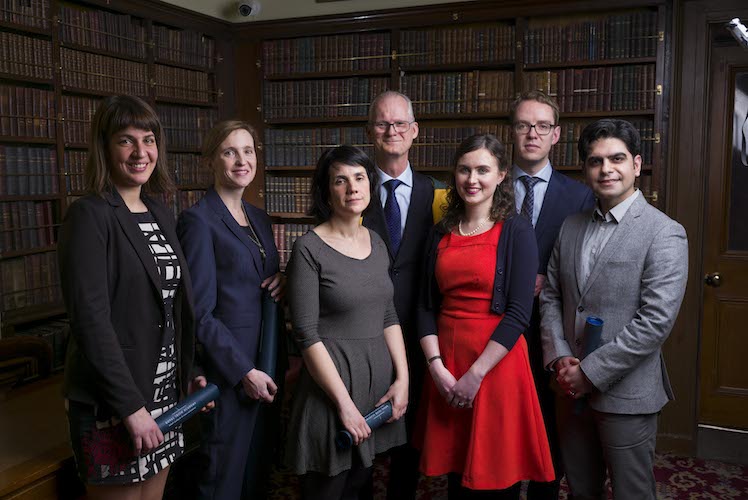 Pictured above: Dr Laia Comas Bru; Dr Ailise Bulfin; Dr Lola Yeasares; Professor Michael Peter Kennedy, President of the Royal Irish Academy; Dr Cliodhna O'Connor; Dr Mark Coen; Dr Abdollah Malekjafarian; missing from the group of UCD Charlemont grant recipients are Dr Alexander Dukalskis and Dr Colin Byrne
Posted: March 14, 2018
Eight postdoctoral researchers at University College Dublin have been honoured with Charlemont Grants by the Royal Irish Academy.
This is the highest number of the research funding awards granted to academics at any third-level institution in Ireland.
The scheme is a travel grants scheme aimed at early-career postdoctoral researchers who are not more than seven years past the award of their PhDs. It facilitates short international visits for the conduct of primary research in any subject area.
Charlemont grantees are drawn from the humanities, social sciences and natural sciences on the island of Ireland.
Professor Michael Peter Kennedy, President of the Royal Irish Academy, presented the 2018 Charlemont scholars with their certificates.
"These awards are designed to act as a career springboard by assisting scholars in strengthening their international mobility and developing international collaborative networks," he said.
The scheme fulfils one of the RIA's fundamental missions by identifying and encouraging excellence in all areas of Irish scholarship and facilitating research on an international stage.
It also facilitates applications from international scholars to visit Ireland, provided an Irish-based scholar is willing to act as host.
The key objectives of the scheme are:
to initiate one-to-one collaborations
to explore opportunities to build lasting networks
to facilitate initial project planning and development to gain access to ideas, research facilities and complementary equipment abroad
to support the direct costs of research
The Charlemont awards scheme was named in honour of the Academy's first president, and notable Grand Tourist, James Caulfield, the first Earl of Charlemont (1728–99).
This year, academics at the following third-level institutions received Charlemont Grants: University College Dublin (8); Trinity College Dublin, University College Cork, National University of Ireland Galway (3); Maynooth University, Dublin City University, Independents (2); Queens University Belfast, Dublin Institute of Advanced Studies, Royal College of Surgeons Ireland, Cork Institute of Technology, University of Limerick (1).
The recipients of the awards from UCD are:
Humanities and Social Sciences
Dr Ailise Bulfin, UCD School of English Drama and FilmResearch areas: English studies; History; Medical humanities Title: Cultural representations of child sexual abuse: the myths and the fears Visiting: British Library and Wellcome Library, London, UK
Dr Mark Coen, UCD Sutherland School of LawResearch area: LawTitle: Empirical Jury Research and Question Trails: Insights from New Zealand Visiting: University of Victoria, Wellington, New Zealand
Dr Alexander Dukalskis, UCD School of Politics and International RelationsResearch area: Political science; Asian studies KoreaTitle: Social Changes and Authoritarian Resilience in North Korea Visiting: University, Seoul, South Korea
Dr Cliodhna O'Connor, UCD School of Medicine Research area: PsychologyTitle: Prevalence and patterns of diagnostic transitions in an electronic mental health case register Visiting: King's College, London, UK
Sciences
Dr Colin Byrne, UCD School of Agriculture and Food Science Research areas: Reproductive physiology Title: The effect of pre and post-natal nutrition on neuroendocrine regulation of puberty in cattle Visiting: Texas A&M University, USA
Dr Abdollah Malekjafarian, UCD School of Civil Engineering Research area: Structural health monitoring Title: Drive-by Railway Track Profile/Stiffness Monitoring Using an Operational Train Visiting: University of Alberta, Canada
Dr Laia Comas Bru, UCD School of Earth Sciences Research area: Palaeoclimate Title: First climate model evaluations using the SISAL speleothem database Visiting: University of Reading, UK and Alfred Wegener Institute, Germany
Dr Lola Yesares, UCD School of Earth Sciences Research area: Earth science Title: Sulphur isotope tracing of links between metal-bearing fluids in the Navan Zn-Pb deposit and its geochemical halo: a new exploration tool Visiting: Scottish Universities Environmental Research Centre (SUERC), Scotland, UK
By: Jamie Deasy, digital journalist, UCD University Relations