SFI names UCD researcher Eoin Casey as Entrepreneur of the Year
Posted 15 November, 2018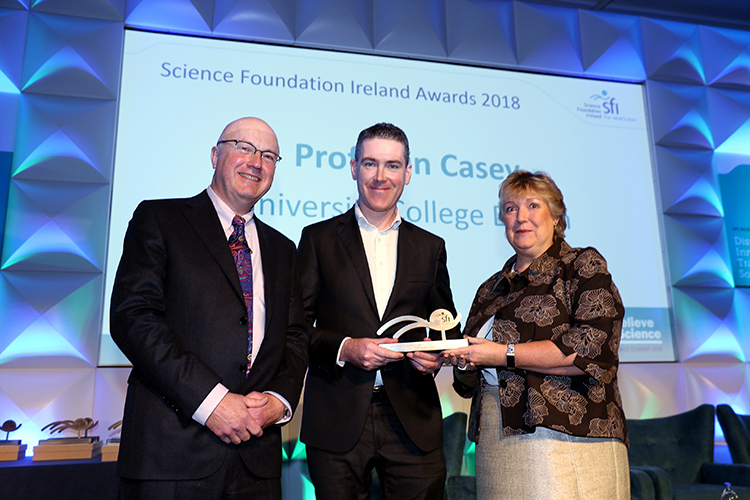 Professor Mark Ferguson, SFI Director General, Professor Eoin Casey, UCD, and Dr Orlaigh Quinn, Secretary General, Department Business, Enterprise and Innovation
Professor Eoin Casey named SFI's Entrepreneur of the Year.
In 2007 patented a new energy efficient method to treat wastewater and sewage.
Co-founded OxyMem, which is involved in 30 major water treatment projects around the world.
A UCD scientist at the forefront of wastewater treatment has received the Science Foundation Ireland (SFI) Entrepreneur of the Year 2018 award.
Professor Eoin Casey, Head at the UCD School of Chemical and Bioprocess Engineering and principal investigator at the BEACON SFI Research Centre, received the prize at this year's SFI Science Summit.

A leading researcher in water treatment processes, the UCD researcher has pioneered a new technique for treating wastewater that is nearly 75% more energy efficient than current methods.
On receiving the award, Professor Casey said it was encouraging to be recognised for the work he and his team had undertaking.
"I would like to acknowledge the excellent and innovative work by the researchers in my group over the years and this Award helps showcase that curiosity-driven research can, in the long term, have a tangible impact on society," he added.
In 2007 Professor Casey filed patent on a new technology, the Membrane Aerated Biofilm Reactor (MABR), to treat wastewater.
Initial small-scale experiments at UCD, and a scaled-up experiment in a large wastewater plant, demonstrated that MABR used vastly less energy compared to the common treatment method known as Activated Sludge.
Developed more a than a century ago, this process uses air to encouraged the growth of a biological 'soup' which digests organic content and pollutants in the sewage.
The process is considered highly inefficient and requires as much as 2-3% of a nation's electricity demands.
Congratulations to Prof Eoin Casey of @ucddublin @UCDEngArch, the very deserving winner of the @scienceirel Entrepreneurship Award 2018. pic.twitter.com/IOcqp0Vn76

— Orla Feely (@OrlaFeely) November 12, 2018
Following patenting of the MABR technology, with the support of the UCD technology transfer team at NovaUCD, Professor Casey co-founded OxyMem, as a UCD spin-out company to commercialise the technology, along with Dr Eoin Syron and Wayne Byrne.
Initial seed funding enabled OxyMem to establish its manufacturing facilities, in Athlone, Co. Westmeath, and complete field trials of its technology.

Following the success of these field trials the OxyMem technology has now been deployed, at commercial scale, in 30 major water treatment projects in 14 countries around the world.
Professor Orla Feely, UCD Vice-President for Research, Innovation and Impact said: "As a member of the OxyMem leadership team Professor Casey has helped the company create jobs, especially in the Athlone area to boost local employment, to grow and to secure clients around the world.
"The company which has secured several million euro in investment has already earned worldwide recognition as it has twice been included in Cleantech Group's list of the 100 most innovative firms in the cleantech sector globally."
Speaking at the 2018 SFI Science Summit, Minister for Business, Enterprise and Innovation Heather Humphreys paid tribute to the outstanding work of the awardees.

"The recipients are among Ireland's top researchers and the awards recognise the contribution they are making in a number of areas including industry collaborations, entrepreneurship, communication and public engagement.

"I would like to congratulate each awardee on their tremendous achievements, their discoveries will bring economic growth and societal development in Ireland."
Professor Casey's research activities are supported by SFI, along with the European Research Council, Horizon 2020, Irish Research Council, Enterprise Ireland, and industry.
By: David Kearns, Digital Journalist / Media Officer, UCD University Relations