Art exhibition highlights "everyday indignities" of life in Irish prisons
Posted 20 November, 2018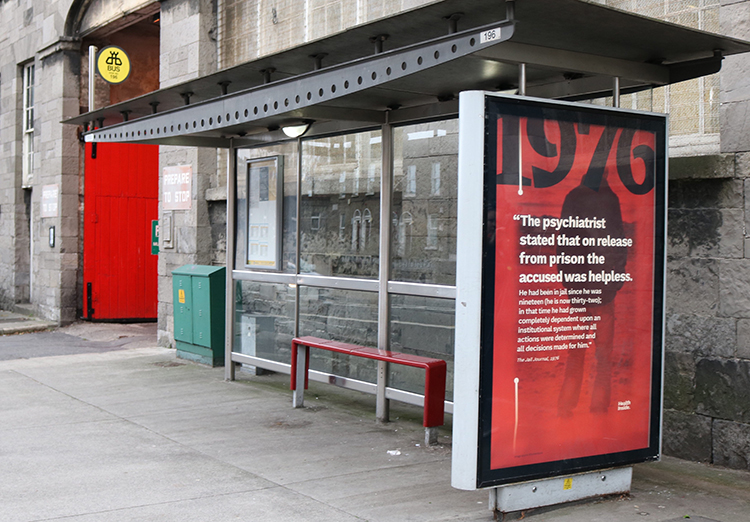 An example of the artwork displayed on a bus shelter near Mountjoy Prison. Photo: Sinead McCann/Health Inside
A new public art exhibition about prisoner health concerns has gone on display near Mountjoy Prison in North Dublin.
Funded by the Arts Council, it offers the public a series of thought provoking posters on healthcare in Irish prison during the nineteenth and twentieth centuries.
Across eight bus shelters and two billboards, the collaborative public exhibition, entitled Health Inside, is the work of visual artist Dr Sinéad McCann and Associate Professor Catherine Cox and Dr Oisín Wall, from the UCD School of History.
The artwork is part of 'Prisoners, Medical Care and Entitlement to Health in England and Ireland, 1850-2000', a five-year project funded by the Wellcome Trust and tasked with examining historical topics that resonate with current concerns in the prison service.

Director of the UCD Centre for the History of Medicine, Associate Professor Cox is a co-principal investigator of the project.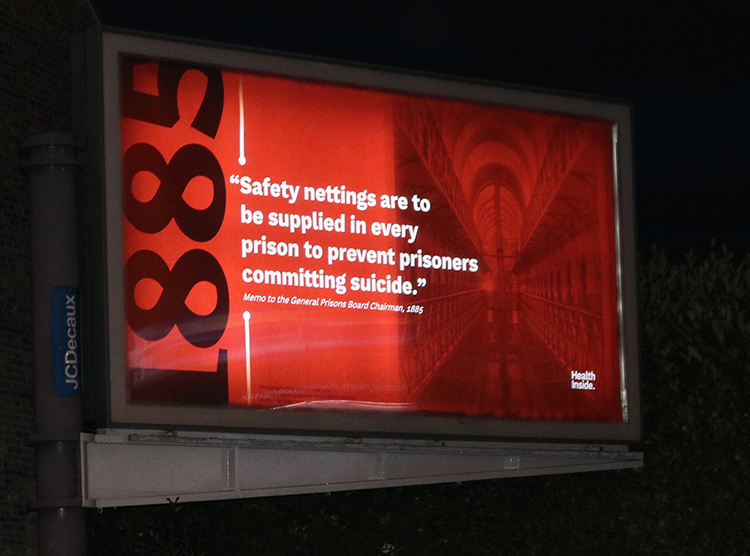 A billboard next to Mountjoy Prison displaying one of the art pieces. Photo: Sinead McCann/Health Inside
Health Inside features material and images collected from archival photos, and includes images of:
· A child convict held at Mountjoy Convict Prison, 1857.
· Suicide-prevention netting at an Irish prison during the First World War, 1918.
· Images from inside Dundrum Mental Hospital, 1971.
· And street scenes from the inner city of Dublin taken in the 1970s.
The photographs are woven together with quotes from Irish historical sources such as the 1867 Prison Inspectors Report; Correspondence to the General Prison Boards, 1885; the Prisoners Rights Organisation Report for 1978; and The Jail Journal (1973-76).
Their location near Mountjoy Prison is important, explains Dr McCann, as it displaces what the public might consider traditional advertising.
"Walls [are] a place keep people in but also keep people out," she told TheJournal.
"It's a powerful gesture to make artwork and place billboards besides a prison; to make experiences outside prison visible on outside walls so people could get a view in."
Dr Wall noted that the quotations used expose the "little everyday indignities that you get in prison", and while some were of their time, the hope was for the public see them and question what sort of indignities might be happening within Irish prisons today.
"The Irish prison system has come on in leaps and bounds… [but] I think that the obscuring of prisoners, and of prisoners' lives, really contributes to the very easy dehumanisation you come across often in literature, press, TV," he told TheJournal.
By: David Kearns, Digital Journalist / Media Officer, UCD University Relations