Video: Peter Sutherland would have made an excellent UN Secretary-General says former US Ambassador William Lacy Swing
Posted 8 April, 2019
Given his wide ranging and rich experience and devotion to aiding migrants, Peter Sutherland "would have made an excellent UN Secretary-General," according to former United States Ambassador William Lacy Swing.
"His accomplishments were legion… [and] with [Peter's] international profile he was very well qualified [for the role]," Mr Swing said during a keynote speech at a special event honouring the well-known Irish statesman at UCD Sutherland School of Law.
Mr Swing – a former Special Representative of the UN Secretary-General and who served two terms as Director General of the International Organization for Migration – said that Peter's devotion to the cause of refugees and migrants would have made him a perfect candidate to lead the UN Secretariat, one of the six principal bodies of the United Nations.
"First of all, he was responsible for the creation of the Global Forum on Migrant and Development.
"The significant of which is that it was the first time ever that the governments of the world came together to look at solutions on how better to manage migration responsibly and humanely. This had never happened before. Peter made this happened.
"The Global Forum was the precursor to everything that has followed since in the field of migration. [Peter] helped to foster an environment where the member state of the UN could come together in a declaration that called for migrations inclusion in the post 2015 agenda… in contrast to the stark failure of the Millennium development goals from 2000."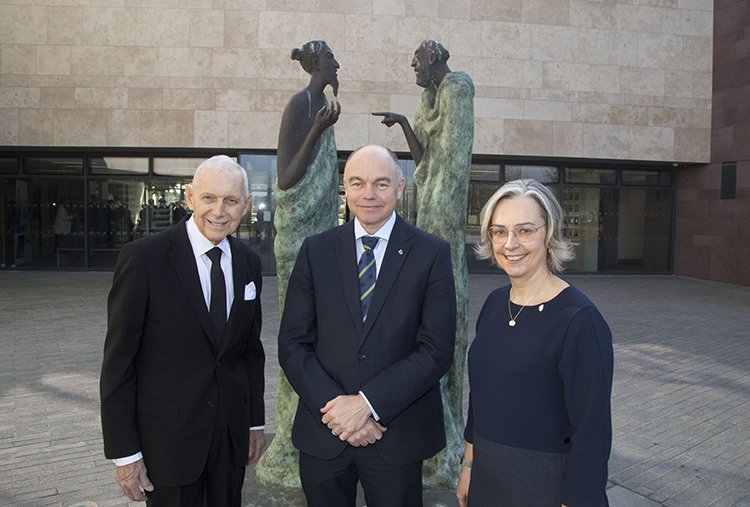 William Lacy Swing alongside UCD President Professor Andrew J. Deeks, and Professor Imelda Maher, Dean at UCD Sutherland School of Law
Peter Sutherland, who passed away in 2018 aged 71, built a worldwide reputation in banking and international trade and in seeking solutions to the recent crises in migration into Europe, Mr Swing said.
A UCD alumnus, his successes were recognised by a host of awards and honorary doctorates from all across Europe, the USA and further afield, he added.

A native of Dublin, Peter was educated at Gonzaga College, University College Dublin and King's Inns.
In a glittering career he became one of Ireland's youngest Attorney General, an EU Commissioner, head of the World Trade Organisation and a leading light in international business and finance.
He also served as the UN's Special Representative for International Migration for more than eleven years.
Mr Swing recalled Peter being at the forefront of the fight against the false narratives about people on the move, that they steal jobs, take advantage of welfare systems or pose a security risk.

"He didn't make himself popular with this outspoken condemnation of anti-migrant sentiment but Peter was never concerned about being popular but rather by doing the right thing," he said.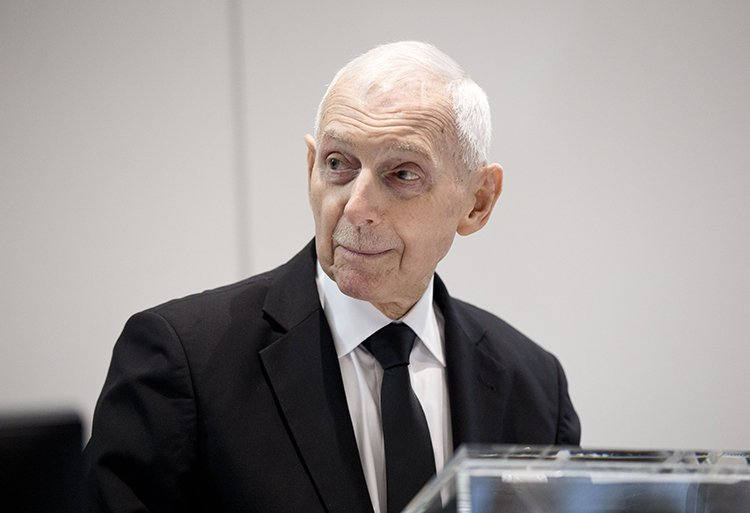 Former United States Ambassador and former Special Representative of the UN Secretary-General William Lacy Swing
Addressing the audience, which included UCD President Professor Andrew J. Deeks, Maruja Sutherland, Peter's wife, and Professor Imelda Maher, Dean at UCD Sutherland School of Law, Mr Swing said that Peter had established himself as "voice of the voiceless".
"The Peter Sutherland I knew and admired was a committed and engaged humanitarian… and you don't always think of CEOs and people in the business world as being humanitarians… [but] people listen to Peter because he was a great communicator, a masterful communicator.
"He quickly established himself as the voice of the voiceless… migrants have no voice; they are invisible until someone talks about them constituting an invasion.
"[Peter] knew to be effective globally as a humanitarian he had to be able to get his message across compellingly and creditably."
He added: "If migrant lives, rights and prospects are better in future years than they are today… if fewer migrants die in the sands of the Sahara and the depths of the Med then this will be due largely to Peter Sutherland and his great humanity, his compelling advocacy, and his strategic thinking."
Mr Swing's tribute to Peter Sutherland was part of a series of special events held at the UCD Sutherland School of Law to celebrate the life and contributions of the Irish statesman.
Professor Imelda Maher said that the School "was keen to honour Peter Sutherland for his extraordinary and multi-faceted career and as an alumnus who remained steadfast in his support of, and interest, in UCD."

"We were grateful that his family, colleagues and friends joined us on what we hope was a memorable day," she added.
By: David Kearns, Digital Journalist / Media Officer, UCD University Relations