Associate Professor Emilie Pine wins UCD Research 2019 Impact Competition
Posted 4 December, 2019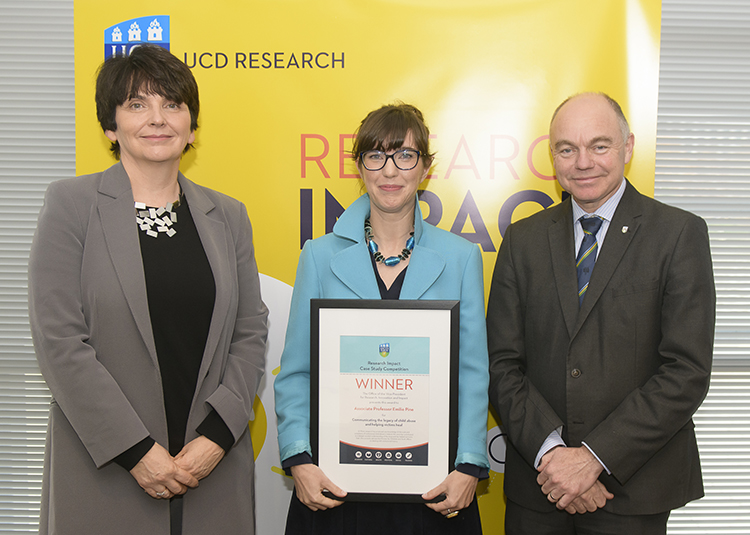 Associate Professor Emilie Pine is the winner of the 2019 Research Impact Case Study Competition.
Her work 'Communicating the legacy of child abuse and helping victims heal' was a two-part project combining humanities-led inquiry and digital technologies to examine the scale and complexity of institutional abuse in Ireland.
The first part 'Industrial Memories' used digital analysis to generate new insights into the Ryan Report, which detailed Ireland's legacy of institutional child abuse.
The techniques used enabled the researcher from the UCD School of English, Drama and Film to make fresh connections between individuals that were almost impossible to trace using traditional research methods.
The work was done in collaboration with Professor Mark Keane and Dr Susan Leavy, from the UCD School of Computer Science.
The second part of the project, 'Survivor's Stories', was an oral history work carried out in collaboration with UCD's Dr Críostóir Mac Cárthaigh and the Christine Buckley Centre.
It collected and documented stories of survivors of residential institutions for women and children in Ireland. The recordings are now housed in the National Folklore Collection at University College Dublin.
Warm congratulations to our colleague Emilie Pine, overall winner of the UCD Research Impact Case Study competition. We're v proud. @UCD_English @HumanitiesUCD @emiliepine @ucddublin pic.twitter.com/hSMJcVXl4G

— margaret kelleher (@kellehmv) December 2, 2019
Speaking at the awards, Dr Pine said: "I'm delighted with this recognition of the collaborative work of colleagues across the university and survivors of institutional abuse. This really shows the academic and real-world value of Humanities research."
In 2018, she was appointed as an advisor to Minister for Children and Youth Affairs Katherine Zappone; working on how to use the arts to respond to Ireland's history of institutional abuse.
Awarded second prize at the 2019 Impact Competition were Professor Barbara Dooley, Dr Cliodhna O'Connor and Associate Professor Amanda Fitzgerald, from UCD School of Psychology, for their case study 'My World Survey: improving youth mental health in Ireland'.
'My World Survey' is the largest national survey on youth mental health, and its findings have contributed to national policy debate and the development of community-based services.
Honoured to win the @ucddublin Research Impact award, for our work with survivors of institutions in Ireland. As Carmel McDonnell Byrne said, this is one more way of survivors being believed and being seen. W/ Carmel and project partner @susanleavy, not pictured @bealoideasucd pic.twitter.com/9XsLOA7A9d

— Emilie Pine (@emiliepine) December 4, 2019
Presenting the 2019 awards, UCD Vice President of Research, Innovation and Impact, Professor Orla Feely said: "Impact is not only central to my role, but it is at the heart of the university's mission. Through research, we can make meaningful contributions to the world.
"We can help improve health and wellbeing, protect the environment, address the climate crisis, influence policy, stimulate economic growth, enrich people's lives, and inspire the next generation. We can help steer Ireland and the world towards a sustainable, inclusive, prosperous future."
The remaining UCD Research 2019 Impact Competition runners-up were:
Professor Gavin Barrett, UCD Sutherland School of Law.
Professor David Brayden, UCD School of Veterinary Medicine.
Dr Desmond Earley, UCD School of Music.
Dr Kelly Fitzgerald, UCD School of Irish, Celtic Studies and Folklore.
Dr Mirjam Heinen, National Nutrition Surveillance Centre at UCD.
Dr David Kelleghan, School of Biosystems and Food Engineering.
Dr Antonia Trotta, UCD School of Mechanical and Materials Engineering.
EIRSAT-1 Team, UCD School of Physics; UCD School of Mechanical & Materials Engineering; UCD School of Mathematics & Statistics; UCD School of Electrical & Electronic Engineering; UCD School of Computer Science.
By: David Kearns, Digital Journalist / Media Officer, UCD University Relations