UCD academics join ranks of Royal Irish Academy for world-class research
Posted 27th May, 2019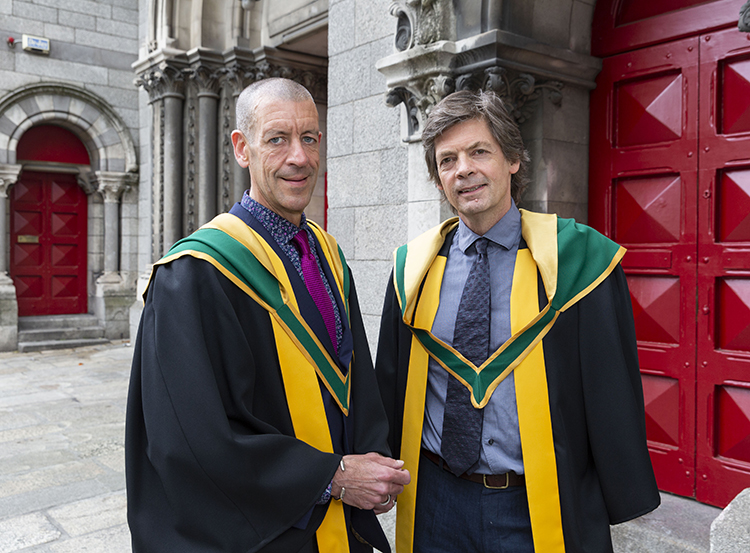 Professors Diarmaid Ferriter and Rowland Stout have been elected to the Royal Irish Academy, the highest academic honour in Ireland.
The two University College Dublin academics were each invited to sign the Academy's members book in recognition of their world-class contribution to the humanities.
The pair were elected to the Academy alongside 25 other newly admitted members at a special ceremony held at RIA on Friday, 24 May.
A full professor of Modern Irish History, Diarmaid Ferriter is one of Ireland's best known historians and broadcasters.
Widely recognised for his work, the academic from the UCD School of History has focused his main area of research at the social, political and cultural history of twentieth century Ireland.
Professor Rowland Stout, from the UCD School of Philosophy, is the Director of the UCD Centre for Ethics in Public Life, which he established in 2017.
His work has established him as one of the prominent contemporary philosophers of action and mind, and includes on emotions, as well as ethics, rationality, and causal processes.
Other new members joining the UCD pair include Nobel Prize-winning cognitive neuroscientist Professor John O'Keefe and award-winning broadcasters Olivia O'Leary and William Crawley.
Professor Peter Kennedy, President of the Royal Irish Academy, said that all those elected had honoured Ireland with the quality of their work.
"These individuals have made exceptional contributions in their fields of endeavour. We are delighted to recognise their achievements," he added.
The Academy has been honouring Ireland's leading contributors to the world of learning since its establishment in 1785.
There are now 606 members, of whom 87 are Honorary or overseas members, and past members to the Academy include Nobel laureates WB Yeats and Seamus Heaney.