UCD named The Sunday Times University of the Year 2020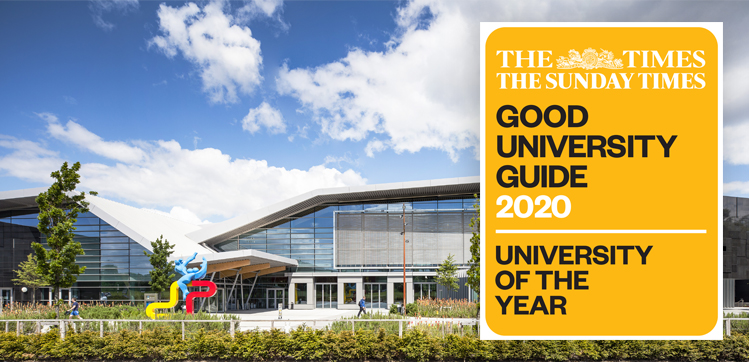 Posted 1 November, 2019
University College Dublin has been announced as The Sunday Times University of the Year 2020. This is the third time the university has won the accolade presented as part of The Sunday Times Good University Guide.
The Guide will be published with The Sunday Times on 03 November. It is also available online with a fully searchable website, extended profiles of each third-level institution and a league table.
"University College Dublin makes a compelling case to third level applicants with its relentless focus on the student experience. Heavy investment in facilities such as the newly-opened UCD Moore Centre for Business and the soon-to-open student village catch the eye, but it is the work behind the scenes to improve student life – particularly pastoral care – that is just as important in such a large university," said Alastair McCall, Editor of The Sunday Times Good University Guide.
"UCD now has a significant lead over Trinity College Dublin in the key areas of student satisfaction, degree outcomes and staffing levels, and goes toe-to-toe with its great rival on graduate job prospects and progression rates to record its strongest performance in our third level ranking for many years," added McCall.
"We are very happy to be University of the Year because it comes after a period of hard work," said Professor Andrew Deeks, President of University College Dublin.
"It's a great honour and it's a credit to everyone at UCD."
"It is a confirmation of what we've seen through our strategic planning process, in terms of the progress that the university has made over the last five years," he added.
According to a Sunday Times analysis of the nine sections of the 2018 Irish Survey of Student Engagement (ISSE), UCD ranked above all other universities in Ireland. Student satisfaction is one of eight areas of third level performance included in The Sunday Times Good University Guide's academic ranking.
UCD's high levels of student satisfaction are explained in part by a peer mentoring programme which eases the transition to third level for new undergraduates, with UCD's on-campus accommodation team running events such as cookery classes and yoga sessions for free. All students now also have access to online cognitive behavioural therapy to provide them with additional support for stress, anxiety or depression.
According to The Sunday Times University Guide, UCD's student-centric approach is evidenced by strength in other key measures of third level performance. It has a graduate unemployment rate of just 3%, the second-best student-staff ratio in the university sector; and three-quarters of all graduates complete their studies with a 2:1 or a first-class degree.
University for ALL (Access and Lifelong Learning) captures UCD's outreach and support activities for underrepresented groups, and more than one in four UCD undergraduates are access students. Most undergraduates belong to at least one student society and there is a wide range of scholarships to attract elite scholars and athletes.
By Dominic Martella with materials provided by The Sunday Times