Aspiring novelist to explore 'Emerald Isle of the Caribbean' after Maeve Binchy Travel Award win
Posted 02 September, 2019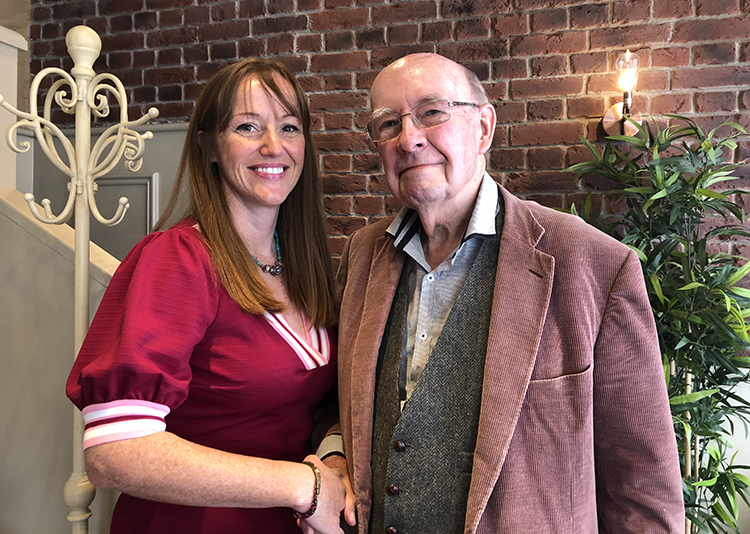 Winner Gráinne Daly with Gordon Snell, husband of the late Maeve Binchy
Gráinne Daly will travel to Montserrat, where Irish settlers worked as indentured servants during the 17th century
The small Caribbean island is the only country alongside Ireland to celebrate St. Patrick's Day with a national holiday
The Maeve Binchy Travel Award was inaugurated to commemorate alumnus Maeve Binchy, one of Ireland's best-loved writers
An aspiring novelist will explore the 'green history' of the Caribbean as winner of the 2019 UCD Maeve Binchy Travel Award.
PhD student Gráinne Daly was selected as this year's winner of the coveted literature bursary, which gives students at University College Dublin the opportunity to enhance their creative writing through travel.
The Maeve Binchy Travel Award was inaugurated in 2014 to commemorate alumnus Maeve Binchy, one of Ireland's best-loved writers.
Ms Daly was announced the 2019 winner by award convenor Professor Margaret Kelleher, Chair of Anglo-Irish Literature and Drama at UCD, along with Mr Gordon Snell, husband of the late Maeve Binchy.
Retracing the footsteps of those Irish displaced by the Cromwellian conquest of Ireland during the early seventeenth century, Ms Daly will visit the Caribbean island of Montserrat.
Nicknamed the "Emerald Isle of the Caribbean", the tiny island earned its moniker for both for its resemblance to coastal Ireland and for the Irish ancestry of many of its inhabitants.
Warmest congratulations to Gráinne Daly @26Scribbles winner of the 2019 UCD Maeve Binchy Travel Award, for her project on Reimagining the Montserratian Irish. Pictured here with Gordon Snell. @ucddublin @UCD_English @HumanitiesUCD @binchyucdtravel #maevebinchy pic.twitter.com/Q1YB4v97O3

— margaret kelleher (@kellehmv) August 29, 2019
Irish settlers were first introduced to the island as indentured servants during the 17th century, and within a few decades the Irish accounted for 70% of Montserrat's population.
Even today, it remains the only country alongside Ireland to celebrate St. Patrick's Day with a national holiday.
A graduate at the UCD School of English, Drama and Film, Ms Daly plans to work on a series of poetry, prose and essays that reimagines the experience of the Montserratian Irish.
She is interested in how literature embraces displacement and exile, and is confident there will be an abundance of inspiration on the other 'Emerald Isle'.
Since its inauguration in 2014, the Maeve Binchy Travel Award, worth €4,000, has been open to any student enrolled in UCD's College of Arts & Celtic Studies.
Congratulating Ms Daly on behalf of the judges, Professor Kelleher, Chair of the Award committee, said she was "a most deserving recipient".

"This award – which encourages imagination and rewards adventure – is very dear to the UCD School of English, Drama and Film and we greatly appreciate the continuing support and interest taken in the award by Gordon Snell and all of Maeve's family."
By: David Kearns, Digital Journalist / Media Officer, UCD University Relations