University celebrates honorary degree recipients at summer conferring
Posted 13 September, 2019
Brother Tony Dolan with Professor James Kinsella, who gave the citation
As 3,800 graduates were conferred with their new degrees and doctorates, the University presented a series of honorary degrees to seven outstanding leaders in fields of agriculture, business, history, and forensic science.
The recipients were Br Tony Dolan, Catherine Corless, Philip Berber, Pádraig Ó Snodaigh, Catherine Marshall, Kevin Duffy, and Sheila Willis.
As friends and families gathered to celebrate the academic achievements of their loved ones, these seven prominent individuals were recognised for their lasting contributions in their fields of expertise.
Br Tony Dolan – Honorary Degree of Doctor of Science
Franciscan Brother Tony Dolan has improved the livelihood of thousands of people in Kenya and Uganda through the promotion and teaching of practical and grounded actions for sustainable agriculture.
A Leitrim native and minister general of the Franciscan Brothers, he graduated from University College Dublin in 1971 with an agriculture degree.
Introducing Dr Dolan on behalf of the School of Agriculture and Food Science, Professor James Kinsella acknowledged his significant contributions to sustainable agriculture and agricultural education in Ireland and Central Africa.
"While the concept of sustainable agriculture is now firmly embedded in the Sustainable Development Goals and is to the forefront in the global climate change agenda, Br. Tony [was] 20 years ahead of his time," he said.
"His journey and achievements in agricultural education to this point have been both remarkable and understated."
Catherine Corless – Honorary Degree of Doctor of Literature
Galway historian Catherine Corless rose to prominence after she revealed an unmarked mass grave at a former mother and baby home run by the Sisters of Bon Secours in Tuam, County Galway, Ireland.
Known for her advocacy work on behalf of the Tuam survivors, and the children who lost their lives, she has received many accolades for her research.
She received the Bar of Ireland Human Rights award in 2017, and People of the Year award in 2018.
Reading the citation, Associate Professor Emilie Pine from the UCD School of English, Drama and Film praised her for being an "individual whose enormous and inspiring courage, in the face of significant resistance, has changed the lives of so many past and present".
"Catherine Corless represents what can be done by each and every citizen if we notice, and care, about the world and those we share it with, in the present, the past, and the future," she said.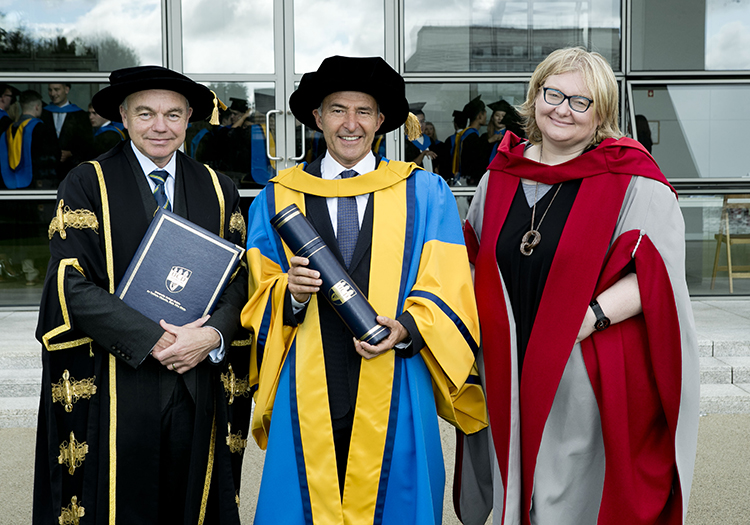 UCD President, Professor Andrew J Deeks, Philip Berber, and Associate Professor Maeve Houlihan
Philip R Berber – Honorary Degree of Doctor of Laws
Philanthropist and UCD alumnus Philip R Berber has been recognised for his international impact in entrepreneurship.
The Irish Texas-based technology entrepreneur, who graduated from the UCD Lochlann Quinn School of Business, sold his online brokerage for financial traders (CyBerCorp) for $488m in 2000.
Now engaged in philanthropy, international aid, social entrepreneurship, he is the co-founder and chairman of A Glimmer of Hope Foundation.
Focused on water, health, education, and microfinance to provide those living in extreme poverty with chance of improving their lives, the NGO has constructed more than 9,000 projects and distributed more than 44,000 microfinance loans to help those living in rural Ethiopia.
"Words like conscious capitalism and social impact investing are terms Philip uses with confidence, credibility and authority. Now more than ever we see the power of business for good," said Associate Professor Maeve Houlihan, who gave the citation.
Pádraig Ó Snodaigh – Honorary Degree of Doctor of Celtic Studies
Irish language activist, poet, writer Pádraig Ó Snodaigh has published nearly 1,500 books in Irish since first founding the publishing company Coiscéim in 1980s.
Born in Carlow in 1935, he has written several scholalrly works and poetry collections, including (Lagan Press, 1998); and The Irish Volunteers, 1715–1793 (Irish Academic Press, 1995), and Cumba agus Cumann (1985) Cúl le Cúl (1988).
Speaking on the occasion of the conferring, Professor Máire Ní Annracháin, UCD School of Irish, Celtic Studies and Folklore, said had been the "beating heart of the development of Irish poetry since the mid-20th century".
"He has allowed the voice of the Irish language to emerge in full-throated song, and has done more than any other publisher to ensure its beloved poetry is now sweetly in tune with modernity."
Catherine Marshall – Honorary Degree of Doctor of Fine Arts
Art historian Catherine Marshall is a leading expert of 20th and 21st century Irish art, and has helped bring to the forfront the work of talented contemporary Irish artists.
Throughout her career she has written insightfully about the Irish art of the past and championed the best of the present.
Originally from Kilkenny, she has lectured at University College Dublin, Trinity College Dublin, the National College of Art and Design, and the National Gallery.
Curating exhibitions of Irish art in Canada and China and all over Ireland, Ms Marshall facilitated displays of Irish art for venues in the United States, Australia and various European destinations.
In 1995 she became the founding Head of Collections at the newly established Irish Museum of Modern Art.
"Marshall's contribution as a curator is matched by her productiveness as a scholar" said Professor Kathleen James-Chakraborty, UCD School of Art History and Cultural, during the introductory address.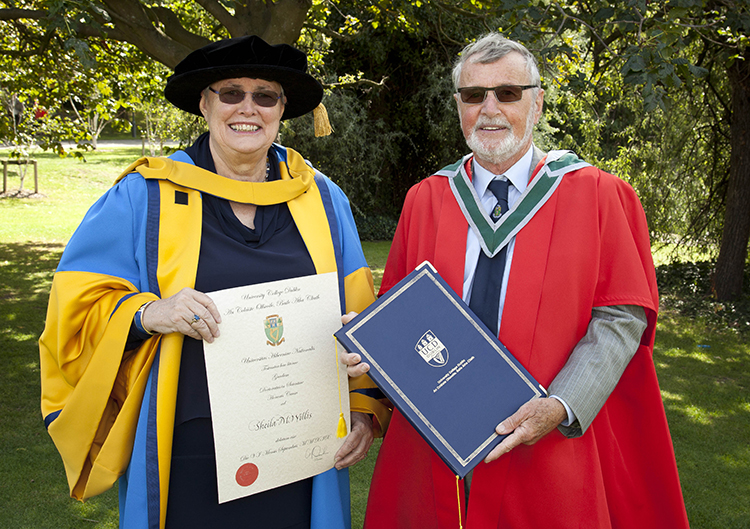 Dr Sheila M Willis and Associate Professor Matthew Harmey, who gave the citation
Dr Sheila M Willis – Honorary Degree of Doctor of Science
Previously Director General of Forensic Science Ireland, Dr Sheila Willis's career has focused on how science can be used to investigate crime and assist the administration of justice
An UCD alumnus, Dr Willis pioneered the introduction of DNA profiling in the Irish legal system. In 2015 she recruited an expert team of molecular biologists to set up the national DNA Database System, the success of which far exceeded expectations.

She has also played a leading role in the European Forensic Science organisation.

Reading the citation on behalf of the UCD School of Biology and Environmental Science, Associate Professor Matthew Harmey said Dr Willis epitomised what a forensic scientist should be.

"All organisms in the world including humans leave an indelible and eternal imprint on the evolution of form and knowledge. Sheila Willis imprint on Forensic Science in Ireland and Internationally is highly significant," he added.
Kevin Duffy – Honorary Degree of Doctor of Laws
Former Labour Court chair Kevin Duffy began his career as a bricklayer after leaving school aged 15.
An official of the Bricklayers' Union for 15 years, the Dubliner was appointed General Secretary to the then 200-year-old trade union.
In 1987, he joined the Irish Congress of Trade Unions as Assistant General Secretary in charge of industrial relations.
He was appointed Deputy Chairman of the Labour Court in 1997, and given the Court's increased focus on legal arguments, he decided to qualify as a barrister.
Mr Duffy was called to the Bar 2003, having had no formal education since he was a teenager. Following this, he assumed the role as Chairman of the Labour Court and held the position for the next 13 years.
Following his retirement, he was chosen by the Government to chair both the Commission examining Water Charges and the Public Service Pay Commission.
"Without fear of contradiction, I can say that [Kevin] has done Ireland extraordinary service," said Associate Professor Anthony Kerr, UCD Sutherland School of Law, at the conferring ceremony.
By: David Kearns, Digital Journalist / Media Officer, UCD University Relations