Oireachtas committee hears 'weak' Climate Bill is not robust enough to deliver Ireland's desired emission cuts
Posted 29 October, 2020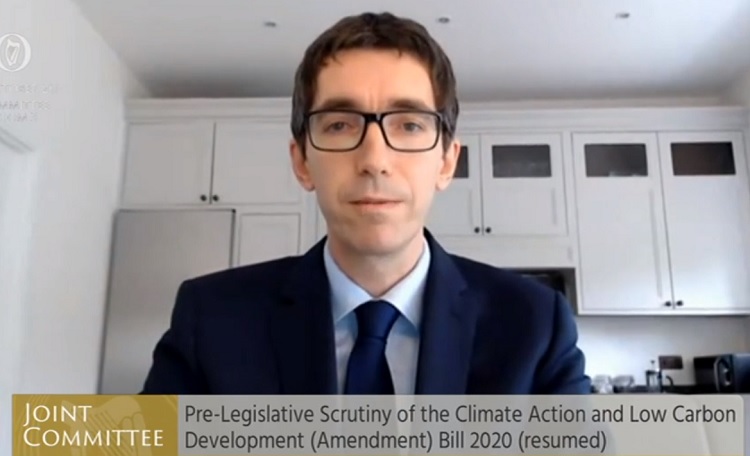 Dr Andrew Jackson, UCD Sutherland School of Law, addressing the Oireachtas committee on Climate Action
The language of the 2020 Climate Bill weakens Ireland's commitment to deliver desired cuts in emission, the Oireachtas committee on Climate Action has heard.
Dr Andrew Jackson, an environmental and planning lawyer at University College Dublin, said there was no "sense of emergency from [the] Bill" despite a declaration of a climate and biodiversity emergency last year, and that he expects in ten years the committee will be "asking where it all went wrong".
"[We'll ask] how it was possible that we made a second generation climate law that was weaker than first generation laws in other jurisdictions and that did not therefore result in the rapid and deep fall in emissions that were required.
"That is down to, among other things, the language used in the Bill," he said.
The expert from the UCD Sutherland School of Law told the committee that the Government's Bill in its present form will not drive down carbon emissions to a level required by 2050.
He said that the bill "is very weak" when compared to climate laws adopted elsewhere, and that elements had been watered down compared to earlier draft laws prepared in Ireland.
As an example of this, he referenced the language now included in the 2020 Bill which now requires the State to "pursue" but not "achieve" the 2050 climate objective.
This makes the central objective of the Bill weaker than the objectives of the Climate Act 2015, the previous Government's heads of Bill and the joint committee's Bill of 2010, he said.
"Interestingly, the heads of the 2019 Fine Gael Bill adopted the principle of public bodies being consistent with obligations in the context of local authority plans... Now the obligation on local authorities is just to take account of the matters and not act consistently with them."
He added: "I do not get any sense of emergency from this Bill. The Dáil has declared a climate and biodiversity emergency and we can really strengthen this Bill if we give instructions to drafting lawyers to emulate international best practice to produce a Bill that reflects the emergency nature of the situation that we are in."
Among the measures Dr Jackson recommended to strengthen the 2020 Bill was for it to take into account the UN's Sustainable Development Goals, and for interim targets to be included to guide "the creation of carbon budgets en route to net zero."
He also said the Bill should include legal obligations requiring the Taoiseach or Minister to ensure that carbon budgets and targets are met, and requiring the Government to correct course and compensate if a carbon budget or target is not met.
"No such duties exist in the current Bill, and there is equally no obligation to ensure that climate action plans are consistent with adopted carbon budgets," he added.
By: David Kearns, Digital Journalist / Media Officer, UCD University Relations