HIPPOCRATES: UCD leads new €21 million EU project into psoriatic arthritis research
Posted 02 July, 2021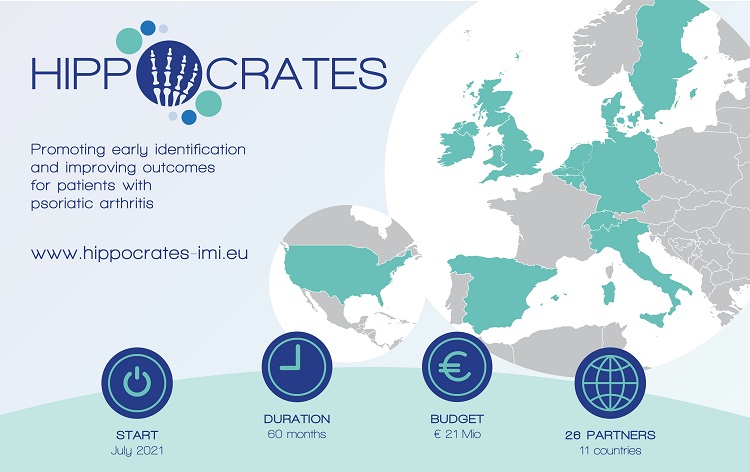 University College Dublin is leading a new international project aiming to develop personalised treatment options for those affected by psoriatic arthritis.
Dubbed 'HIPPOCRATES', this collaboration of research partners, pharmaceutical companies, SMEs and patient organisations has received €21m in funding from the Innovative Medicines Initiative (IMI 2), a joint undertaking between the European Union and the European Federation of Pharmaceutical Industries and Associations (EFPIA).
The 5-year project will examine the clinical, genetic and environmental factors that lead to psoriatic arthritis (PsA) – a chronic immune-mediated inflammatory disease that affects the musculoskeletal system – with the hope of evaluating and validating newly discovered biomarker signatures that could identify those at risk of developing the disease, and those in the early stage.
HIPPOCRATES will establish a large, prospective, observational study of 25,000 patients with psoriasis who will be recruited and followed on-line for development of PsA, with patient-centric blood sampling at defined intervals.
Furthermore, the study will look to identify those PsA patients at highest risk of damage progression, as well as develop personalised or stratified treatment strategies so as to maximise treatment response.
Formed as a transdisciplinary consortium, the HIPPOCRATES project team comprises 26 partner institutions from Belgium, Denmark, Germany, Ireland, Italy, Spain, Sweden, Switzerland, the Netherlands, the United Kingdom and the United States of America.
"We anticipate that the advances provided by HIPPOCRATES will result in significant new developments that improve patients' quality of life," said Professor Oliver FitzGerald, Newman Clinical Research Professor, UCD School of Medicine and the UCD Conway Institute of Biomedical and Biomolecular Research, and co-ordinator of the HIPPOCRATES consortium.
Atturos, a UCD clinical diagnostics spin-out company supported by NovaUCD, is among the HIPPOCRATES SME consortium partners. The company is focused on integrating molecular diagnostics into decision making tools to improve the health and quality of life of patients while also increasing the cost-effectiveness of healthcare systems.
"The advances will include the identification of sub-populations and endotypes, the validation of existing and identification of new biomarkers, improved imaging options and the development of a sustainable infrastructure for future PsA research," said joint co-coordinator Stephen Pennington, Professor of Proteomics at the UCD School of Medicine and the UCD Conway Institute of Biomedical and Biomolecular Research and Atturos founder.

"This public-private partnership is a great opportunity to decipher this highly heterogenous disease, and to enable the development of novel PsA therapies and treatment strategies including precision medicine approaches," added Dr Christine Huppertz, Senior Principal Scientist in the Disease Area Autoimmunity, Transplantation and Inflammation at Novartis, and EFPIA lead of the consortium.
In order to achieve its goals, the HIPPOCRATES project will set up a single integrated database combining the cohorts and datasets of the most important European PsA studies and establish a Europe-wide library of relevant clinical biosamples.
It is estimated between five to ten individuals in the EU are affected by PsA, which symptoms include pain, joint stiffness and fatigue, and increasingly, it is recognised that PsA is associated with multiple comorbidities, particularly those affecting mental health such as depression and those which promote the development of accelerated atherosclerosis and contribute to the observed increase in cardiovascular morbidity and mortality.
By: David Kearns, Digital Journalist / Media Officer, UCD University Relations (with materials from Micéal Whelan, UCD Research and Innovation)