UCD celebrates a week of on-campus graduations
Posted 3 September, 2021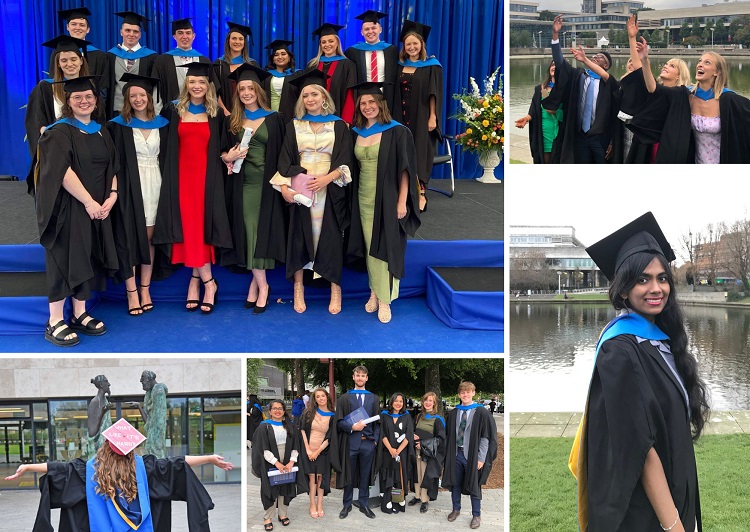 Hundreds of students were conferred with their degrees in person for the first time in more than a year as face to face ceremonies return to University College Dublin.
In the wake of restrictions imposed by COVID-19, in December 2019 the University was forced cease its in-person graduations and instead hold its conferrings online to meet the needs of students.
With the easing of these protocols, this week (August 31st to September 3rd) saw undergraduates and graduates given the opportunity to return to campus and celebrate their academic achievements in person.
Over 40 graduations were held in a large marquee outdoors, with attendance limited to students only.
Each ceremony was accompanied by a simultaneous virtual broadcast to accompanied those students and guests unable to attend.
These in-person events took place with regard to the prevailing Government and public health guidelines.
Addressing students, UCD President Professor Andrew Deeks said that those graduating had shown remarkable "resilience and resolve" in what has been a "particularly difficult 18 months for [them]".
"This has been a period of extraordinary challenge as the world continues to deal with the impact of COVID-19. I am however greatly heartened by how we as a community here at UCD have responded to the crisis, with creativity and innovation, and with courage and compassion.

"All around me members of our UCD community have stepped up with courage and vision to meet the challenges of the pandemic, and their actions continue to underscore the vital importance of education, research, and evidence-based decision making in transforming our society.
"While you were students, you were at the centre of the UCD community and, as you graduate, you carry that UCD badge with you. Wear it well; use it to open doors to advance your own life's ambitions; extend a helping hand to those who come after you; seek to inspire and encourage and, above all, follow our motto Ad Astra – to the stars – by seeking to make your own mark, your own contribution to society.
"I trust that everything you do and achieve in the future, the values enshrined in UCD of creativity, excellence, integrity, collegiality, engagement and diversity will remain part of your intellectual DNA," he added.
Among those invited to address the graduating classes was UCD Ad Astra Academy and BComm International graduate and Olympic Bronze Medal Winner Eimear Lambe, who spoke to the UCD Lochlann Quinn School of Business Class of 2021.
"What I learned over the past couple of years and what I really hope to share with you, is that especially now in these uncertain times, though when nothing is sure, everything is possible. So take the risk, follow the road less tr
By: David Kearns, Digital Journalist / Media Officer, UCD University Relations