Artists-in-Residence Dónal Lunny, Jenny Jennings and Mark O'Halloran welcomed to UCD
Posted 14 September, 2021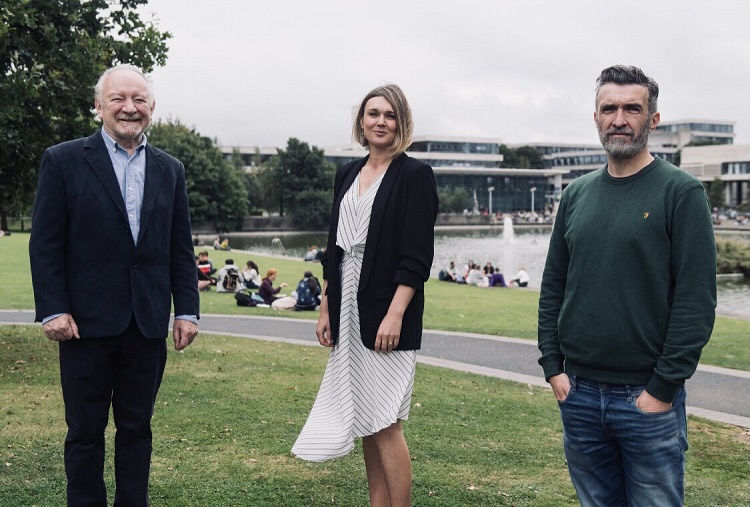 Dónal Lunny, Jennifer Jennings, and Mark O'Halloran
Three new artists-in-residence have been welcomed to University College Dublin, increasing the number of renown talents working with students and faculty at the Creative Futures Academy.
Actor and writer Mark O'Halloran joins as Screenwriter-in-Residence, theatre and festival director Jenny Jennings joins as Artistic Director-in-Residence, and musician and composer Dónal Lunny will be Musician-in-Residence.
"The appointments bring world-class talent and experience to the Creative Futures Academy. Each of these artists will build on UCD's international reputation for developing creative talent, and will inform a fresh approach to education in the creative and performing arts," said Professor Sarah Prescott, Principal of the College of Art and Humanities.
The new artists-in-residence, each an internationally-recognised leader in their field, will work with Associate Professor PJ Mathews, Director of Creative Futures Academy, and Nicolas Pillai in Creative and Critical Practice at UCD School of English, Drama & Film, and Assistant Professor Annette Clancy at the UCD School of Art History & Cultural Policy.
"The last time I was in Belfield was many years ago, performing in the legendary Theatre L. I feel honoured to have been asked to be Artist-In-Residence in UCD this autumn and I'm very much looking forward to visiting the campus again," Dónal said.
A hugely influential figure for decades in Irish folk and traditional music, the Offaly native will be based in the UCD School of Irish, Celtic Studies and Folklore, with a focus on developing new approaches to traditional music practice.
Working with students and faculty in Drama and performing arts across the College of Arts and Humanities, Jennifer, who holds a UCD Masters in Cultural Policy and Arts Management, said she was "energised and excited" to be part of the Creative Futures Academy's inaugural year.
"[It] is one of the most exciting and dynamic learning initiatives in the history of Ireland's third-level sector," she added.
Co-founder and co-director of acclaimed Irish theatre company THISISPOPBABY and the South-East Asia music and arts festival Neon Lights, the UCD graduate has been the directorial force behind a number of projects including the Harvest Music & Arts Festival in Australia, the Dublin Fringe Festival, the Dublin GAZE Film Festival, and Ireland's renowned Festival of World Cultures.
Based in the UCD School of English Drama and Film, Mark O'Halloran will contribute to the University's new MA in Writing for Stage and Screen.
"It is a great honour to be joining UCD and the Creative Futures Academy as Screenwriter-in-Residence and I look forward to engaging with the students and the faculty in the year ahead," he said.
On screen, the Ennis actor has appeared in numerous films and TV series including Darklands, Dead Still, and The Virtues. In 2017 he was nominated as Best Actor at IFTA awards for his lead role in History's Future, directed by Fiona Tan.
In addition to the Irish buddy comedy drama Adam & Paul, his writing credits include Garage, the television series Prosperity, Viva, a Spanish language feature set in Cuba, and Rialto, which premiered at the 2019 Venice Film Festival.
His work has been seen at Cannes, Berlin, Toronto, Telluride and Sundance film festivals, and Mark currently is adapting Sally Rooney's 'Conversations With Friends' for the BBC and Hulu.
"I am delighted to welcome Dónal, Jenny and Mark to the team," said Associate Professor PJ Mathews. "It is a privilege to collaborate with such distinguished Artists-in-Residence as we work to re-energise the creative sector in rising to the challenges of the post-pandemic period.
"All three are highly-regarded and internationally-recognised practitioners, who are relentless innovators within their own disciplines, and who embody the spirit of artist-led creativity."
The Creative Futures Academy is a collaboration between NCAD, IADT and UCD aimed at accelerating the professional growth and impact of the creative sector in Ireland by offering students the chance to work with, and learn from, a broad range of leading academics, practising artists, and creative industry professionals.
Launching in 2022, it is dedicated to developing career opportunities for graduates who want to make their mark in the rapidly-evolving creative and cultural sectors.
By: David Kearns, Digital Journalist / Media Officer, UCD University Relations