UCD AFC and UCDSU partners with JIGSAW to display logo on Student's home kit
Posted 1 April, 2022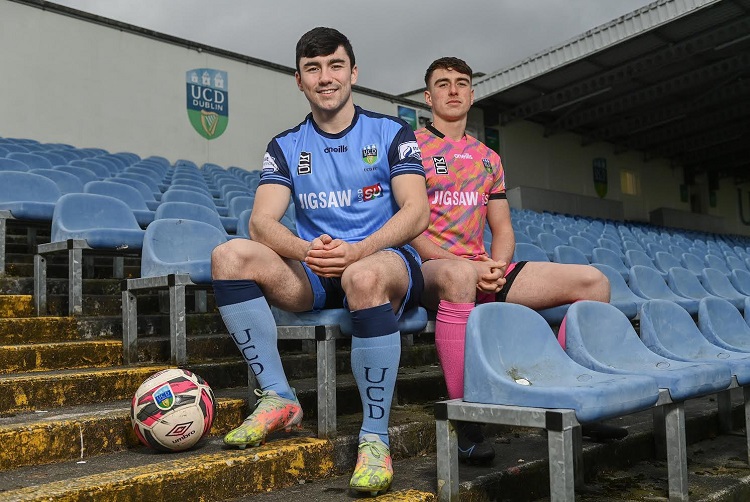 A new partnership between UCD AFC and JIGSAW – Ireland's National Centre for Youth Mental Health - will see the charity's logo displayed across The Students' home kit.
The collaboration, which also involves the UCDSU, will also include new sponsorship packages for the club which will see 50% donated to the mental health advice and support service to help ensure that every young person's mental health across Ireland is valued and supported.
In addition to the sponsorship packages, a portion of all ticket sales for the remainder of the season will be donated by the club to JIGSAW too.
"We are really excited by this partnership and have been very impressed by the work that JIGSAW does," said Richard Shakespeare, UCD Club Secretary.
" The supports and services that they provide are phenomenal and extremely important to the mental health of young people across the country.
"The recent challenges presented by Covid-19 have further highlighted mental health and the affect it has on every aspect of a person's life. We believe this partnership, and the exposure that it will bring, will help to raise further awareness, while also helping to provide vital funds to support the great work that JIGSAW does," he added.
PARTNERSHIP | UCD AFC are delighted to announce @JigsawYMH as our new charity partners in collaboration with @UCDSU which will see their logo on the front of our home kit. For more info on the partnership and the great work JIGSAW does, see our website! https://t.co/CszzMCRZbx pic.twitter.com/H9bYM9FRKz

— UCD AFC (@UCDAFC) March 30, 2022
JIGSAW offers mental health advice and support, online and in-person, to young people across Ireland aged 12-25 years old, and aims to achieve better mental health outcomes through its critical services, mental health promotion, public awareness, and advocacy.
"We are so delighted to be partnering with UCD SU and UCD AFC for the coming season. It is an incredible honour for us and we have no doubt it will have a positive impact on the work we do to support the mental health and well-being of young people," said Justin McDermott, Jigsaw Fundraising Manager.
Ruairí Power, UCD Students' Union President, added: "Being a campus that is fully supportive of the mental health of students and young people is an aspiration shared by everyone in the UCD community.
"This new partnership between UCD AFC and JIGSAW epitomises this perfectly and we encourage all students and staff to get behind it."
By: David Kearns, Digital Journalist / Media Officer, UCD University Relations