New UCD Acting Registrar and Deputy President, Professor Barbara Dooley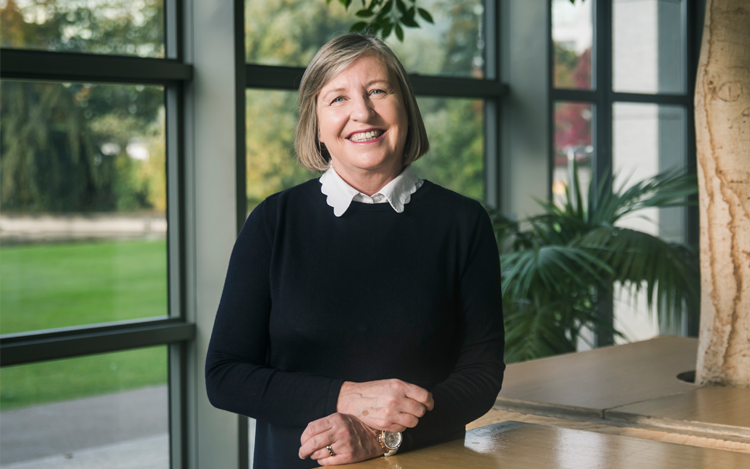 Posted 24 March, 2022

Professor Barbara Dooley has been appointed Acting Registrar and Deputy President of University College Dublin.
In the role Professor Dooley is the University's Chief Academic Officer and is responsible for the University's academic affairs, education strategy and academic planning.
She also has responsibility, inter alia, for the regulation and development of courses and programmes, assessments, teaching and learning standards, and academic policy.
She will work in collaboration with College Principals and Heads of School and closely with the President, acting as his representative when required.
As Acting Registrar and Deputy President, Professor Dooley is a member of the President's management groups and the UCD Governing Authority.
"As an experienced member of our senior faculty, Barbara has an outstanding record of academic achievement in teaching and research. She has already made a significant contribution to UCD's leadership in driving changes in governance in graduate education, and our Education and Student Success Strategy," said incoming Acting UCD President, Professor Mark Rogers.
"Many colleagues will have worked closely with Barbara and will testify to her ability and drive, and I am confident in her stewardship as UCD's new Acting Registrar and Deputy President and Vice-President for Academic Affairs," he added.
"As a graduate of UCD, I'm very excited to have been appointed to this important position. It's a privilege for me to further serve this great University, and to support its ambition in delivering an excellent education and student experience," said Professor Barbara Dooley on her appointment.
"I'm passionate about bringing my expertise in student mental health to the role as I believe that wellbeing is key to students' achieving their potential. And as a psychologist, for me people are really important. In my new role, I very much look forward to working with colleagues and students across the University," she said.
Professor Dooley has been UCD Dean of Graduate Studies and Deputy Registrar since 2014. Prior to this, she was Vice-Principal for Teaching and Learning in the UCD College of Social Science and Law, and Head of the UCD School Psychology.
She is also a member of the UMT Education Group, UMT Student Experience Group, University Programme Board, Academic Council's Examination Committee, and Chair of the Graduate Research Board.
An active researcher, Professor Dooley's research is in youth mental health with a particular interest in student mental health.
She was the Principal Investigator for My World Survey 1 (2012) and My World Survey 2 (2019), a collaboration between the UCD School of Psychology and Jigsaw that researches risk and protective factors in young people between 12-25 years of age.
In 2013, she co-founded the UCD Youth Mental Health Lab with colleagues in the UCD School of Psychology.
Professor Dooley is a member of the HSE National Office for Suicide Prevention Evaluation Advisory Group, Vice-President International Association for Youth Mental Health, member of the HRB National Drugs Strategy Research Subcommittee, steering group member of the European Universities Association – Council for Doctoral Education and member of the Universitas 21 Deans and Directors of Graduate Studies.
She will take up the post when Professor Mark Rogers, who has been Registrar and Deputy President of UCD since 2012, takes up the post of Acting President of University College Dublin.
By: Dominic Martella, UCD University Relations