Professor Kenneth Dawson elected to 2022 AIMBE College of Fellows
Posted 30 March, 2022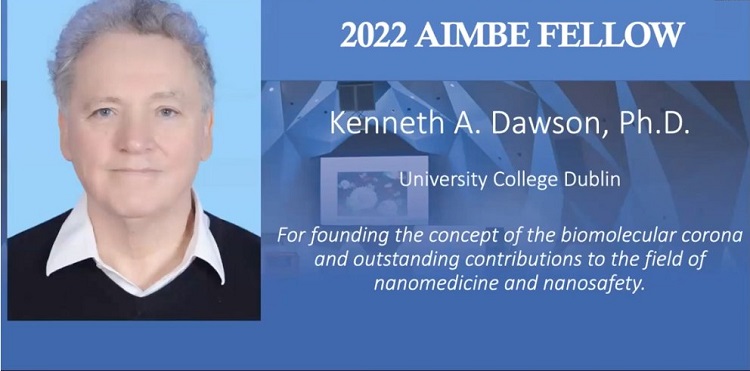 The American Institute for Medical and Biological Engineering (AIMBE) has inducted Professor Kenneth Dawson into its College of Fellows.
Consisting of the top 2% of medical and biological engineers in the United State, elevation to the AIMBE College of Fellows is reserved for those who have advanced the fields of medical and biological engineering through advocacy and public policy initiatives that have had lasting benefits to the scientific community, as well as society as a whole.
The Professor of Physical Chemistry at UCD School of Chemistry, and Director of UCD Centre for BioNano Interaction, Professor Dawson is a leading expert on the principles governing the interactions of nanoscale entities with living organisms, and implications for bionanoscience.
His election to the AIMBE College of Fellows was in recognition for founding the concept of the biomolecular corona and outstanding contributions to the field of nanomedicine and nanosafety.
He was inducted along with 152 colleagues at a virtual ceremony earlier this month during AIMBE's 2022 Annual Event, following a nomination and election by peers and members of the College of Fellows.
Establishing the UCD Centre for BioNano Interactions in 2007, a multi-disciplinary research unit dedicated to advancing the knowledge and application of nanoscale structures that interact with living systems, Professor Dawson has also been a member of European Commission scientific committees including the SCENIHR committee on regulations for new risk in EU, the European Medicines Agency, and the European Science Foundation, as well as other foundations and agencies worldwide.
Membership to the AIMBE College of Fellows comprise distinguished engineering and medical school chairs, research directors, professors, innovators and entrepreneurs, as well as recipients of prestigious academic awards including the Nobel Prize, the US Presidential Medal of Science and US Presidential Medal of Technology and Innovation.
By: David Kearns, Digital Journalist / Media Officer, UCD University Relations (with materials from Caroline Byrne, UCD Research and Innovation)