Home retrofits may need to be re-done in ten years, Oireachtas committee hears
Posted 4 May, 2022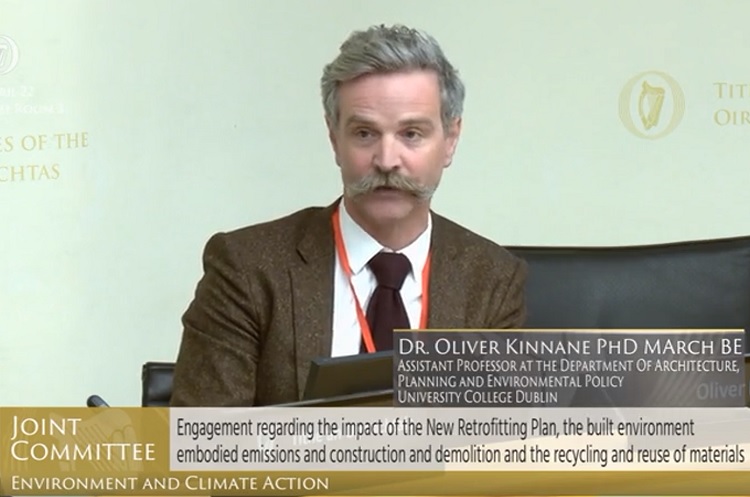 Ireland's homeowners could be retrofitting their retrofits in ten years' time unless measures are taken to up-skill the construction sector, an Oireachtas committee has heard.
Some "A-rated homes are performing at C-levels" according to Dr Oliver Kinnane, from the UCD School of Architecture, Planning and Environmental Policy, who raised serious concerns about the quality of work and materials being used to retrofit homes in Ireland to help reduce the nation's emissions.
"[N]ecessary knowledge and skills are lacking across the design and construction industry," he told the Joint Committee on Environment and Climate Action. "Through projects we have undertaken for the Sustainable Energy Authority of Ireland (SEAI) we have identified a performance gap between house retrofits... In some cases, A-rated homes are performing at C levels.
"Approximately 50% of fabrics are not meeting design U-values and heat pumps are underperforming, often due to improper installation. It is important we get retrofit right to avoid retrofitting the retrofit in ten years' time."
He added: "The reality is we are already retrofitting the retrofits. There is lots of anecdotal evidence and lots of actual evidence that a lot of retrofitting was done inappropriately. That has caused problems, especially with traditional construction, with heavy moisture content within envelopes."
The UCD academic told the Oireachtas committee often materials being used to retrofit buildings were vapour-impermeable, leading to moisture getting trapped and allowing for the growth of moulds and mildews, creating bad air quality and creating poor health conditions for people.
"We are seeing a lot of that already and it is generally due to a lack of knowledge across the industry and a lack of training for a long time, which we are trying to correct now," said Dr Kinnane.
"We really need to train the installers ahead of installation because dealing with different buildings of different construction types is not something every contractor has in their understanding. That is what they need to be trained in before they implement installations, otherwise we will end up pulling those retrofits apart again."
Dr Kinnane also raised concerns about the Government's plan to build 400,000 homes under Housing for All, saying the construction "will come with a high embodied-carbon bill".
"If we build 400,000 homes, there will be an embodied carbon cost of somewhere between 4 megatonnes and 6 megatonnes of CO2 equivalent, based on the current carbon intensity of construction."
However, he said a move to less carbon-intensive models and a shift from predominantly masonry to timber construction could reduce this carbon bill quite considerably.
"We are constructing many new buildings but we are also demolishing buildings to make way for replacement buildings. Young buildings, built only 30 to 40 years ago, are being torn down all over the city to be replaced by buildings of much greater floor area and materials of high embodied carbon. The service life of buildings is constantly decreasing. This is unsustainable. We need to save the buildings we have and retrofit first," he added.
By: David Kearns, Digital Journalist / Media Officer, UCD University Relations