Una Europa: University College Dublin and Universität Zürich joins alliance of leading European research universities
Posted 9 May, 2022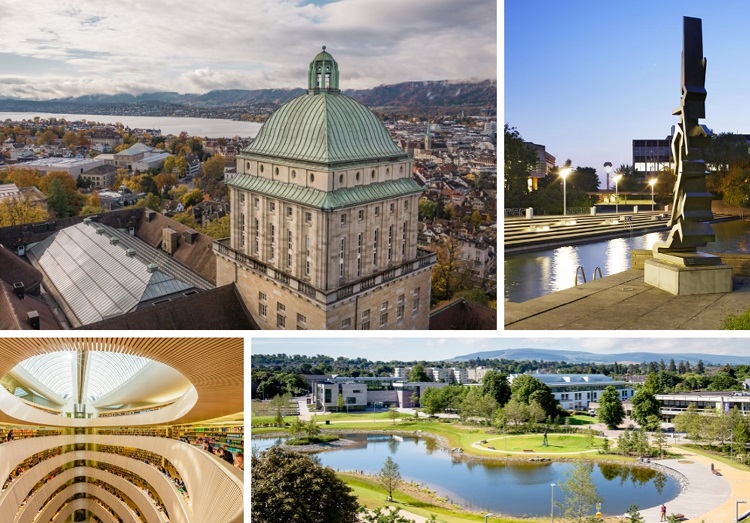 Clockwise, UZH main building; 'Forme in mutazione' at UCD; UCD campus; and UZH Law Library
University College Dublin along with Universität Zürich (UZH) has joined Una Europa, one of Europe's leading university alliances and a major driving force behind transforming education across the continent.
Aimed at transcending traditional geographical and disciplinary boundaries, this partnership of universities are working together towards a virtual 'multi-campus' – a University of the Future, that will enable student and staff mobility between member institutions.
"UCD and UZH are two truly outstanding European universities – delivering world-leading research, transformational student experience and international impact," said Professor James Smith, Chair, Una Europa Board of Directors.
"They will bring fresh perspectives and new momentum to Una Europa. I am delighted to welcome our new partners to the alliance."
Una Europa has already pioneered a Europe-wide living lab of over 20 innovative educational formats, with mobility at the core, and it is developing a research and innovation ecosystem built on common research and innovation agenda; developing joint strategies for sharing infrastructures and strengthening human capital.
Opportunities for students, academics and university staff span joint bachelor's degrees and PhD programmes, such as the Joint Bachelor in European Studies and Joint Doctoral Programme in Cultural Heritage, respectively, to challenge-based learning and international training placements.
With the addition of UCD and UZH, the alliance will now count over half a million students and almost 100,000 university staff among its network, with digital learners numbering in the millions.
UCD and UZH joins the nine existing Una Europa partner universities:
Established in response to the European Universities Initiative, which sought to create several transnational alliances of universities across Europe, Una Europa was among the first of these alliances selected to receive fund from the European Commission to achieve this goal.
Its impetus towards transcending borders in education is reflected in UCD's status as "Ireland's global university" and its aim to "ensure a global experience for all", and advance the international impact of the university's teaching, research, and innovation.
"The European Universities Initiative is shaping the future of higher education in Europe, and Una Europa is at the forefront of that movement," said Professor Mark Rogers, Acting President of UCD.
"At a time when Ireland seeks to deepen its links with Europe and its institutions, this represents a significant intensification of our European cooperation. On behalf of our entire community, I look forward to working with our Alliance partners to create a European University of the Future."
Similarly, UZH's global strategy is shaped by the vision that "we all share one world". Like Una Europa, UZH believes "the university of the future needs to be permeable and remove barriers to interaction both within the institution and beyond it".
UZH aims to provide an educational experience with a truly global outlook by internationalising its curriculum and prioritising student mobility.
"Geographically, Switzerland will always be part of Europe. Excellence, interdisciplinarity and innovation can only be maintained with active participation in the European Higher Education and Research Area," said Professor Michael Schaepman, UZH President.
"UZH is therefore very proud to join Una Europa, a leading European alliance rethinking higher education. I am looking forward to this new partnership, where common values and goals are shared with leading universities, shaping the future for all of us."
UZH is Switzerland's largest comprehensive university and one of the foremost universities in the German-speaking world.
Founded in 1833, it was Europe's first university established by a democratic political system – the words "by the will of the people" remain engraved on its main building to this day.
These exciting synergies and shared values between new and existing alliance partners will ensure that Una Europa continues to be a driving influence in higher education and beyond, shaping Europe's shared future for the better.
UCD and UZH have strong established links with Una Europa partner universities; collectively having published over 7,000 publications in collaboration with alliance members in the last five years.
Alliance members have built a strong foundation for future collaboration, enhanced by each new partner in its own way.
Alongside the University of Edinburgh, UZH's membership affirms Una Europa as a leading influence in building an open and inclusive European Research Area.
UCD combines its viewpoint from Europe's western edge with an international outlook and drive for innovation.
Together, they further the alliance's goals: to strengthen, broaden and deepen our collaborative structures and practices with the vision of building a truly integrated European University of the Future.
"In a rapidly changing Europe – and world – Una Europa stands united in the defence of European values: human dignity, freedom, democracy, equality, rule of law, human rights," said Professor Peter Lievens, Vice Rector for International Policy, KU Leuven, and Coordinator of 1Europe (Una Europa pilot project).
"We are proud to mark Europe Day 2022 by welcoming UCD and UZH – and, in growing our alliance, reinvigorating Una Europa's commitment to these fundamental values."
By: Staff Writers