UCD Relay for Life returns to raise over €14,700 for the Irish Cancer Society
Posted 5 May, 2023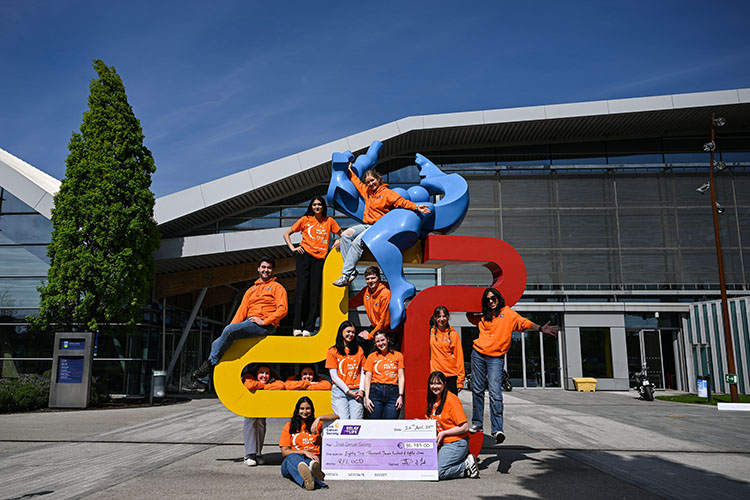 Over €14,700 has been raised for the Irish Cancer Society due to the efforts of over 110 students who took part in this year's UCD Relay for Life.
The 24-hour fundraiser invites teams to have one member walking or running at all times to reflect the ethos of the charity, that 'we won't give up until cancer does'.
Held on the Quad behind the UCD Student Center, this was the first time since 2019 that the charity event was held in-person on campus since the beginning of the COVID-19 pandemic.
"We are at a loss for words, and cannot thank everyone enough for their generosity and support," said Grainne Malone, chairperson for UCD Relay for Life this year.
"In terms of money raised, we smashed our €11,000 target… and we have already had students approach us about getting involved next year."
Plans for this year's Relay for Life event started in May of last year, with the event's ten person committee, made up of UCD students, working with the Irish Cancer Society to reestablished the fundraiser on campus.
"Like all clubs and societies within the University, Relay for Life was heavily impacted by COVID-19, with our 2020 and 2021 events being moved online, and unfortunately no event took place in 2022 as the COVID-19 situation was still quite volatile as the University was starting to re-open to full time attendance," saidMs Malone, a post-grad student in the UCD School of Medicine.
"We wanted to bring back what was such an important and worthwhile event to the University, however, since the majority of students that were present at the last in-person event in 2019 had either graduated or were in the middle of their dissertations/final semesters, much of the momentum that UCD Relay for Life had generated over the years had slowed right down.

"As a result, we effectively had to start from scratch in promoting and sharing the message of Relay and to try and get as many people interested and involved as possible."
THE NUMBERS ARE IN!! This year UCD Relay For Life raised an unbelievable €14,766.80 for the @irishcancersociety !! We are genuinely at a loss for words, we want to thank each and every one of you for all of your support over the last few weeks! pic.twitter.com/ZzEAPR1hXT

— RelayForLifeUCD (@Relay4LifeUCD) May 4, 2023
In the lead up to the 24-hour fundraiser, bake sales were held outside James Joyce library, O'Brien Centre for Science and Health Science lobby, and presentations were given to promote the relay and give students signing up an idea of what to expect.
During the relay itself, different events were scheduled each hour over the 24 hours to keep teams motivation and to encourage those around the campus to stop by.
Among the events included student music acts by UCD student bands The Becks, Sophie Finucane, Rhythmic Cat Project, a film screening, 5-aside soccer, tag rugby, yoga, and a midnight silent disco. There were also performances by UCD Musical Society and UCD L&H.
Also as part of the fundraiser was the 'Candle of Hope Ceremony', where those present, including members of the public, who could lay a candle along the relay track in memory of a loved one lost to cancer.
"Since we are not an official student society within the University, we rely so much on the help of larger societies to help promote our event - so we have to give a special shout out to UCD Med Soc and Eng Soc who helped spread the word, as well as UCD Surf Club, Tennis Club, Badminton Club, and Harry Potter Soc who held fundraisers on our behalf in the weeks leading up to Relay," said Ms Malone.

"We also received tremendous help from staff members Dr Jonathon Mc Nulty and Dr Stephen Thorpe from the School of Medicine, as well as Jason Masterson, Robert Mullee and Rory Nevin from UCD Student Center and Sports Center - who worked around the clock with us to make sure the event would be a success."
First held at UCD in 2012, UCD Relay for Life has now raised over €140,000 Irish Cancer Society.
By: David Kearns, Digital Journalist / Media Officer, UCD University Relations
To contact the UCD News & Content Team, email: newsdesk@ucd.ie