UCD Special Collections: New Heaney exhibit following significant donation of Irish poet's work
Posted 5 May, 2023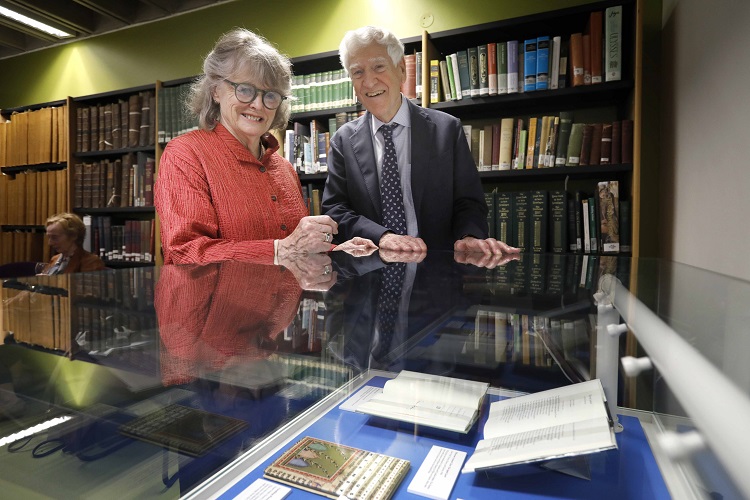 Marie Heaney, wife of Seamus Heaney, and Joseph Hassett at the launch of 'Heaney & the Classics', a UCD Library Special Collections exhibition Credit: Mark Stedman
A new exhibit exploring the work of Seamus Heaney through the lens of classical era literature has opened following a significant donation of the Irish poet's work to the UCD Special Collections.
The books on display at the UCD Library are a selection of limited editions and signed copies of the Nobel Laureate's work, and were donated by UCD alumnus and Yeats scholar Joseph Hassett - a longtime friend of the Heaney family.
The exhibition 'Heaney & the Classics' explores how Heaney's work brings order to the chaos, explaining the role of the classical world in his work with each case highlighting the links between the Irish poet and playwright's writing and a particular classical work.
"It is part of Heaney's genius that he enables us to experience these ancient writers as though they were our contemporaries by locating them in what he called 'the aura of the eternal present that poetic language confers'," said Mr Hassett introducing the new exhibit.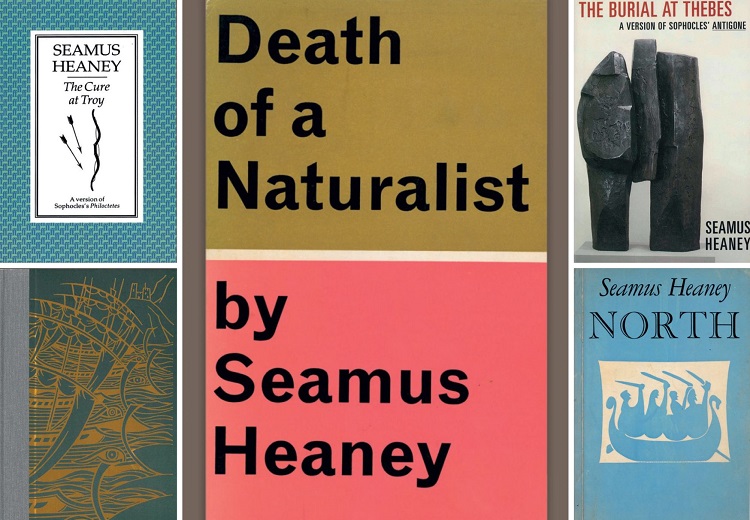 Curated by the noted Irish American lawyer, in collaboration with Evelyn Flanagan and Kathryn Milligan of UCD Special Collections, the collection includes a number of items inscribed to him by Heaney.
Among the books on display are a first American edition of Heaney's first book, 'Death of a Naturalist', signed by the poet, a signed first edition of 'District and Circle', and a copy of Heaney's translation of 'The Burial at Thebes: Sophocles' Antigone', which is inscribed: 'Joe... With old friendship and regard, Seamus'
An advocate for the arts and champion of Irish writing, Mr Hassett was the recipient of a 2022 Presidential Distinguished Service Awards by President Higgins in recognition of his contributions to Ireland and those Irish communities living abroad.
The launch for the exhibition was hosted by Dr Sandra Collins, University Librarian, and included words from Irish historian and academic Professor Roy Foster and Mr Hassett, who were welcomed by UCD President Orla Feely,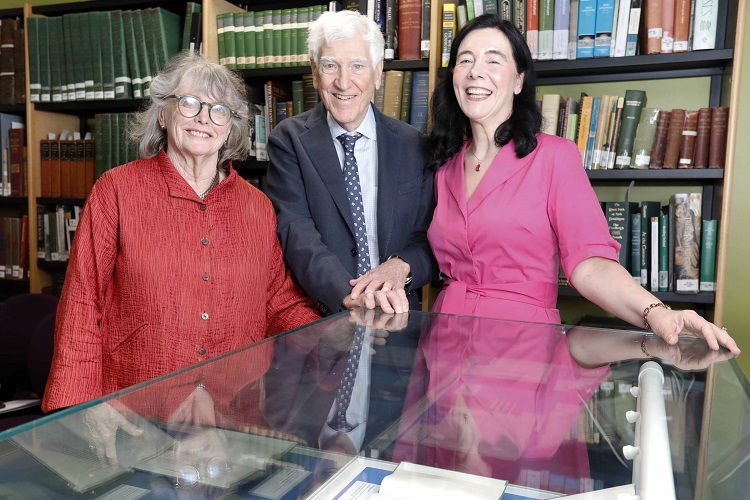 Marie Heaney, wife of Seamus Heaney, Joseph Hassett and Dr Sandra Collins, UCD University Librarian Credit: Mark Stedman
Mick Heaney spoke on behalf of the Heaney family who were in attendance, including the poet's wife Marie Heaney.
In addition to the exhibition display cases and panels at the UCD Library, there is an accompanying booklet, with an introduction by Mr Hassett, and two original essays by Professor Foster and poet Bernard O'Donoghue.
To make an appointment to see the exhibition, contact special.collections@ucd.ie.
By: David Kearns, Digital Journalist / Media Officer, UCD University Relations
To contact the UCD News & Content Team, email: newsdesk@ucd.ie