€2.7 million Horizon 2020 funding for UCD spin-out OncoMark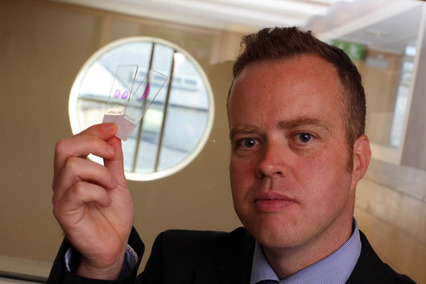 Posted 21 September 2015
University College Dublin spin-out company, OncoMark, has received €2.7 million in funding through the Horizon 2020 SME Instrument. The funding will help the company to commercially develop a new diagnostic test for breast cancer patients.
"The majority of early-stage breast cancer patients are treated with chemotherapy, despite many not benefiting from such treatment, thereby exposing individuals to severe side effects," said Des O'Leary, chief executive officer of OncoMark.
"Approximately 30% of patients develop a recurrence of the disease within 10 years after initial surgery and, therefore, require aggressive chemotherapy, but it has been difficult to identify these individuals."
"We are delighted to announce this award, which will enable us to accelerate the OncoMasTR test from the laboratory to the clinic, as well as creating employment opportunities and promoting the worldwide recognition of Ireland's capabilities in the clinical diagnostics field," he added.
OncoMark was co-founded by Professor William Gallagher, Professor of Cancer Biology in the UCD School of Biomolecular & Biomedical Science and Steve Penney as a spin-out from the UCD School of Biomolecular and Biomedical Science. It is focused on the development of novel panels of cancer biomarkers to aid treatment decisions and allow more tailored patient management.
The Horizon 2020 SME Instrument is designed specifically for single or groups of highly innovative SMEs with international ambitions, determined to turn strong, innovative business ideas into winners on the market. It provides full-cycle business innovation support from the stage of business idea conception and planning (phase I) over business plan execution and demonstration (phase II) to commercialisation (phase III). Participants will be able to call on business innovation coaching for the duration of their projects.
NovaUCD, the hub for new ventures and entrepreneurs at University College Dublin, where OncoMark is headquartered, nurtures and supports new high-tech and knowledge-intensive companies as part of UCD's mission. It provides purpose-built, state-of-the-art incubation facilities alongside a comprehensive business support programme for client companies such as OncoMark.
NovaUCD has been funded through a unique public-private partnership that includes AIB Bank, Arthur Cox, Deloitte, Enterprise Ireland, Ericsson, Goodbody Stockbrokers, UCD and Xilinx.