UCD spin-out company, Equinome acquired by Plusvital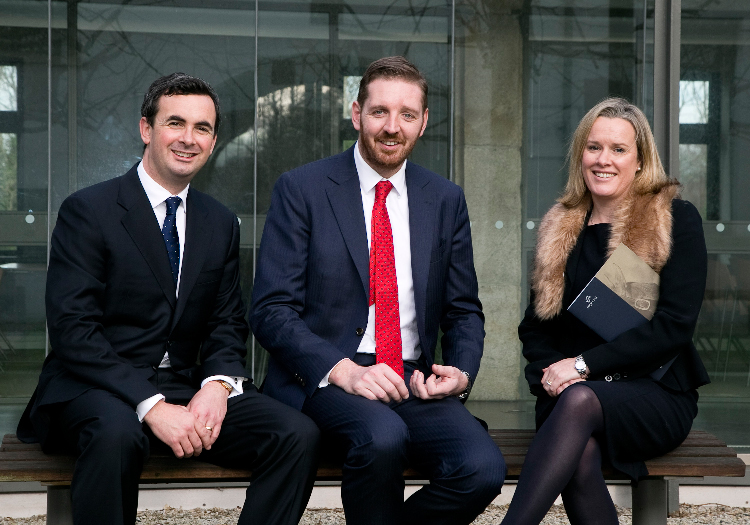 Plusvital, the Irish equine nutrition company, has acquired the leading bloodstock genomic testing company, Equinome. The newly expanded Plusvital will substantially invest in the development of novel equine genomic tests, innovative nutraceuticals and other equine performance and health products.
With the acquisition, Equinome's existing research team, led by co-founder Dr Emmeline Hill, will be strengthened by the recruitment of additional highly-qualified researchers and sales and marketing staff. The combined business will employ over 35 highly qualified scientists and professionals by the end of 2017.
Plusvital was established in 1975. It provides nutrition and care products to the global equine industry. Equinome is a University College Dublin (UCD) spin-out company. It was co-founded in 2009 by Dr Emmeline Hill from the UCD School of Agriculture and Food Science, and Jim Bolger, the renowned Irish horse trainer and breeder.
The company is headquartered at NovaUCD, University College Dublin's Centre for New Ventures and Entrepreneurs. It works with many of the world's leading thoroughbred training and breeding operations to provide genomic information to maximise the potential success of individual racehorses.
Equinome's researchers have published more scientific papers on thoroughbred exercise genomics than any other research group in the world. The company has an active research programme aimed at identifying and characterising the molecular genetic variants underlying key performance and health traits in the thoroughbred.
"The acquisition of Equinome will enable the business to leverage its global sales and marketing network," said Mike Shelly, chief executive officer of Plusvital. "The business will expand through the research, development and launch of unique product offerings in addition to our current range of supplements and genetic tests."
"We are delighted that Equinome is becoming part of Plusvital at this exciting stage in the growth of both companies. We have a suite of novel products and services that we will bring to market in 2016 and we will continue to invest heavily in our research and development pipeline," he added.
"The merger of Plusvital and Equinome represents a transformative step forward in the development of a world-leading equine sciences company that will deliver ground-breaking new services in equine performance and health management, including the exciting emerging field of nutrigenomics," said Dr Emmeline Hill, the new chief science officer of Plusvital.
"Equinome, which we have supported over many years through our technology transfer and enterprise development teams, is an excellent example of a UCD spin-out company commercialising world-class UCD research outputs," said Brendan Cremen, director of enterprise and commercialisation at University College Dublin.
"While only established in 2009, Equinome has already achieved global impact, reach and sales and significantly changed breeding techniques in the international, multi-billion euro thoroughbred horse racing and breeding industry."
"I wish the expanded Plusvital team continuing success and growth for the future and I look forward to the development of mutually beneficial partnerships between the company and UCD," he added.
---
Plusvital grew out of Ireland's world-famous racing and sport horse tradition and has been a leading provider of equine nutrition products since its formation in 1975. The company's scientifically formulated supplements are used by successful breeders, trainers and riders in Europe, the Middle East, Asia and Australia. www.plusvital.com
Equinome, an Irish biotechnology company, was launched in 2010 as a result of ground breaking research led by Dr Emmeline Hill of University College Dublin, and currently offers comprehensive athletic performance genomic tests to the Thoroughbred market including the Equinome Speed Gene Test and the Equinome Elite Performance Test v2.0.
Equinome's ongoing research and development activities continue to support collaborations between world-class science and elite racehorse breeding and training. Through this research Equinome is continuing to drive the cutting-edge of equine performance genomics. Equinome is headquartered at NovaUCD, the Centre for New Ventures and Entrepreneurs. www.equinome.com
At NovaUCD, the hub for new ventures and entrepreneurs at University College Dublin, we nurture and support new high-tech and knowledge-intensive companies as part of UCD's mission. At NovaUCD we provide purpose-built, state-of-the-art incubation facilities alongside a comprehensive business support programme for client companies such as Equinome.
UCD's technology transfer team, which is responsible for the commercialisation of intellectual property arising from research and other knowledge-intensive activity at UCD, is also based at NovaUCD. NovaUCD has been funded through a unique public-private partnership that includes AIB Bank, Arthur Cox, Deloitte, Enterprise Ireland, Ericsson, Goodbody Stockbrokers, UCD and Xilinx. www.ucd.ie/novaucd