14th NovaUCD 'Entrepreneurs Live!' Seminar Series
Four leading Irish entrepreneurs will share the secrets of their entrepreneurial success at 14th NovaUCD 'Entrepreneurs Live!' seminar series, delivered in association with the Dún Laoghaire-Rathdown County Enterprise Board, which commences on February 24 and runs each Wednesday lunch time until March 10.
An additional seminar will take place on Tuesday March 23 as part of the 2010 Dún Laoghaire-Rathdown Enterprise Week.
Podcasts of previous 'Entrepreneurs Live!' seminars are available.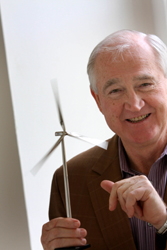 Dr Eddie O'Connor, Mainstream Renewable Energy, a speaker at a previous 'Entrepreneurs Live' Seminar
The seminars take place from 1pm - 1:50pm (light lunch available from 12:30 pm) in NovaUCD, Belfield Innovation Park, UCD.
Attendance at the seminar series is open to all especially undergraduate and postgraduate students.
The guest speakers at the forthcoming 'Entrepreneurs Live!' seminar series are:
The aim of the NovaUCD 'Entrepreneurs Live!' seminar series delivered by NovaUCD in association with the Dún Laoghaire-Rathdown County Enterprise Board is to promote a spirit of entrepreneurship among the academic, research and student population at UCD.
The four guest entrepreneurs in this series will talk about their experiences of setting-up and running their businesses emphasising the highs and lows encountered along their entrepreneurial journey and highlighting the secrets of their entrepreneurial success. After each seminar, attendees will have the opportunity to ask probing questions of the guest entrepreneur.
**** As space is limited at these seminars advanced registration is recommended ***
To register to attend any seminar please contact: Caroline Gill, t: 716 3715, e: caroline.gill@ucd.ie.
The NovaUCD 'Entrepreneurs Live!' Seminar Series is kindly sponsored by the Dún Laoghaire-Rathdown County Enterprise Board.

This seminar series forms part of the TCD/UCD Innovation Alliance Programme of Events.
Speaker Profiles
Colm Lyon, Founder and CEO, Realex Payments
Colm Lyon is founder and CEO of Realex Payments which he established in 2000. Realex Payments is a leading European payment service provider, with offices in Dublin, London and Paris. It provides a broad range of online payment services for over 3,500 clients domestically and internationally employing over 70 people and is responsible for online transactions worth €6.5 billion per annum.
Colm is a regular industry speaker and in 2005 he was acclaimed and rewarded for his leadership when he was a finalist of the Ernst and Young Entrepreneur of the Year Award. As an industry figure he was Director and Chairman of the Irish Internet Association for over four years during which time the association significantly enhanced its position.
In 2008 he was invited by Enterprise Ireland to participate in the Steering Group to devise the strategy for the Irish Software Sector. Prior to founding Realex Payments, Colm worked in the Ulster Bank Group for 14 years where he held senior IT management roles.
In 2009 Colm was presented with the 'Internet Hero Award' at the Eircom Golden Spider 2009 Awards.
Colm is a graduate of University College Dublin with a Bachelor of Commerce and a Masters of Management Science.
Howard Beggs, co-founder and CEO, Helix Health
Howard Beggs is co-founder and CEO of Helix Health, a leading provider of world-class primary and secondary healthcare software solutions and the dominant healthcare software company in Ireland.
Helix Health was formed in 2007 as a result of a merger between Systems Solutions Limited, a leading provider of pharmacy management software and Medicom Medical Computer Solutions Limited, a market leader in general practice systems, creating the largest indigenous healthcare IT provider in Ireland. Medicom had been founded by Howard in 1996.
In 2009 Helix Health expanded further when Health Ireland Partners, one of Ireland's leading primary care medical informatics companies, merged with Helix Health.
Today 80 per cent of GP practices, 60 per cent of hospital consultants, 80 per cent of hospital pharmacies and 70 per cent of retail pharmacies use Helix Health's practice management and other healthcare delivery products. Helix Health employs over 100 people and its cutting-edge technology helps professionals in all areas of the Healthcare sector deliver efficient, safe and cost-effective patient services.
Howard left school in 1986 and joined the Jefferson Smurfit Group. After 10 years he set up his own company, Medicom with IR£10,000 raised from his own resources and the Enterprise Board.
Howard is an MBA graduate from University College Dublin's Michael Smurfit Graduate Business School.
John Lynch, CEO, Merrion Pharmaceuticals
John Lynch is CEO of Merrion Pharmaceuticals a publicly listed, specialty pharmaceutical company engaged in the development of oral forms (tablets/capsules) of drugs that have poor absorption and are generally given by injection.
Merrion was established in 2003 to commercialise various technologies acquired from Elan Corporation, plc. It has developed two proprietary technology platforms; gastrointestinal permeations enhancement technology (GIPET®) and gastrointestinal retention systems (GIRES®) and the benefits of tablet form over injection are becoming increasingly apparent to the company as its technology develops and delivers.
John Lynch has extensive Pharmaceutical industry experience, with a 20-year career of achievement in many facets of the industry. In that time he has worked in senior positions in operations, business development, sales & marketing and finance.
Prior to joining Merrion, John was CEO of JML Healthcare which provided strategic consultancy to blue-chip big pharma as well as indigenous life science companies. Previous to that he had a 15 year career with Abbott Laboratories, Bayer Diagnostics Limited and Ernst & Young.
John received a BComm from University College Dublin and he is a member of the Innovation Taskforce established in 2009 by the Irish Government.
Ray Nolan, Founder Web Reservations International
Ray Nolan founded Web Reservations International (WRI) in 1999 when he identified an opportunity to introduce online bookings to the hostel industry, a sector which had previously been ignored by mainstream online travel companies. Today WRI provides online confirmed reservations to over 50,000 accommodation providers, directly and through more than 2,500 global affiliate partners.
A serial IT entrepreneur, Ray has been instrumental in the success of a number of companies in the Irish technology sector. He founded Raven Computing (subsequently Coretime Ltd) in 1989 to develop bespoke software solutions for the legal, and hospitality sectors, before subsequently developing a leading time and billing management system. He sold Coretime Ltd, to Sage in 2004.
WRI was sold in November 2009 to San Francisco-based private equity inventor Hellman Friedman for $500 million, the largest single company exit of the past decade in Ireland, surpassing eTel, Iona Technologies and Stockbyte.
Ray was presented with the Ernst and Young Emerging Entrepreneur of the Year 2003 Award 2003 and the Irish Internet Association Net Visionary 2006 Award.
Ray is currently involved in a number of new start-ups, including Worky.com, a new hiring network which aims to transform the way employers recruit staff and the way people find jobs and Cloudsplit.