Building Collaborative Networks for Innovation

The InterTradeIreland 2010 Innovation Conference, entitled Building Collaborative Networks for Innovation, took place in University College Dublin on 28-29 June 2010. The key message delivered by the influential business, industry and academic leaders who took part in the conference was that building collaborative networks is essential to develop Ireland as an innovation island.
The objective of the conference, delivered as part of the InterTradeIreland All-island Innovation Programme, was to explore and deepen the understanding of the potential economic opportunities which arise from building collaborative networks. The common theme, which emerged from all speakers, was that such networks are essential to drive and facilitate innovation and to develop a dynamic and indigenous knowledge-based economy on the island of Ireland.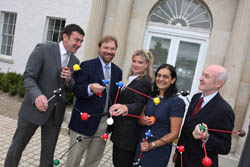 Aidan Gough, InterTradeIreland, Professor Woody Powell, Professor Petra Ahrweiler, UCD Innovation Research Unit, Damini Kumar and Dr Pat Frain, NovaUCD
During a keynote address at the opening day of the conference, Professor Woody Powell, a leading economic sociologist at Stanford University, California outlined key factors required to build robust business clusters within an economy. His address, entitled, Building Robust Business Clusters - Lessons from Biotech, focused on the development of the biotech industry in the United States.
Each of the 11 regions he studied were rich in resources such as scientific knowledge, money and business skills and had the potential to form biotech clusters. However only three of the regions formed robust clusters while the other eight failed to do so. Professor Powell concluded that the successful clusters were marked by the presence of local 'anchor tenants' who fostered the values of openness and transparency in the region and encouraged exploration, a diversity of types of organisations and a dense web of local relationships.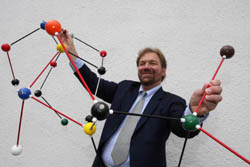 Professor Woody Powell, Stanford University
According to Professor Powell, collaborative networks are the locus of innovation and explain why high-tech clusters form in some regions but not others, even when the regions have comparable resources. The implication for all industrial sectors is that successful clusters require the thorough mixing of people, ideas and resources across the university, business and financial communities. Having organisational diversity and catalytic organisations which provide the relational glue to hold clusters together and facilitate the transfer of best practices are also essential.
The conclusion of his Day 1 address was that the development of true collaborative networks will be instrumental in the development of a robust and innovative knowledge-based economy on the island of Ireland.
Damini Kumar, an award winning designer, and the Director of Design and Creativity at NUI Maynooth was also a guest speaker on Day 1 of the conference. Last year the European Commission appointed her a European Ambassador for Creativity and Innovation to foster the principles and value of innovation and creativity at all levels of European society.
Day 1 of the conference focused on the theme of Building Collaborative Networks for Innovation in a Knowledge Economy. In addition to Professor Powell's keynote address, an expert panel, chaired by Bernie Cullinan, CEO, Clarigen, delivered short presentations on this theme and discussed the topic in greater detail via a questions and answers session.
The panel members who took part were; Dr Leo Bishop, Head of Strategic Investments, Research, Development and Innovation Policy, IDA Ireland; Dr Martin Curley, Director, Intel Labs Europe, Gina Quin, CEO, Dublin Chamber of Commerce, Dr John O'Dea, CEO, Crospon, Dr Hubert Henry, Director of Innovation, Bord na Móna and Dr Peter FitzGerald, founder and MD, Randox Laboratories.
Day 2 of the conference focused on Creating Innovation Communities. It brought together researchers from around Ireland and internationally who explored and examined current research on the the topic of innovation networks including the role that multi-national companies have to play in innovation networks.
Professor Powell also deliverd an additional keynote address on the second day of the conference which was entitled Chance, Nécessité et Naïveté: Ingredients to Create a New Organisational Form.
The innovation conference was organised by NovaUCD and UCD's Innovation Research Unit, and was delivered as part of the InterTradeIreland All-island Innovation Programme which aims to promote and encourage innovation across the island of Ireland. This Programme is organised by InterTradeIreland, Queen's University Belfast, NovaUCD and the Centre for Innovation and Structural Change at NUI Galway.

Complete_ITI_2010_Innovation_Conference_Programme (439 kbs)