Issue March 2008
Dear Colleagues and Friends
Welcome to the first issue of the NovaUCD Newsletter for 2008.
Fifty inventions were disclosed by UCD researchers to NovaUCD during 2007. This high level of disclosure is indicative of a continuing increase in the level of potential intellectual property being generated by UCD researchers. In 2007 nine priority, nine PCT and eight national/regional patent applications were filed by UCD across all areas of research. In this newsletter we highlight examples of UCD patents filed during the last year.
In the last few months, Broadcast Learning, Neosera Systems and Visor have graduated from NovaUCD. A total of nine companies have now graduated and moved to new premises. This continuous turnover of companies is an important element of NovaUCD's strategy to continuously refresh our community of entrepreneurs and to have the capacity at all times to take on new projects.
NovaUCD's thirteenth Campus Company Development Programme (CCDP) will commence shortly and a limited number of places are still available. The aim of the CCDP, which is supported by Enterprise Ireland, is to assist academic entrepreneurs in the establishment and development of new business ventures to commercialise the output of their research.
The tenth "Entrepreneurs Live!" seminar series which is supported by the Dún Laoghaire Rathdown County Enterprise Board has now been completed. To date 58 entrepreneurs have contributed to these seminars which have continued to attract a large audience and to stimulate a lively debate on issues relating to new venture formation. The series will run again in the Autumn.

Joe Drumgoole (centre) with UCD students Eimear O'Herlihy and Enda Gallery
NovaUCD in association with UCD's Michael Smurfit School of Business has commenced the delivery of two accredited modules in the area of Innovation and Knowledge Transfer as part of UCD's Structured PhD Programme.
In this issue we also report on recent developments for Celtic Catalysts, ChangingWorlds and gsmExchange.com, the presentation of two Enterprise Ireland Commercialisation Awards to UCD researchers and other news of interest.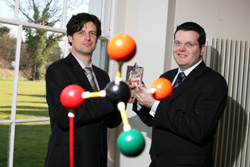 Kevin Dalton & Dr Brian Kelly, Celtic Catalysts
I would welcome any comments or feedback on this issue or any articles for inclusion in future issues. Please contact Micéal Whelan on t: 01-716 3712 or e: miceal.whelan@ucd.ie
Dr Pat Frain, Director

Complete March 2008 Issue (738 kbs)