2017 News and Events
Prof Onora O'Neill was awarded the UCD Ulysses Medal on 31 August 2017. The UCD Ulysses Medal is the highest honour that the university confers. Past recipients include Hilary Putnam, Noam Chomsky, Jürgen Habermas, Axel Honneth and Susan Haack.
Video of Professor Onora O'Neill's lecture on the occasion of the award of the Ulysses Medal 31 August 2017:
Professor Dermot Moran recently returned from an academic visit to Japan (University of Tokyo) and China (Wuhan University). January 2017

While in Wuhan University, he had the honour of being awarded an Honorary Professorship of Wuhan University in a ceremony presided over by the Executive President of Wuhan University. He was very pleased to be recognised by Wuhan - where he was also asked to give a talk in their Luo Jia Forum.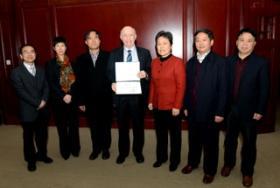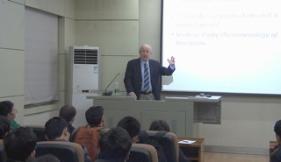 ---
Events in 2017

13 January 2017. "Rethinking the Senses" Public Lecture by
(Charles Seelig Professor in Philosophy, Boston College)
Friday 13th January 2017 at 6pm
Video
of talk hosted by UCD International Centre for Newman Studies.
27 January. New Directions in Phenomenology Research Seminar.
28 March. "Aquinas & Joyce on Beauty: A Dialogue at Newman House" Public Lecture by Emeritus Prof Fran O'Rourke (UCD)

31 March - 1 April. Graduate Conference in Ancient Philosophy 'Physis and Psychê in Ancient Philosophy: Causes, Generation, and Change'

31 March. "On Testimony" Workshop with Prof Lizzie Fricker (Oxford) as part of When Experts Disagree Research Project.

3-5 May. Phenomenology, Empathy, Intersubjectivity. Conference.
10 May. Philosophizing Monotheism - Programme. (Philosophizing Monotheism - Abstracts)
12-13 May. Dublin Graduate Philosophy Conference 'Bridging Divides.' Dublin Graduate Conference 2017 Call for Abstracts.
23-25 May. Heidegger on Affect Workshop. (Programme)
29-30 May. 'Expertise and Expert Knowledge. What is it? Where do we find it?' Part of When Experts Disagree Research Project.
6 June. UCD Summer School for secondary school students. Come to UCD to find out more about studying Philosophy as part of the new Social Sciences Degree.
8-9 June. Regret Workshop.
10 June. UCD Festival
15-16 June. Workshop: "Complicity‌: Ethical and Legal Issues"

Supported by the Society for Applied Philosophy, and the UCD Schools of Law and Philosophy.

Please see programme and abstracts

here

.‌
23 June. Anxiety Workshop. Venue: Irish Cultural Centre, Paris, France.
3-4 July. 'Disagreement in Science and Beyond' Workshop. Register to attend HERE.
Part of When Experts Disagree Research Project.
18 July. Empty Names Workshop. Details TBA. Hosted by the Dublin Philosophical Research Network.
31 August - 2 September. Trust, Expert Opinion and Policy: A multidisciplinary conference investigating questions of trust in and the trustworthiness of expert opinion.
19-20 October. 'John Dewey and Critical Philosophies for Critical Political Times'
Including 29 speakers with keynote speakers Prof Emerita Charlene Haddock Seigfried (Purdue) and Matthew Festenstein (York).
Hosted by Dewey Studies Research Project (UCD School of Philosophy) and supported by the UCD School of Philosophy, Mind Association, Society for the Advancement of American Philosophy (SAAP), UCD Humanities Institute and UCD Clinton Institute.
26 October. Book Symposium with Prof Édouard Machery (Pittsburgh).

27 October. Workshop: Evaluating Methods of Inquiry.
In any field of inquiry, researchers must evaluate their methods for reliability and probative value. The rigor of established methods and the innovation of new methods constrain what it is possible to investigate fruitfully. This workshop brings together philosophers investigating the methods of the sciences, of philosophy, and of the philosophy of science.
Programme: Programme Machery Workshop
Poster: Poster Machery Workshop

14 December
Workshop: '‌Frontiers of Phenomenology'
Abstracts
The workshop is free and open to the public, but registration is required.
To register, please email: anya.daly@ucd.ie
PLEASE NOTE PROGRAMME IS SUBJECT TO CHANGE.
UCD School of Philosophy
Fifth Floor -- 510D, Newman Building, University College Dublin, Belfield, Dublin 4, Ireland. E:
philosophy@ucd.ie