Legal Use of Photos in War Crimes Tribunals

By Kirsten Campbell
From police photographs on 'wanted' posters of war criminals to forensic photographs of massacre sites submitted by trial prosecutors to the court, the photograph has many different uses in the field of international criminal justice. An important function of the photograph is evidential. The photograph is often used as visual evidence of identity, injury or conduct. However, the photograph also has important rhetorical functions in this field. It is also used to inform, persuade, and educate. The power of these images of war is often used to move the viewer, whether the judge on the bench or the post-conflict nation.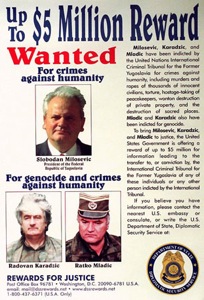 Wanted poster for Bosnian Serb leaders Slobodan Milosevic, Radovan Karadic and Ratko Mladic.

For a useful guide to international criminal law and public campaigns in this area, see:
Other useful references include:
Bloxham, D. (2001) Genocide on Trial: War Crimes Trials and the Formation of Holocaust History and Memory. New York: Oxford University Press.
Campbell, D. (2002) "Atrocity, Memory, Photography: Imaging the Concentration Camps of Bosnia - the case of ITN versus Living Marxism", Part 1 and Part 2. Journal of Human Rights I, no. 1 and 2.
Douzinas, C. and L. Nead (1999) Law and the Image: The Authority of Art and the Aesthetics of Law. Chicago: University of Chicago Press.
Haldar, P. (1991) "The Evidencer's Eye: Representations of Truth in the Laws of Evidence", Law and Critique II, no. 2, 1991.
Struk, J. (2004) Photographing the Holocaust: Interpretations of the Evidence. London and New York: Tauris.