World Press Photo & the Geopolitics of Photojournalism

By Justin Carville
In 2002, the photographer Paul Seawright was commissioned by the Imperial War Museum to produce a body of work in response to the terrorist attacks of September 11th and the war in Afghanistan. Travelling to Afghanistan in June of that year, Seawright produced a body of work entitled Hidden which was published as a book and toured as an exhibition in London, Cardiff and Dublin. In his essay accompanying the exhibition catalogue, Mark Durden observed that Seawright's photographs avoided "the exoticising vision best typified by the photojournalists' portrait of Afghanistan as a spectacle of ruins, his series of pictures are spare and understated" (Durden, 2003). It was this sparse visuality of Seawright's photographs, their apparent emptiness as a vehicle of visual description and information, that ironically was to make them appear so opaque and indecipherable to some of their viewers.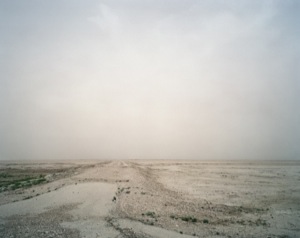 Paul Seawright- Desert Road 2002
Reviewing Seawright's Dublin exhibition on Irish public service broadcasting channel RTE's late night arts review programme The View , a panellist complained that the photographs did not portray the Afghan landscape through photographic conventions that would be familiar to the viewer. The panellist went on to remark that, in terms of evaluating their value or effectiveness as a form of visual communication, they did not know where to place Seawright's photographs in relation to previous photojournalistic representations of the desert landscape. The compositional rules of its representation of the non-occidental landscape – its iconography of ruined architecture and rolling sand dunes, long familiar to Western eyes – were absent from these particular pictures. Going on to describe how photography had previously been used to represent Afghanistan and other Eastern 'desertscapes', he concluded his remarks by complaining that in the whole series of photographs not a single crescent moon was to be seen.
The panellist's concerns about the content and composition of the pictorial space of the photograph are, on one level, simply an expression of their desire for visual legibility and familiarity of the image. There is an expectation and burden on the photograph to transparently present visual information through established codes and conventions organised within the pictorial space of the image. On another level, however, they are an example of photography's global impact in shaping perceptions of space and place. The panellist's ocular groping for the conventional and decipherable codes of photography's representation of the East demonstrates its significance in the West's turn towards what the German philosopher Martin Heidegger identified as the world conceived, grasped and conquered as picture. In this age of the World Picture, the photograph has increasingly been positioned at the centre of Western society's world view. As Durden's observations and the panellist's complaints about Seawright's photographs make clear, photojournalism in particular performs a key role in shaping the West's world view of the territory, terrain and spaces of international conflict. In doing so, they do not merely reflect but shape and alter public consciousness of the geographical spaces they represent, providing a framework for projecting imaginative geographies of global conflict, pain and suffering.
The World Press Photo organization is an important example of the significance of photojournalism in establishing perspectives and positions of the visualized geographies of international conflict. Established in the Netherlands in 1955, at the height of the Cold War, World Press Photo was founded as an independent non-profit organization to showcase and promote to an international audience professional photojournalism. To pursue its mission, World Press Photo organizes the largest and most prestigious annual photojournalism contest in the world, which it tours as an exhibition to over 35 countries and publishes as a yearbook and exhibition catalogue. Through its promotional activities, World Press Photo brings to an international audience of over a million people a year the world's most significant conflicts, traumas and social upheavals mediated through the press photograph. As an organization, its promotion of photojournalism on an international scale links the aesthetic and the political of visual communication to the human and cultural perspectives of geographic space.

Spencer Platt/Getty Images


Affluent Lebanese drive down the street to look at a destroyed neighborhood August 15, 2006 in southern Beirut, Lebanon. This photo was World Press Photo of the Year in 2006.
World Press Photo provides one example, amongst many, of the role of photojournalism in shaping perceptions of the spaces of global conflict and suffering. Through its organizational activities, in particular its annual awards and exhibition, the role of photojournalism in establishing perspectives and positions of the global spaces of conflict and suffering can be examined through various methodological and theoretical perspectives. Beginning with a content analysis of photographs within the various award categories, this case study will take as its departure point the exploration of the question: what are the dominant geographic spaces of global conflict and suffering represented through photojournalism? From this perspective, broader questions of visuality and geopolitics, colonial and postcolonial identity, and the role of photojournalism in shaping public perceptions of international conflict will be examined.