Professor Liam Kennedy

Principal Investigator- Photography & International Conflict Project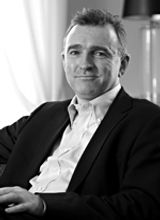 Professor Liam Kennedy is Director of the Clinton Institute for American Studies at University College Dublin. He has diverse research interests and teaching experiences, spanning the fields of American urban studies, visual culture, globalisation and transatlantic relations.
He is the author of Susan Sontag: Mind as Passion (1995) and Race and Urban Space in American Culture (2000). He is co-editor of Urban Space and Representation (1999) and City Sites: An Electronic Book (2000), and editor of Remaking Birmingham: The Visual Culture of Urban Regeneration (2004).
Professor Kennedy's work is interdisciplinary, blending cultural and political modes of scholarly analysis, and represents American Studies as a valuable framework to study both American domestic and international affairs.
He is currently researching a monograph on photography and international conflict, and preparing two edited books - on urban photography and on cultural diplomacy and US foreign policy.
Recent Publications:
"Remembering September 11: Photography as Cultural Diplomacy", International Affairs 79, no. 2 (March 2003), 315-26.
"Framing September 11: Photography After the Fall", History of Photography 27, no. 3 (Autumn 2003), 272-283.
"Urban Decline and Representation", in Transfiguring Spaces , eds. Gunter H. Lenz and Utz Riese (Heidelberg: Winter Verlag, 2003), 35-52.
(with Scott Lucas) "Enduring Freedom: Cultural Diplomacy and US Foreign Policy", American Quarterly 57, no. 2 (June 2005), 309-33.
"Counter-Traditionalist: Susan Sontag", Radical Philosophy 135 (Jan-Feb 2006).
"Spectres of Comparison: American Studies and the United States of the West", Comparative American Studies (March 2006), 135-50.
"Securing Vision: Photography and US Foreign Policy", Media, Culture & Society 30, no. 3 (2008), 279-94.
"Soldier Photography: Visualising the War in Iraq", Review of International Studies 35 (2009), 817-833.