Opening in September 2019, the €20 million investment will fuse the UCD Lochlann Quinn School of Business facilities at the UCD Belfield campus. At the heart of the UCD Moore Centre for Business is the idea of belonging, collaboration, coworking and side by side learning, inside and outside the classroom.
We have combined this vision with the insight that changing space changes how we work and learn to create versatile, active, learning environments that enable diverse ways of working. Students and staff are invited to together imagine the future of business and business education.
Donors and Creators
A dedicated team of founders, corporate leaders, colleagues past and present, students and alumni, employers, supporters and collaborators have enabled the realisation of this highly ambitious project.
The UCD Moore Centre for Business was kickstarted through the tremendous philanthropic support of Angela Moore and family, in memory of Angela's husband, the late George Moore. George, a UCD alumnus and early founder in the analytics sector, was a passionate advocate for education and the educational start he received at UCD. Angela, a business leader and entrepreneur, continues this vision.
With their help and that of a select group of corporate partners, we have embarked on a journey of thinking bigger about transformational learning and the next generation of business education.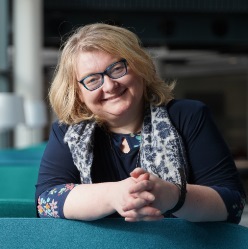 This is about students, about business, about society and about changing the way we live and work.
Associate Professor Maeve Houlihan, Director UCD Quinn School
Our visionary corporate partners include PwC, EY, KPMG, The Mont Kavanagh Trust, and Total Produce.
If you are interested in helping us to build the future, please contact Professor Maeve Houlihan.