The Edward Worth Library
by Dr Elizabethanne Boran, Librarian of the Edward Worth Library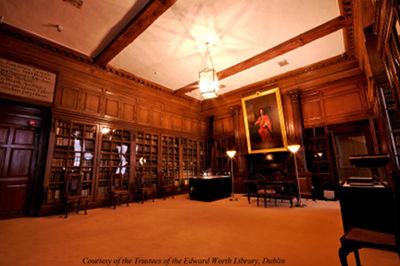 Image taken by Soul Media
The Edward Worth Library in Dr Steevens' Hospital is, quite literally, a gem of a collection. With its wonderfully preserved glittering spines and its unique early eighteenth-century glass bookcases, it offers readers and visitors an opportunity to enter the private world of a Dublin physician and connoisseur book collector at the start of the eighteenth century. Edward Worth (1678-1733) left his library and money to the newly-founded hospital which opened the year he died, 1733. There were many reasons for his so doing: he was a friend of the Steevens family; he had been appointed a Trustee of the early hospital; at least one third of his collection mirrored his professional interests and therefore covered all aspects of early modern medicine; last but not least, he wanted to leave a memorial to himself, a library which would not be subsumed by larger collections but which would continue his name to posterity.
A physician himself, and a Fellow of the Royal Society, he naturally focussed on augmenting his medical and scientific works, but his library spans all areas and is particularly rich in travel literature. His collection developed over time: initially he had inherited the library of his father, John Worth (1648-1688), Dean of St Patrick's Cathedral, Dublin, and that of his grandfather, Edward Worth (c.1620–1669), Bishop of Killaloe. As a student at Oxford and Leiden he continued to collect and his obsession with books was further encouraged by a bequest from a rich uncle who died in 1721. As a number of Book sale and auction catalogues present in the Worth Library attest, Dr Edward Worth bought books from auctions in London and Amsterdam during the 1720s and early 1730s – a crucial period when many famous collections were coming on the market. His library is thus very much a European collection, with relatively few Dublin publications being purchased. Worth was primarily interested in fine bindings and printings. This heightened sense of the book as material object is clearly visible throughout the collection.
The terms of Worth's will, which restricted access to three people: the surgeon, the physician and the chaplain of the hospital, ensured that usage of the collection over the centuries was minimal. As a result, readers and visitors are now presented with a library in a truly unique state of preservation, where seventeenth and early eighteenth-century books literally look like new. Today, after years of careful refurbishment, the Library is open to scholarly readers and research is undertaken on a wide range of topics. Contact details for the Worth Library may be found on the website, alongside a host of material about the collections, future events and all previous exhibitions.
The Edward Worth Library website
Texts in Catalogue