News
News
April 2014
Congratulations to Prof Mark Crowe, Prof Michael Diskin and Prof Pat Lonergan on receiving Science Foundation Ireland Investigators Programme Awards. Prof Mark Crowe and Prof Michael Diskin received €1,197,447 to complete a project titled "The development of early non-invasive and reliable molecular biomarkers of pregnancy in dairy cattle". Prof Pat Lonergan received €866,991 to complete a project titled "Reducing embryo mortality through improved understanding of embryo maternal communication".
The Science Foundation Ireland Investigators Programme supports excellent scientific research that has the potential to impact Ireland's economic and societal development. The 36 projects were selected by competitive peer review by 400 international scientists, focusing on excellent research with potential impact.
March 2014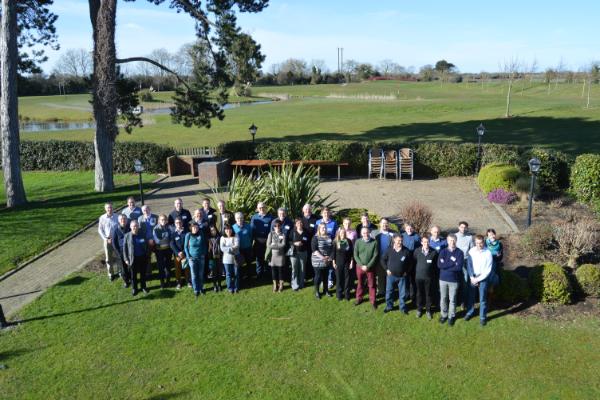 The FP7 funded "GplusE" project held their Kick Off Meeting in Roganstown House from 2nd - 4th March. The project is coordinated by Prof Mark Crowe (UCD) and the consortium involves academic and industry partners from 6 EU countries together with the USA and China to allow access to a range of Holstein sub-types kept under both pasture-based and indoor intensive dairy systems. The overall objective of the GplusE project is to develop and exploit genomic data and analytical tools, new phenotyping approaches and breeding strategies for sustainable dairy production systems.
November 2013
Dr Erin Williams discusses a new test for the detection of endometritis in cattle
In November 2013, Dr. Erin Williams was interviewed for Merck Animal Health's Studio Bovine at the European Buiatrics Forum in France.
Click here to hear the full interview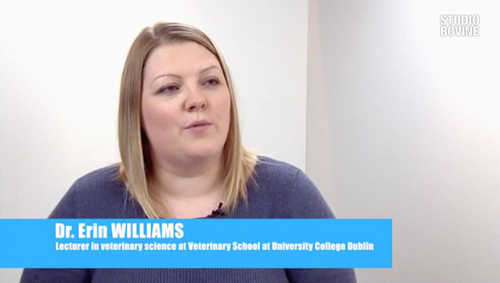 May 2013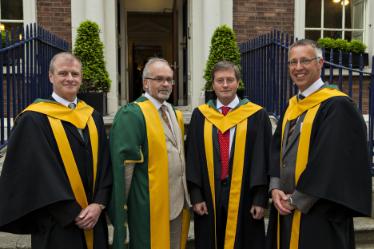 Congratulations to Professor Mark Crowe (above right) on his enrollment as a member of Royal Irish Academy. At the RIA enrolment event on 31 May 2013, a total of 21 of Ireland's leading scholars were enrolled as new members of the Royal Irish Academy continuing a 228 year tradition.
The Royal Irish Academy (RIA) is Ireland's premier learned body and vigorously promotes excellence in scholarship, recognises achievements in learning, direct research programmes and undertakes its own research projects, particularly in areas relating to Ireland and its heritageThose elected are entitled to use the designation 'MRIA' after their name. There are 474 Members of the Academy including: Nobel Laureate, Seamus Heaney, TK Whittaker (public servant) Mary McAleese (President of Ireland 1997-2011), Frances Ruane (DG of ESRI), Maurice Manning (NUI Chancellor), Patrick Honohan (Governor of the Central Bank), and writer and cartographer Tim Robinson.
Read More:
Nov 2012
Prof. Patrick Lonergan (pictured far right) presented his talk titled "Effects of progesterone supplementation after Artificial Insemination on pregnancy maintenance" at Ceva Animal Health held its inaugural ReprodAction Cattle Symposium in Madrid. More than 300 vets from 23 countries caught up with the latest research in cattle reproduction management from world-leading bovine reproduction experts, covering subjects including the link between nutrition and reproduction, anoestrus cows, pre-insemination management and embryonic mortality.
Click here to read more

June 2012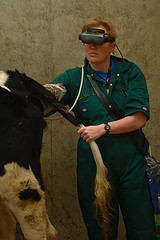 Image Credit: Marijke Beltman, Pablo Rojas
Dr Marijke Beltman participated in the 'Curious?' series of wall murals based on scientific images by Irish and International scientific researchers. Marijke's image of transrectal ultrasounds was chosen to be part of a 'curious' collection of scientific images to capture people's imagination and showcase the magic of science that is rarely seen outside of research groups. Images ranging from the microscopic (burst blood vessels, MRSA, dental plaque) to the enormous (CERN Large Hadron Collider) can be seen on Dublin city buildings on Pearse Street and Baggot Street Bridge. Each image has a story behind it that not only explains the science but connects you to the image.
To read more click here
May 2012

Congratulations to Professor Pat Lonergan (above left) on his enrollment as a member of Royal Irish Academy. At the RIA enrolment event on 25 May 2012, a total of 22 of Ireland's leading scholars were enrolled as new members of the Royal Irish Academy. For 227 years, membership of the Royal Irish Academy has been keenly competed for, as it is the highest academic honour in Ireland and a public recognition of academic achievement. There are now 466 members of the Academy, in disciplines from the sciences, humanities and social sciences. Those elected are entitled to use the designation 'MRIA' after their name.
Read more
October 2011
Dr Sara Edwards (AgResearch New Zealand) will present a seminar titled "Reproductive Traits in New Zealand Sheep" on 13th October 2011.
March 2011
Dr Michael Mullen and Lorraine Richardson presented their current work at this year's Agricultural Research Forum held in Tullamore on 14th and 15th March 2011. The Agricultural Research Forum is held annually and brings together scientists from Teagasc, University College Dublin, University College Galway, Agrifood and Biosciences Institute (AFBI, Northern Ireland), University of Limerick, National University of Ireland, Maynooth, Queen's University, Belfast, and Waterford Institute of Technology. Prof Micheal Diskin (RBRC member and Teagasc scientist) organised the event.
To read more click here
February 2011
The RBRC are pleased to announce the upcoming "Animal Reproduction Mini Symposium" on 4th March in Veterinary Science Centre, UCD. Prof Hilary Dobson (University of Liverpool), Prof Detlef Rath (Friedrich-Loeffler Insitut, Germany) and Dr Sukru Pancarci (Kafkas University, Turkey) will all present their current research work at the event. For more details click RBRC Animal Reproduction Symposium
January 2011
Congratulations to Prof Alex Evans on securing funding from "Strategic and Major Initiatives Scheme 2010" to complete a project investigating maternal response in camel.
Dr Tom Wheeler from AgResearch New Zealand will present a seminar titled "The BSP30 Salivary Proteins in Cattle: Host Defence Within and Beyond the Reproductive Tract" in Veterinary Sciences Centre from 1:00 - 2:00 pm on 10th January 2011.
Prof Patrick Lonergan was an invited speaker and Dr Solomon Mamo, Dr Manuel Garcia-Herroros, Dr Nadera Mansouri-Attia , Ms Maria Clemente, Ms Satoko Matoba and Dr Ines Aparacio presented posters at the Annual Conference of the International Embryo Transfer Society (IETS0 in Orlando, Florida, 8th -12th January 2011
December 2010
Congratulations to Prof Pat Lonergan on securing major funding from SFI Principal Investigator Programme for his work on understanding early embryonic mortality in cattle.
The End of Year was held on 10th December 2010. All participating RBRC members successfully faced the challenge of presenting their research in four minute "elevator" style pitches.
November 2010
Prof Pat Lonergan and Prof Michael Diskin presented plenary lectures at 26th World Buiatrics Conference in Santiago, Chile. Buiatrics is the study of cattle and their diseases and over 2,000 veterinarians attended the event to receive the latest updates from international experts on current buiatric practice. To learn more please click here


September 2010
Prof Pat Lonergan and Prof Alex Evans presented plenary lectures at the 8th International Ruminant Reproduction Symposium in Anchorage Alaska. Dr Ciara O'Meara, Dr Francesca Mossa, Dr Erin Williams, Siobhan Walsh and Kasia Pluta presented posters of their current research work at the symposium. The International Ruminant Reproduction Symposium is the most prestigious international conference on ruminant reproduction and emphasises current knowledge and state of the art information on topics relevant to a variety of ruminants. To learn more click here
Congratulations to Catriona Blake for completing her MSc and on her new position with Claymon Biomis Laboratories.
July 2010
Dr Alan O'Doherty and Dr Niamh Forde presented their research work at 43rd Annual Meeting of the Society for the Study of Reproduction (SSR) in Milwaukee. The Society is an association of scientists and physicians interested in research in all fields of reproductive biology and publishes the number one journal in this area of research "Biology of Reproduction" (BOR). To learn more about SSR click here
June 2010
SHEEP2010 'A Time to Refocus' is the seventh major national sheep event to take place at UCD Lyons Research Farm, Newcastle, Co. Dublin. Hosted and organised by the UCD School of Agriculture, Food Science and Veterinary Medicine, in conjunction with Teagasc, Bord Bia, The Irish Farmers Journal, and Sheep Ireland and jointly sponsored by Kepak, Supervalu and Intervet Schering-Plough Animal Health.
Congratulations to Dr Marijke Beltman who was conferred on 21st June and will start her new position as lecturer in Clinical Reproduction in September 2010.
May 2010
The RBRC are delighted to welcome Dr Mary Sekiya as an industry partner. Mary is the Director of BoFinn Diagnostics Ltd, which specialises in immunodiagnostics and offers a diagnostic laboratory service to large animal veterinarians. Find out more about BoFinn.
February 2010
Prof Pat Lonergan was part of a team who published "Sex determines the expression level of one third of the actively expressed genes in bovine blastocytes" in the highly prestigious journal Proceedings of the National Academy of Sciences 107 PP 3394-3399.
January 2010
Dr Marijke Beltman published an article in the Irish Veterinary Journal titled "The Use of Epidurals in cattle" as part of the Continuing Education Series. Download the article.
January 2010
Satoko Matoba, Abdullah Al Naib, Dr Solomon Mamo, Dr Ines Donoso, Dr Manuel Garcia, Dr Trudee Fair, Prof Pat Lonergan attended and presented their work at the Annual Meeting of the International Embryo Transfer Society (IETS), in Cordoba, Argentina in January 2010
9th – 12th September
Dr Erin Williams, Prof Mark Crowe, Prof Alex Evans and Marijke Beltman attended the 13th Annual Conference of European Society for Domestic Animal Reporduction ESDAR) in Ghent, Belgium.