UCD Contact Tracing Centre at forefront of HSE CTC development
Now no longer serving the public, the UCD Contact Tracing Centre (CTC) was at the forefront of the HSE's CTC network during the height of the covid pandemic. Run by Associate Professor Mary Codd and Professor Patrick Wall from UCD School of Public Health, Physiotherapy and Sports Science (SPHPSS), the facility rotated a roster of over 300 volunteers and processed up to 600 calls a day at full capacity.
The CTC commenced operations on 18 March. Thanks to the rapid response of UCD Estate Services, the UCD O'Brien Centre for Science was set up with four call centre rooms and an operations hub with 72 phone lines within 24 hours of receiving the request from the HSE.
Leading Procedural Development
From an initial group of staff from SPHPSS, the operation grew to include a core team of volunteers who were instrumental in helping to develop the CTC's processes and operating procedures, as well as developing the HSE's materials for call scripts and special queries in the CTCs nationally.
A group comprised mostly of graduate students and some UCD administrative staff coordinated operations from the Science Programme Office, often relaying important queries to specialists and experienced clinical support experts on site.
Another group of mostly students designated 'Systems Supports' spent their days troubleshooting and refining CTC processes, creating efficiencies in reporting, data logging, and generally facilitating in each of the call centre rooms.
A final core group of specialist and expert volunteers, comprised mainly of senior UCD faculty, were situated around the two floors of the CTC every day. They were on hand to deal with more sensitive calls, often involving complex health or mental health considerations including care home residents and psychiatric patients. Special private satellite rooms were provided for handling these critical calls, and all special case learnings are fed back to the HSE to update national CTC procedures.

Professor Wall, a full Professor of Public Health, spends most of his time on site fielding medical queries from the UCD CTC and interacting with testing facilities at NVRL and the Enfer laboratory. Associate Professor Codd coordinates everything from the volunteer rosters, to daily HSE briefings, while also answering queries from callers and providing on site clinical support.
Specialist Skills

Every shift at the CTC saw 40 volunteer callers and around ten support staff manage the workload of the day, while maintaining social distance and other crucial HSE health and safety protocols. Volunteers offered not just their time but also enormous flexibility, capable of accepting changes to rosters or plans as late as the night before.

UCD's CTC volunteer database was partitioned into groups by skills, including language skills, and rostering was optimised to provide as much available expertise as possible, particularly relating to health care and the needs of the elderly.

While the HSE supplied each CTC with a translation service for those for whom English was not their language of choice, the UCD CTC volunteer corps had ready access to 26 languages internally, thanks to the international faculty and students who volunteered as callers.
Unique examples of this were when Master of Public Health students, Olufisayo Bademosi and Uma Divya Kudupudi, were on hand to speak in Yoruba and Urdu respectively to patients with insufficient English to understand the content of the calls. An added bonus was that both students had health backgrounds and the empathy needed to handle these delicate situations. In both cases, the individuals, their family members and close contacts were hugely appreciative of being able to converse in their native language on such difficult issues.
Provision Of Training
The UCD CTC has also provided training for non UCD volunteers and non CTC HSE staff, including Environmental Health Officers and Occupational Health professionals. The volunteer database continued to grow and the call centre was furnished with an additional ten phone lines to increase capacity.

Speaking about the CTC facility, Associate Professor Mary Codd said: "I cannot speak highly enough about the staff and students who have volunteered their time and expertise to help develop the facility. We started with nothing and in four weeks it had grown to an operation at the forefront of the national CTC network".
"I would like to personally thank members of UCD Estates, PJ Barron, Tadgh Corcoran and Martin Sheils, and Professor Joe Carthy who leads UCD College of Science, for the speed of their response enabling us to set up the facility here, and their ongoing dedication and support in facilitating its operation and expansion. I would also like to thank Elaine Murphy, Science Operations Manager in the O'Brien Centre for Science, Igo Café in Sallynoggin, The Falafel catering and the Islamic Cultural Centre of Ireland for providing the CTC with food on a daily basis through the 'Feed the Heroes' programme".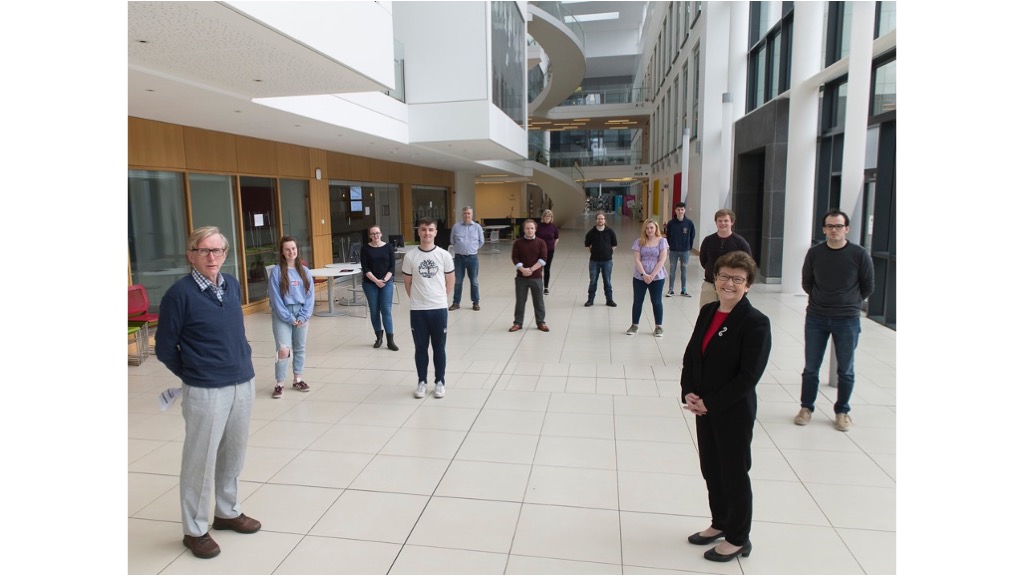 Professor Patrick Wall, Associate Professor Mary Codd and CTC core team