Summary
Like many cities, Ho Chi Minh is suffering from the effects of air pollution and climate change. To help address this, the HealthyAir project team installed a network of six stations to monitor air pollution across the city, analysing pollution patterns and identifying major sources of pollution. The team included researchers and practitioners from CeADAR (Ireland's Centre for Applied AI at UCD) and Vietnam National University.
Based on data from these monitoring stations, the team created a HealthyAir app, which uses machine learning to predict air pollution in different parts of the city. It gives warnings and advice when pollution is about to become high, so that residents can make informed decisions about exposure to harmful air pollutants.
The team shared their findings through media appearances, workshops and meetings, raising awareness of the issue among the public and policymakers. They also developed a policy recommendation for the city's environment department, suggesting steps to tackle pollution. Together, the team's efforts are working toward regulatory change (helping, for example, to better manage emissions from transport and industry).
Research description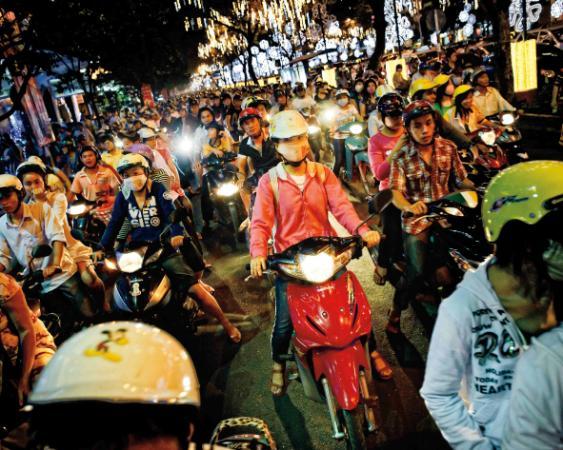 Ho Chi Minh City, the economic centre of Vietnam with a population of 9 million people, is suffering from air pollution and climate change. According to the WHO, more than 60,000 deaths in Vietnam every year are linked to air pollution. Surprisingly, before this project, the city has only one station to monitor air quality, installed at the US consulate, which was insufficient to represent air pollution levels across the city.
Between June 2020 and October 2022, the HealthyAir project team installed a network of six air-quality stations across the city, to monitor a range of air pollutants, including fine particles, nitrogen dioxide, ozone, carbon monoxide and sulphur dioxide. They used the data recorded by the network to analyse air-pollution patterns in Ho Chi Minh, geographically and over time, and to develop models using machine learning to predict future air quality, considering both weather and air pollution data.
Using these models, the team created a free HealthyAir mobile app to give residents of Ho Chi Minh City real-time information about air quality, as well as a 24-hour forecast and a warning system when pollution is high. The app was designed by a multidisciplinary team including data scientists, air-pollution experts, and medical and environmental professionals.
The team also carried out a comprehensive inventory of air-pollution and greenhous gas emissions in the city, identifying road traffic and industry as the most significant contributors. Their results were used to simulate the impact on public health – in terms of the number of deaths related to air pollution – as well as to prepare an air-pollution policy recommendation.