Research impact
Policy impact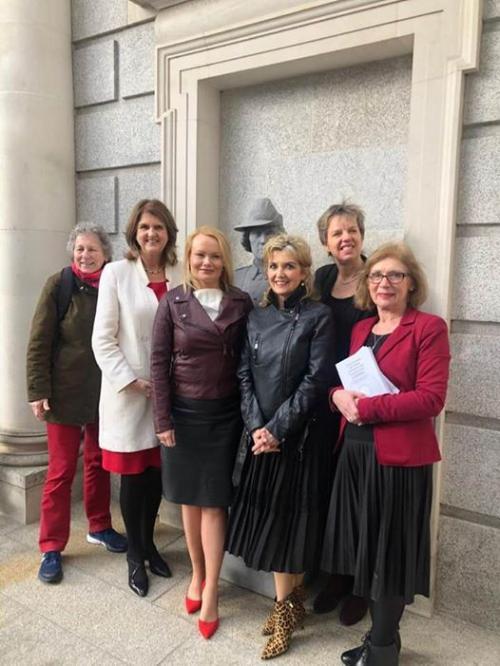 Northern Ireland
Dr Keenan's research and interviews with Sir John Gillen on 3 October 2018, as part of his review following the Belfast Rape Trial, produced direct recommendations for restorative justice in Northern Ireland (recommendations 219 and 220). On 22 June 2020 the Northern Irish Justice Minister launched an Adult Restorative Justice Strategy, in light of the recommendations, including a section on restorative approaches to sexual offences. Now, a dedicated staff has been appointed to lead on a Centre of Restorative Excellence, aiming to enhance capacity of restorative justice practitioners to operate a system of restorative justice at any stage in the criminal justice process.
The Republic of Ireland
In January 2015, the Minister for Justice, Equality and Law Reform, Frances Fitzgerald, invited Dr Keenan to meet with her officials to discuss her research findings and to consider possibilities for restorative justice after sexual crime in Ireland. This led to a committee of stakeholders within the criminal justice system being established to consider the issues in light of the EU Victims Directive 2012.
One outcome of the committee's work was the development of a Victims Unit and a restorative justice service in The Irish Probation Service, to offer restorative justice to victims of Probation Service clients following sexual crime. This service began in 2018. Dr Keenan continues further advocacy work with Senator Ivana Bacik for the possibilities of establishing more extensive restorative justice services for sexual crime in Ireland.
Estonia
In 2019, the Estonian government asked their Ministry of Justice to develop an action plan to develop the use of restorative justice. The Ministry of Justice then invited Dr Keenan to Estonia to screen 'The Meeting' and present her research to members of their policymaking division, as well as to practitioners and NGOs.
There are several direct outcomes: restorative justice is now being offered to victims of sexual crime in Estonia with the support of the Ministry for Justice, and Dr Keenan has been invited to facilitate training of staff in Estonia to increase capacity. This began in December 2020.
Health and wellbeing impact
Eleven individual victims of sexual crime in Ireland were directly impacted by Dr Keenan's research through their participation in restorative justice with her. In their own words, the process helped them to "reclaim power" by facing their offender and their fears; "exercise voice" in making statements and asking questions; "recover from posttraumatic stress"; and "believe in the idea of 'justice' again".
Former sex offenders were also impacted by Dr Keenan's research, six of whom participated in restorative justice, by "repaying a moral debt" to the victim and society; helping to heal the wounds and impacts of their crime by "listening and responding honestly to the victims' questions"; and enabling their own recovery from shame and dishonour by doing something "honourable". Thirteen family members of victims and offenders participated in restorative justice with Dr Keenan.
Social and cultural impact
Dr Keenan's work has reached a broad audience through a full-length film, a play, four podcasts, five webinars, radio and television interviews, and newspaper articles.
On September 15 2018, The Late Late Show conducted an interview with Ailbhe Griffith and Dr Keenan on restorative justice after sexual violence. Around 650,000 viewers watched the interview, generating awareness and increasing demand for restorative justice. An estimated 332,000 listeners heard a radio interview with Dr Keenan and Ryan Tubridy on RTE radio in 2018, which generated significant awareness of restorative justice following gender-based violent crime. This was followed by requests from victims of sexual crime for restorative justice.
The film 'The Meeting' has been positively reviewed in at least 20 outlets and viewed by more than 3000 people to date, generating awareness of the possibilities and processes involved in restorative justice following sexual crime. As one woman wrote having seen the film:
"It was difficult not to cry. I didn't cry because she did not cry. Instead, as I was faced with a woman who refuses to be classed as a victim, I decided not to be a victim of her experience … This film shows us that in the aftermath of the greatest hurt, the most invasive of assaults, the most denigrating pain, that resolution is possible. Put simply, to have watched it means there is now a 'before' and an 'after' for every viewer."
The website designed for the distribution of materials and interviews related to the film, has had 100,000 hits since September 2018.
Educational impact
Dr Keenan's research led to her being invited in 2019 to participate in the United Nations review of their Policy Handbook on Restorative Justice in Criminal Matters, which guides nation states in developing restorative justice services. Her research forms the bedrock of the section relating to restorative justice after sexual crime. Dr Keenan (with her team) also developed a Practice Guide, "Doing Restorative Justice in Cases of Sexual Violence: A Practice Guide", published by Leuven Institute of Criminology.
Academic impact
These findings have been widely disseminated to build public and academic understanding, via ten academic articles and book chapters, three books, presentations at international conferences, including to such specialist audiences as the International Association of Women Police.