The New UCD Village Residences
The UCD Village is an exciting new addition to the UCD Residences Community. Located on the Belfield Campus, the UCD Village offers state-of-the-art student accommodation in a safe, communal environment, and is only a short walk from UCD's world-class academic and sports facilities.
Phase 1 of the UCD Village is comprised of over 900 student bedrooms across Blocks D and E, and the flagship Village Centre.
The Village Centre
The Village Centre contains ultra-modern self-contained studios and a mix of social and retail spaces, alongside a gym, Student Health Centre, bank point and a bookable auditorium.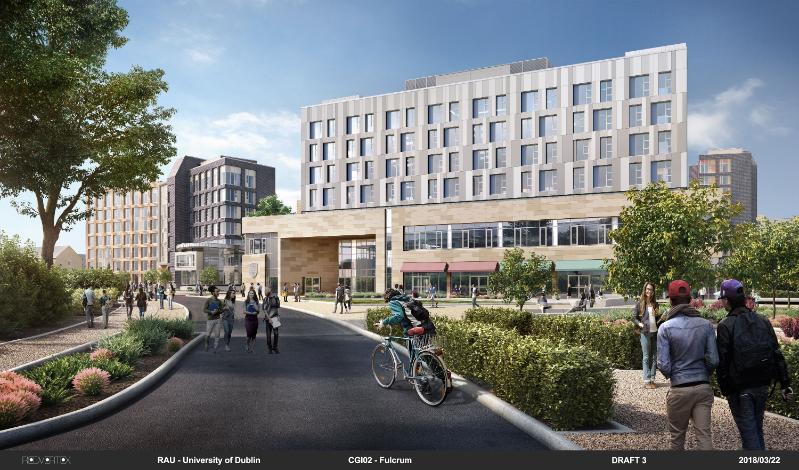 Block D
Block D contains 455 student bedrooms and a dynamic shared student space where residents can meet, relax and socialise.
Block E
Block E contains 409 student bedrooms, an onsite launderette, a bookable kitchen / tearoom, student lounge spaces and an immersive breakout study space.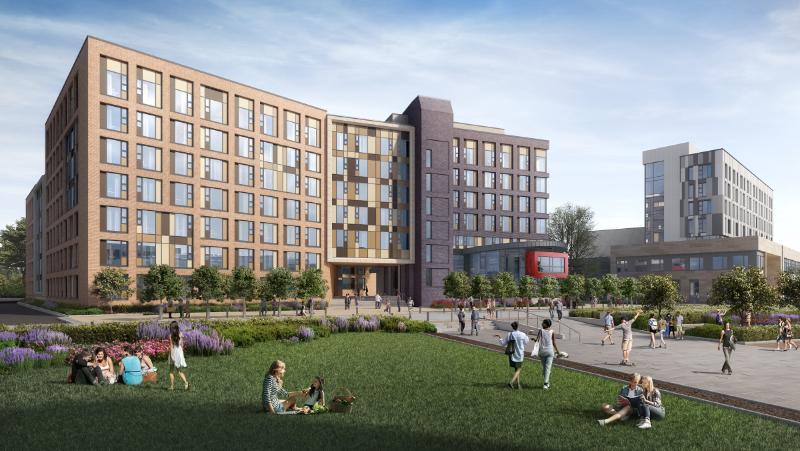 Village Residence Features

Consists of 4, 5, 6, 7, 8, 12 & 14 bedroom apartments and accessible rooms.
Easy access to Residence Village gyms and Health Centre.
Mix of Village Halls, Gold, Platinum, Penthouse and Studio Rooms.
On-site dedicated maintenance team.
All bedrooms have a private ensuite bathroom.
On-site laundrette with washing / drying facilities.
Bedrooms are furnished with a study and ample storage space.
Ample outdoor bicycle storage.
Kitchens are equipped with hobs, ovens, fridges, freezers, a microwave, kettle, and a toaster.
Access to dynamic Village bookable study and social spaces.
24/7 Support Team on-site (Residences reception staff & Security Staff).
Located within walking distance to world-class academic and sports facilities.
Show/hide content Open Close All
Our Brand New Residences Are Getting Closer And Closer
If you've walked around the Belfield campus lately, you can't but have noticed the major construction works in progress.
This is the first stage of an ambitious programme of development that will provide over 2,000 new beds by the year 2024. This ensures that future generations of UCD students will be able to source high-quality accommodation on campus, without being forced into off-campus accommodation in locations that involve a daily, time-consuming commute.
Work is already well advanced on the first stage in this construction programme, which will deliver 924 new dwellings from September 2021. This stage will also result in construction of an exciting new Student Amenity Building that will be an important new addition to our student facilities on campus.
To minimise disruption during this programme of activity, our contractors normally confine work to the hours of 8.00am to 7.00pm from Monday to Friday, and from 8.00am to 2.00pm on Saturdays. From time to time, however, there may be events onsite, including large deliveries, that require activity outside these hours, including at weekends.
It is inevitable that there will be some noise disruption while our builders are on site, and we would ask you to bear with us as we strive to deliver an even better campus for our current and future student body.
Frequently Asked Questions:
Show/hide content Open Close All