Welcome to the SBBS Community Showcase!
Stay tuned as we release new videos and blogs throughout the academic year, featuring our students and staff telling us about their experiences studying and working in the field of science
Hi ! My name is Navya Lalu and I am currently studying Pharmacology at UCD. I'm originally from India but I've lived in Ireland for most of my life.
I was always interested in science but wasn't exactly sure what area I wanted to focus in, hence why I chose the DN200 course. This course allowed me to try out a variety of modules in all the science subjects and at the end of second year, I knew Pharmacology was the one for me. I'm very interested in learning about cardio and neurodegenerative diseases and how certain drugs are ableto prevent or cure some of the most common illnesses.
As well as academics I also love getting involved in student life. There are so many societies and clubs in UCD and it is such a good way to meet amazing new people! Currently I am the Senior PRO of the UCD Biological Society, class rep for Pharmacology and a Science Student Leader where I occasionally help out during open days and science events.
In my free time, I like to binge watch Netflix series (like a lot of us) and play badminton with my friends!
Shreya Mistri, from India, is studying for an MSc in Biotechnology and Business. In her blog here, she tells how her love of art and design led her to create her own science communications website, where she presents scientific research and findings through illustration

Srushti Kulkarni from Mumbai tells us in this video about her undergraduate studies in Science, what led her to come to UCD to study for an MSc in Biotherapeutics, and how she recently celebrated Diwali, India's Festival of Lights

Learn more about our MSc in Biotherapeutics programme here
Maeve Doyle, Stage 3 Genetics student, tells us in this video how her studies have informed her knowledge of her own visual impairment and other inherited conditions, starting college during COVID, and the joys of windsurfing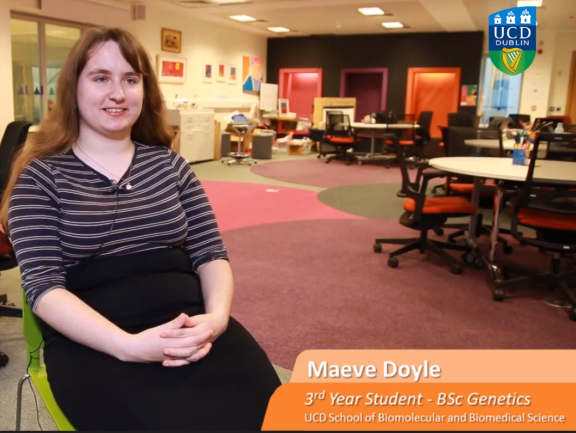 In this video Microbiologist and Lecturer Dr. Tadhg Ó'Cróinín talks about his time as our school's Head of Microbiology, his research on how bacteria cause disease, and the most rewarding aspects of his work

Meet Rithika Suresh, one of our MSc in Biotechnology students from India, who in this video tells us about her passion for Science, her interests including sport and dance, and tips and advice on how to integrate into student life when you are a long way from home

Learn more about our MSc in Biotechnology programme here
Dr. Maria Prencipe, SBBS Lecturer in Pharmacology and Principal Investigator at the Conway Institute, tells us in this video of her fascination as a young child with the work of Italian Nobel Laureate Rita Levi-Montalcini who discovered the nerve growth factor. Maria was interested in cancer research at a young age and her research focuses on new treatments for hormone-driven cancers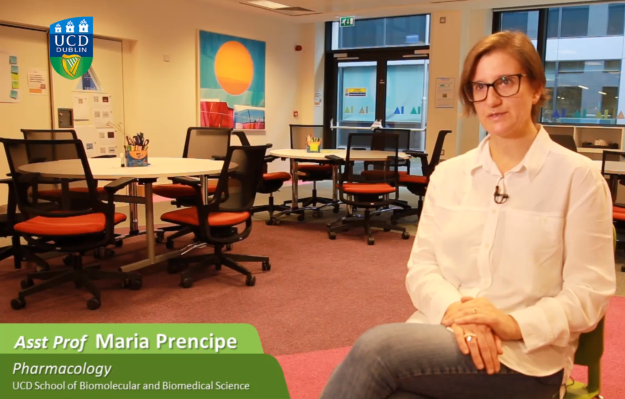 Read more here about the life and work of Rita Levi-Montalcini who received The Nobel Prize in Physiology or Medicine 1986
Hi, my name is Manuel Bruch and I am in the third year of my PhD with Prof Kevin O'Connor and Dr. Tanja Narančić which deals with fixing carbon dioxide into biopolymers and platform chemicals using applied microbiology and biotechnology.

I did my Bachelor's and Master's degree at RWTH Aachen University, Germany, after discovering that biotechnology would be a good way to combine my interests in all kinds of sciences and computational techniques. Thus equipped, I find the subject of this PhD very satisfying and am hoping to be able to contribute my small little part to a more sustainable society.
In my spare time I enjoy both listening to and making some music, playing games or otherwise spending time with friends or go climbing/cycling.
Meet Alan and Paula from our technical staff who tell us about working with our students in the labs, their own backgrounds, studies and interests
My name is Alan Hoban and I completed my undergraduate bachelor's degree in Neuroscience in University College Cork, UCC.
After that I moved to the National University of Galway and completed an MSc in Neuropharmacology under the supervision of Dr Una Fitzgerald with a research focus on the role of Endoplasmic Stress in Multiple Sclerosis. After that I remained in NUI Galway for a further year as a demonstrator and voluntary research assistance in neuropharmacology. I then moved back to UCC to complete my PhD under the supervision of Professor John F Cryan and Dr Gerald Clarke. My PhD focused on investigating the role of the gut microbiota in behaviour and brain development. Before moving to Dublin to take up the position of technical officer I did a post-doc with Dr Yvonne Nolan in UCC.
Currently, I work as a technical officer in the school of Biomedical and Biochemical sciences UCD where I am the technical officer for 3rd year Neuroscience and Pharmacology undergraduate laboratory practical's. During my academic studies I had many opportunities to teach students in a laboratory environment and quickly realized that this was the career I wanted. I have been working in UCD for nearly 5 years and have worked very hard to keep engagement with the students as a priority and to introduce many new and exciting practical's that provide the students with invaluable skills that will aid them through their own careers. It is important to me that the students get the most out of their degrees with regards to the laboratory practicals.
One of Alan's interests is baking with his creations being picked up by the media from his Instagram account (Alan Bakes Cookies (@alan_attempts_baking) and published in Ireland's Homes Interiors & Living magazine. Check out some of his delights below!
My name is Paula Ventura da Silva and I am a Technical Officer in UCD SBBS working with 2nd year 3rd year Neuroscience and Pharmacology laboratory classes. I have always loved reading, learning and being curious about how nature works which led me to do a degree in Biochemistry in the University of Coimbra, the oldest university in Portugal.
From doing a Neurosciences elective during my bachelor's degree, I became more and more interested in understanding how the brain works, why and how we react to everything around us, how we make decisions, etc. This curiosity drove me to do a PhD in Neurosciences in the University of Minho, also in Portugal, studying how chronic stress leads to the development of anxiety and what happens to the brain when we experience situations of chronic stress and what pharmacological approaches we can use to improve excessive anxiety.
In 2016, I moved from my home country of Portugal to Ireland to work in the University College Cork under the supervision of Professor John F Cryan. There I started working on the Microbiota-Gut-Brain Axis to understand what impact the microbes that live in our gut can have in our brain and behaviour.
Throughout the years working in research, one of the aspects I have always enjoyed the most was to get the opportunity to meet new students and mentor and train them as they would join us in the labs for undergraduate projects or master thesis. In March 2020, I moved to Dublin to start working in UCD as a technical officer and in this role, I get the chance to continue with that work, helping undergraduate students to learn new practical skills, engaging with them to promote their interest in science and cooperating with the academic staff to always continue improving our laboratory classes so that students learn and also enjoy their time in the laboratory.
On the 20th of October 2022 Paula attended a conferring ceremony for His Excellency Marcelo Rebelo de Sousa, President of the Portuguese Republic, who was recognised by University College Dublin for his exceptional achievement in building the nation's modern democratic state and was conferred with an honorary doctorate of Laws by the University.
Meet our featured undergraduate and postgraduate students from the 2021–2022 academic year who tell us why they chose to study science and about their lives at UCD, interests, and pastimes
My name is Anupa Sara Paulose and I am a 3rd year Pharmacology student in UCD School of Biomolecular and Biomedical Science. I originally come from a small town in South India.
My decision to major in pharmacology stems from working with elderly nuns in a convent part-time for the last few years. One of the nuns would always ask me to find a cure for all her problems and I would jokingly tell her that I definitely will after my degree! Although I do not know when I can achieve this, I definitely want to try and make a difference in their lives one day. This dream grew my love for research especially in the neuropharmacology area.
Apart from my academic life, I am currently the team leader of Enactus UCD, an organisation which works on social enterprises. I look after 5 social enterprises that we run in UCD with our committee. Three UCD SBBS students and I, also co-found the social enterprise buyrish.ie to support small Irish businesses during the height of the pandemic last year.
Hi! My name is Fatima Butt, and I am a final year Pharmacology student in UCD SBBS. I was born in Pakistan, but I've been living in Ireland for most of my life.
I never would've seen myself to be studying Biology, let alone specialising in Pharmacology! I did biology, chemistry and physics for my Leaving Certificate and I didn't know what subject to choose (I loved all three, and still have a keen interest in all three fields). After finishing my first year in the NPF route, I'm very content about my choice in Biology. Literally I can't emphasise how happy I am!
I'm really excited to see where Pharmacology takes me. I've always had a fascination with drug development and the pharmaceutical industry. I've recently become keen on the academic side as well, and currently I am researching the role of mast cells in epilepsy as part of my final year project. Neuropharmacology, along with cardiovascular pharmacology, are two areas that have intrigued me ever since Stage 2. I'm not sure on what I would like to do after my bachelors, but I'm looking forward to seeing what Science has to offer me. My current obstacle is to figure out what I would like to pursue after my bachelors. Perhaps a masters in Biotechnology & Business, or Biotherapeutics & Business; there are so many options to choose from, so it is quite challenging!
I love to get involved in student life, so along with academics, I am currently UCD Senior Student Ambassador, President of UCD Biological Society, and co-Class Representative of Pharmacology. I'm also in the middle of completing the gold Gaisce award this year. If you have any questions regarding Science at UCD or anything UCD really, I'm probably a good person to give a shout! My email is fatima.butt@ucdconnect.ie View Fatima's video here
Hi, my name is Carina Hof and I will be working under the supervision of Dr. Cormac Murphy to investigate the molecular mechanism behind biofilm growth of the fungus Cunninghamella. In my free time I like to go on hikes, go to a pub with friends or read a book. Looking forward to meeting many of you at UCD!
I am Patricie Niemcová, currently working on "Application of the fungus Cunninghamella in phosphate recycling and bioremediation" in the Cormac Murphy group. Besides working on my PhD, I can always make time for a good cup of coffee.
My name is Ivan Krupa and I am starting a PhD project under the supervision of Associate Professor John Crean with the title; 'Defining the extracellular microenvironment for the efficient generation of iPSC derived kidney organoids'. The project will aim to how the extracellular microenvironment influences cell fate in the context of iPSC derived kidney organoid derivation. My hobbies and interests include music, health and fitness and the latest in science that is broadly centered around my research area.


Lisa and Liam are post-doctoral researchers in SBBS. In their blogs they tell us about their research work and also about the new SBBS Post-doc forum they have set up to to bring the postdoc community together to discuss work, experience, interests and any challenges that they face.