SBBS celebrate conferring of PhD & MSc students Friday 15th June 2018
The School of Biomolecular and Biomedical Science (SBBS) held a reception on Friday 15th of June 2018 in the O'Brien Centre for Science to celebrate our sixteen postgraduate students who were conferred with their MSc by Research and PhD degrees that day.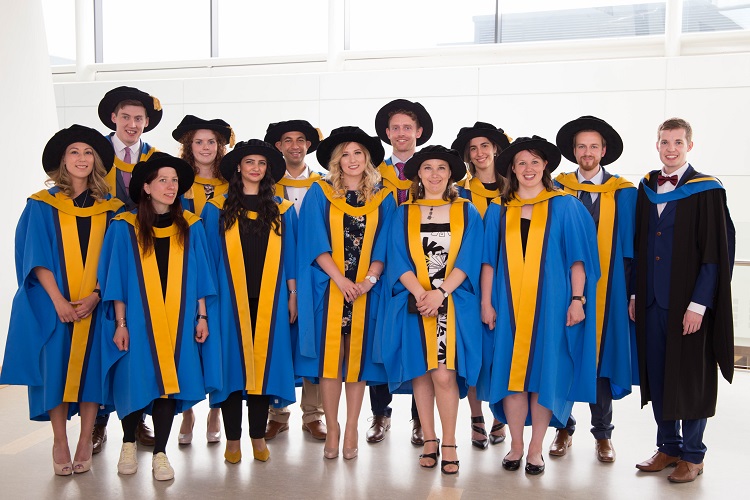 Prof Wim Meijer, Head of School, opened the reception, which was attended by the graduates, their families, friends, research supervisors and SBBS staff, with a speech acknowledging the years of hard work, commitment and dedication in reaching this major milestone in their careers. He commended the three MSc by research and 13 PhD graduates for completing a journey which, without a doubt, encompassed experiences of joy, disappointment and frustration but through their vision and will to persevere ultimately led to new insights and discoveries and shifted the boundaries of knowledge and research. During his speech, Prof Meijer quoted President John F Kennedy's famous statement about the effort to reach the moon, "We choose to go the Moon in this decade and do the other things, not because they are easy but because they are hard," as well as George Mallory's response when asked why he climbed Mount Everest, "Because it is there."
To conclude the event, Prof Geraldine Butler presented a slideshow with photos of the graduates and highlights from their respective research journeys.
‌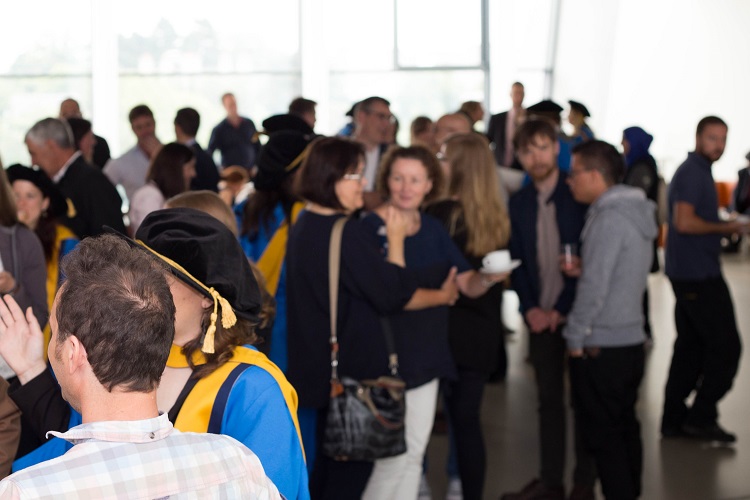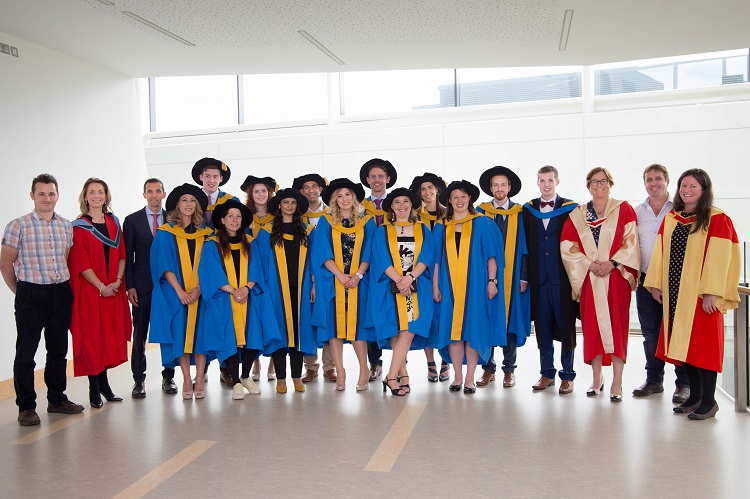 Photos by Craig Slattery.
The full list of graduates and their theses are listed below. For more details on SBBS research programmes click here.
Degree of Master of Science- Research
Mark Gallagher, MSc
Thesis title: Synaptic Plasticity and Epileptiform Activity Models: Hippocampal Slices and Zebrafish
Supervisor: Caroline Herron
Hilary Cassidy, MSc, PhD
Thesis title: In Vitro and In Vivo strategies for the analysis of novel biomarkers of diabetic nephropathy
Supervisor: Tara McMorrow
Rebecca Ward , MSc
Thesis title: Investigation into the underlying aetiology of a visual function defect in a zebrafish model of von-Hippel Lindau disease
Supervisor: Breandán Kennedy
Degree of Doctor of Philosophy
Michael Higgins, PhD
Thesis title: Assessment of the Impact of Ciliary Loss on the Epithelial Phenotype in RPTEC/TERT1 cells and Investigations into the Development of a High-Throughput Carcinogenic Screening Method
Supervisor: Tara McMorrow
Ismael Obaidi, PhD
Thesis title: Investigation into the chemopreventive and anti-cancer effect of natural products: Insight into the carcinogenic inhibit ion and trail-sensitizing effects of curcumin in human kidney models
Supervisor: Tara McMorrow
Paulina Szklanna , PhD
Thesis title: The Platelet Releasate in Preeclampsia
Supervisor: Patricia Maguire
Sarah Al Mahboub, PhD
Thesis title: The design of a biocatalyst for the synthesis of small molecules for biomedical application
Supervisors: Kevin O'Connor and Tanja Narancic
Carolina Ruiz, PhD
Thesis title: Production of polyhydroxyalkanoates from waste resources
Supervisor: Kevin O'Connor
Paul Donovan, PhD
Thesis title: Comparative genome analysis of non-coding RNAs in fungi.
Supervisors: Geraldine Butler and Des Higgins
Siobhan Turner, PhD
Thesis title: Post-genomic analysis of metabolism and biofilm formation in the pathogenic yeast Candida parapsilosis
Supervisor: Geraldine Butler
Sarah Eivers, PhD
Thesis title: Regulated Expression of the PTGIR and TBXA2R Genes:
Implications in Human Health and Disease
Supervisor: Therese Kinsella
Dearbhla Lenehan, PhD
Thesis title: Characterisation of Gram-negative bacteria binding to platelets and the CD36 receptor
Supervisor: Jennifer Mitchell
Gavin McGauran, PhD
Thesis title: Development of new methods for the study of protein-protein interactions using a calcium dependent fragment complementation based platform.
Supervisor: David O'Connell
Noemie Scheidel, PhD
Thesis title: Characterisation of endocytic and IFT-A pathways controlling cilia compartmentalisation and functions using Caenorhabditis elegans
Supervisor: Oliver Blacque
Laura Bel, PhD
Thesis title: Identifying novel Ciliary Membrane Trafficking Genes using Forward Genetics in Caenorhabditis elegans
Supervisor: Oliver Blacque
Kontxi Martinez de San Vicente, PhD
Thesis title : Analysis of virulence in the pathogenic yeast Candida parapsilosis
Supervisor: Geraldine Butler