The School is delighted to to announce that two of its Professors have been honoured by Science Foundation Ireland.
Professor Kevin O'Connor recieved the SFI Researcher of the Year Award. Prof O'Connor is BEACON-SFI Bioeconomy Research Centre Director and Professor at UCD School of Biomolecular and Biomedical Science. The award recognises the accomplishments of an SFI funded researcher who has contributed significantly to the Irish research community in the year of the award and/or throughout their career. Prof O'Connor was acknowledged as having achieved exceptional scientific and engineering research outputs combined with a clear demonstration of the ability to communicate his research.
See http://beaconcentre.ie/professor-kevin-oconnor-beacon-director-receives-2019-science-foundation-ireland-researcher-of-the-year-award/ for a full report

The SFI Entrepreneurship Award celebrating an entrepreneurial achievement by SFI supported researchers was awarded to SBBS Professor and Director of the Conway Institute, Professor William Gallagher.
See https://www.sfi.ie/research-news/news/2019-science-awards/index.xml for a report of the award ceremony.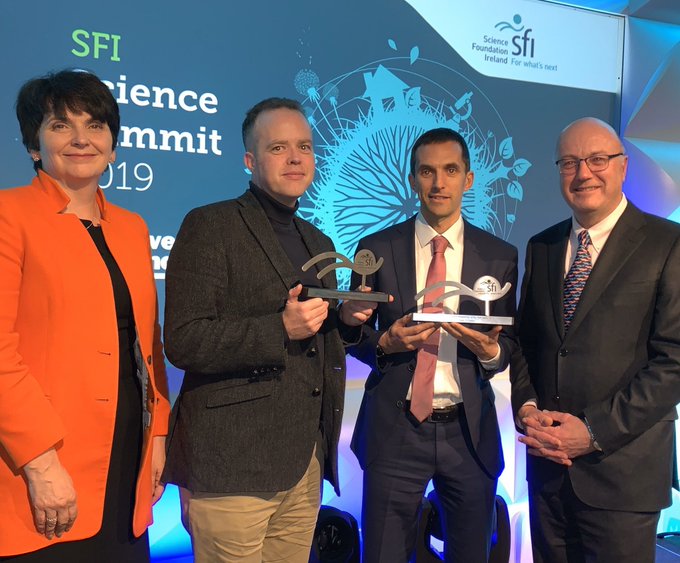 Pictured above are Professor Orla Feely (UCD Vice-President for Research, Innovation and Impact), Professor Wiiliam Gallagher (SBBS Professor & Conway Institute Director), Professor Kevin O'Connor (SBBS Professor and Beacon Centre Director) and Professor Mark Ferguson (Director General, SFI)