SBI-led MSc in AI for Medicine and Medical Research Open for Enrollment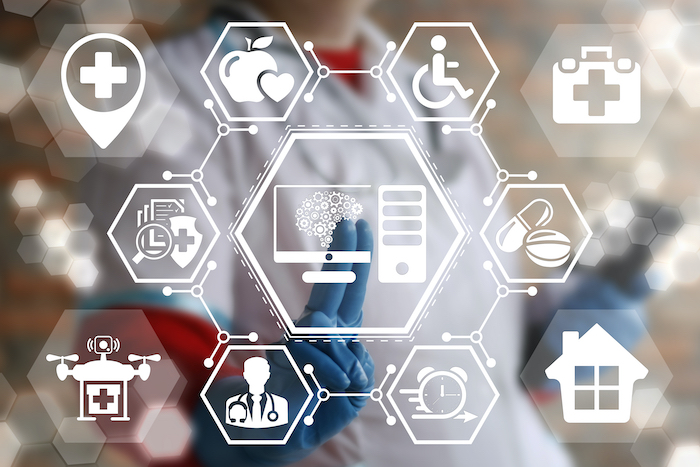 Image credit: Shutterstock
Enrollment is now open for an exciting new Masters programme at UCD, developed by Walter Kolch, Dirk Fey, and Eadaoin McKiernan of Systems Biology Ireland (SBI). The MSc in Artificial Intelligence in Medicine and Medical Research will start in the Autumn 2020 trimester, and, according to Kolch, is one of its kind both in Ireland and across the globe.
"Medicine is becoming a data-driven science," Kolch said, but explained that the current medical curriculum does not train students how to interpret or use big data, leaving a void in what is an up-and-coming area of needed expertise. According to the World Economic Forum's 2018 Future of Jobs report, AI will create 133 million new jobs by 2022. Accenture and other market forecasters (Markets and Markets, Grandview Research) estimate that AI applications and AI jobs in medicine and healthcare will grow tenfold or more over the next five years. Graduates for filling these positions are in high demand.
The MSc programme is aimed at students with mathematical, statistical, or computational backgrounds who have an interest in adding medical applications to their skill sets.
"We targeted students with these skills because you need a fairly substantial knowledge base in mathematics and statistics in order to apply cutting edge AI methods [to medicine]," Kolch said.

Walter Kolch, Director, SBI
The course website describes the full-time programme as consolidating core disciplines "to address a rapidly increasing skill gap in the healthcare and biomedical research sector. AI is already revolutionising medical imaging, digital pathology, pharmaceutical research, and remote sensing and connected health. In the era of genomic medicine AI will transform the way we diagnose and treat diseases reducing the impact of the healthcare crisis in industrialised countries caused by cancer, obesity and diabetes.
"The programme is really very hands on," Kolch said. "Of course, the computational scientists need to learn about biology, but the way we actually do this in this course is that they learn biology by working with biological data."
"It is very much geared towards learning biology and understanding biology, and learning medicine and understanding medicine by actually working with data and medical problems," he said.
The course is broken into two parts – part one includes eight mandatory and seven optional modules leading to a graduate diploma. The second part includes three advanced modules for those wanting to pursue a Masters degree.
Some of the mandatory modules include titles such as 'Biological principles and cellular organisation,' 'Medical research design and ethics,' 'Genetic Epidemiology,' 'Precision Oncology,' and 'Machine learning,' among others. Other more advanced modules cover areas like 'Statistics for Human Genetics' 'AI for personalized medicine,' 'Bioinformatics' and 'Deep Learning.'
Instructors from SBI include Walter Kolch, Dirk Fey, Melinda Halasz and Eadaoin McKiernan. The modules will be taught by a wide variety of instructors from the UCD School of Medicine, School of Computer Science, School of Mathematics and Statistics, School of Public Health, Physiotherapy and Sports Sciences, and School of Information and Communication Studies.
Kolch said there is a huge role to play for scientists who have acquired the skills offered in this course, and he said the potential for using AI in clinical settings is promising.
"A lot of diagnostics is based on imaging and that used to be done manually, meaning a pathologist looking down the microscope or a radiologist looking at the x-ray, but we are getting overwhelmed," he said. "There's a huge shortage of pathologists, and in Western countries like the European Union, there would be one pathologist per 50,000 people, but in Africa there's like one pathologist per 1 million. That means it's not feasible anymore or sustainable to just keep looking down the microscope and doing this all by human labour."
"This is where artificial intelligence really has come to the fore in terms of imaging and image analysis," Kolch said. "It is currently being introduced in the clinic, not in the way that it is actually making diagnostics, but it is being used to just decide what's 'normal,' so that the pathologist just needs to look at the critical cases. You think about screening tests, you know, mammographies, 98 percent will be normal, and the artificial intelligence program will simply sort those out which are normal so the pathologist only needs to look at two instead of 100."
Kolch said that he expects the course and its students to continue to grow in scope and take on other grand challenges in medicine, such as connecting electronic health records, treating rare diseases and exploring genome sequencing.
"There's this whole area of genomics and computational modelling which we can use to make better, more precise diagnosis for patients and also design better therapies, and this also to a large degree is driven by artificial intelligence," he said.
According to Kolch, the course will prepare students for either further study or a number of career opportunities in industry, research, pharmaceuticals and healthcare. "It's still a very, very dynamic field where everything is wide open," he said.
At the heart of it, the new Masters programme is a further SBI initiative to help bring the science into the lives of real people and make a lasting impact.
"At the moment, we actually don't have people who have an understanding of both the clinical side and the artificial intelligence side to really implement all these new things that are on the horizon and which could really help take a lot of pressure off in the clinic and improve clinic services," Kolch said.
The programme major is open through the UCD online applications system www.ucd.ie/apply and is listed under MSc Artificial Intelligence for Medicine & Medical Research.