Melinda Halasz recognised with UCD Teaching & Learning Award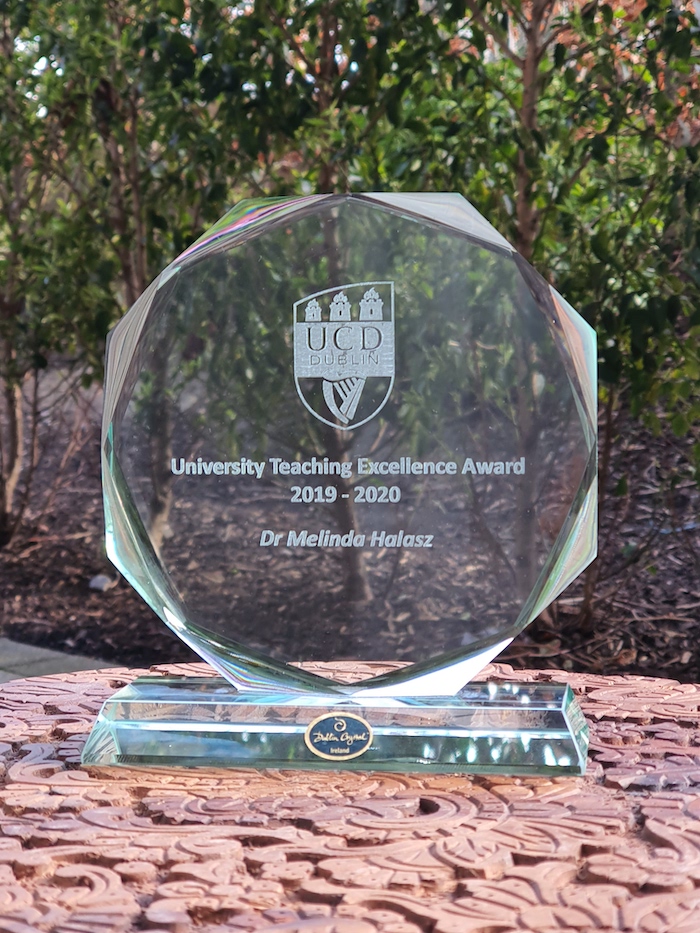 SBI Group Leader Dr. Melinda Halasz received the prestigious UCD Teaching & Learning Award this week in an online ceremony. Out of more than 3000 nominations, Dr. Halasz was one of the 13 UCD faculty to receive this honour, only three of which were from the UCD School of Medicine. This follows the college-level UCD Teaching & Learning Award Dr. Halasz received previously.
"Thank you to my students and colleagues for the nominations," Halasz said. "It is a privilege of working together with students and shaping their minds, and I feel truly honored to receive this University Teaching Excellence award. Thank you UCD Teaching & Learning for the lovely awards ceremony and congratulations to all the awardees!"
Dr. Halasz is a physician-scientist teaching Pathology in the UCD School of Medicine. She has been part of SBI since 2012, first as a postdoctoral scholar before becoming a group leader.
Walter Kolch, Director of SBI, had this to say on hearing the news: "Congratulations Melinda! We are proud to see the inspiration and insights you are providing to students being appreciated through such a prestigious award".
Among other things, Dr. Halasz developed a new postgraduate module in Precision Oncology with a goal to train researchers and health professionals to use an interdisciplinary approach and a patient-centred mindset in their work.
She is also chair of the Student EDI (Equality, Diversity and Inclusion) Group in the School of Medicine, taking a very active role in raising awareness of hidden racism and unconscious biases in medicine that can affect patient treatment and care.
According to a press release from UCD Teaching & Learning, students who nominated Dr. Halasz "highlighted her hard work and commitment to providing an exceptional teaching and learning experience".
For more information on this award and other related resources, please check out the UCD Teaching & Learning website.