fix bar
fix bar
fix bar
fix bar
fix bar
fix bar
What
Your body is amazing and can do some pretty super stuff! Talk to scientists to learn more about how your body works - your muscles and bones, your cells and your hormones! Follow Schrodinger and Rover to discover ways that science can help our bodies work even better!
Who
We went to visit scientists and engineers in CÚRAM in Galway to talk to them about how they learn about our bodies!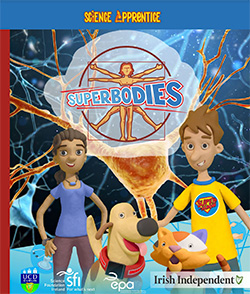 Coming Soon !

Interactive book
Collect your copy of Superbodies with the Irish Independent in SuperValu stores on the 3rd of November. Check back to this page soon to read the full book !