fix bar
fix bar
fix bar
fix bar
fix bar
fix bar
What
Look up! What goes on up in the air? The domain of birds, planes, bees, satellites and, well, air! Find out how they fly, what they do to help us and how we can keep the air clean and help them. Soar high with Izzy and Phil to learn about protecting our environment, flying planes and lots more!
Who
We went to visit an airfield to see some aircraft up close and talk to pilots as well as chatting with researchers who work on controlling pollution, studying bees and even aerosols in the air!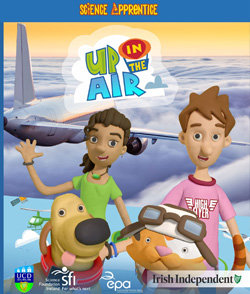 Coming Soon !

Interactive book
Collect your copy of Up in the air with the Irish Independent in SuperValu stores on the 10th of November.Check back to this page soon to read the full book !