News and Events - Academic Term 2018/2019

Visit us on Facebook and Twitter to keep up to date with the latest News & Events.
August | September | October | November
---
---
‌The renovation of Block A has nearly been completed and most SLCL staff members have moved into their new offices. Please find all staff members who have their office in A and their new office numbers below. Locations of colleagues from D who have temporarily moved to Roebuck Castle can also be found below. The SLCL School Office can now be found in Block A and can be entered through the first door on the right when entering the corridor. Read more ->
---
---
November
The one-day colloquium on French novelist Georges Perec will be held in the NUI (49 Merrion Square, Phelan Room) on Wednesday 5 December. The event marks the fortieth anniversary of the publication of Perec's major novel La Vie mode d'emploi; papers look both at his work and at his later influence. Find the programme here ->
---
NUI awards' 2018
Congratulations to the following current and former SLCL students on being awarded prizes at the annual NUI awards' ceremony on Tuesday 13 October in the Mansion House!
(Left to right) Alice Murphy (graduate of BCIT with French: French embassy prize to final-year students), Una Daly (2nd year French: Dr H H Stewart Literary prize), Niamh Murray (2nd year German: Dr H H Stewart Literary prize), Seán O'Keeffe (graduate BA Modern Languages, German & Spanish: Spanish embassy prize to final-year students).
Two other prizewinners not in the photo: Annabella Pinter (2nd year Italian: Dr H H Stewart Literary prize), Anna Kearney (graduate of BCIT with German: French medal for CEMS Masters Programme in International Management)
October
11th October 2018
diplomAT - Austrian Foreign Affairs. From the Viennese Congress to the Presidency of the EU-Council in 2018
The workshop "diplomAT - Austrian Foreign Affairs. From the Viennese Congress to the Presidency of the EU-Council in 2018" will take place on 22nd and 23rd November 2018 at University College Dublin (exact location TBC). The workshop is free of charge, highly interactive and you can win a trip to Vienna! Read more ->

---
TALK: Historical memory and the significance of exhuming Franco's body'
Adjunct Senior Lecturer in Spanish, Paddy Woodworth, will be giving a talk to students of the Hispanic Cultures and Societies module on Thursday, 18th October at 1pm in L-024 SUTH. The talk will question whether one can legitimately contrast the insistence of the Right on acknowledgement and repentance of terrorist crimes from ETA members, and the Right's own refusal to acknowledge or repent for an attempted coup d'etat, massive ideological cleansing, and 40 years of state terrorist crimes'
Find last year's talk by Paddy Woodworth HERE.
---
9th October 2018
TALK: Stories of women, in paint an on the page
'From A to B: Sibilla Aleramo and Anna Banti - Women's Autobiographical Writings in the Twentieth Century' by URSULA FANNING, Associate Professor of Italian Studies at the School of Languages, Cultures and Linguistics at University College Dublin.
The talk outlines how significant the autobiographical enterprise is to several women authors' attempts to find a unique voice and thereby construct a female subjectivity, drawing upon evidence spanning across the full breadth of the twentieth century.The paper will focus on two exponents of the autobiographical form, Sibilla Aleramo (particularly her seminal work, Una donna, of 1906 – this was a truly ground-breaking text, extraordinary in the context of women's writing tout court), and Anna Banti (especially her Artemisia, written in Florence and published in 1953). The importance of both writers' relationship with the art world will also be explored.
After the talk an aperitivo will be offered beneath the Loggia
Date: 11th October 2018
Time: 5.30pm

Location: COLONICA DI VILLA IL PALMERINO, Via del Palmerino 6 Firenze
Free admission - please reserve at associazione@palmerino.it, tel. 3398944725
---
2nd October 2018
TALK: The Global Turn: Post-War Modernism and its Regimes of Circulation

Date: Monday 8 October 2018, 6.00 pm
Location: The Red Room, Richview, University College Dublin
Speaker: Professor Tom Avermaete (Chair of the History and Theory of Urban Design, ETH Zürich)
Professor Avermaete is a leading figure in the field of architectural history, with particular research interests in urban design and modernism in non-Western contexts. Among his many publications number Another Modern: The Post-War Architecture of Candilis-Josic-Woods (2005), Colonial Modern (with Serhat Karakayali and Marion Von Osten, 2010), Structuralism Reloaded? (with Tomáš Valena and Georg Vrachliotis 2011), Chandigarh Casablanca (with Maristella Casciato, 2014), and Acculturating the Shopping Centre (with Janina Gosseye, 2018).
This talk is part of a series of talks co-organised by Dr Douglas Smith (SLCL) and Kathleen James-Chakraborty (School of Art History and Cultural Policy) and funded by the Humanities Institute.
---
Are you starting to think about what you might do after your degree? Maybe you already have a clear idea or maybe you are not so sure. To help you define, or refine, your approach to your future, UCD has developed a Career Mentoring Programme, managed by the UCD Career Development Centre and UCD Alumni Relations. Read more ->


---
1st October 2018
European Day of Languages 2018
German Society, in association with UCD German Studies, hosted a well-attended reception and info evening for all students of German on European Day of Languages: Wednesday 26 September. The gathering was treated to inspirational talks by 6 alumni and 3 final-year students of German. The alumni offered insights into their career paths and current areas of employment or further study and how their degree with German got them to where they are today, while the 3 final-year students of German back from their Erasmus year abroad in Germany and Austria made all the students want to sign up for Erasmus straightaway! Refreshments, snacks and free pizza were provided. Huge thanks to all speakers and the committee of German Soc!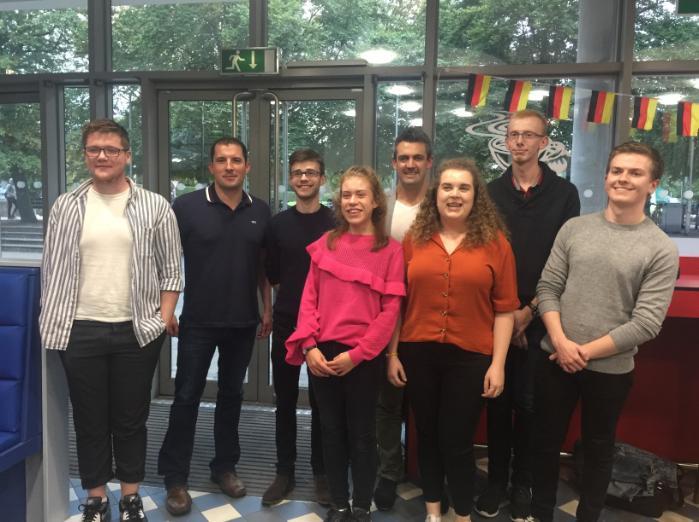 Speakers in photo: Ryan O'Regan, David Gordon, Eoin McEvoy, Cría Dowling, John Lee, Mairéad Barrett, Dominik Ratajczyk, Seán O'Keeffe
---
September
Annual conference of the German Studies Association of Ireland
UCD German will be hosting the annual conference of the Germans Studies Association of Ireland on 16th and 17th November 2018. This year's conference theme is "Conflict, Crisis and Culture" (Download the CfP HERE‌). The conference venue is the re-opened Goethe Institute on Merrion Square on Friday, 16th November and the Humanities Institute UCD on Saturday, 17th November. Programme to follow.
As part of the conference, the Germanistik in Ireland Yearbook 2018 (general editor Gillian Pye, with guest editors Marina Durnin and Barbara Siller, UCC) will be launched on the Friday evening.
---
Foundation for Italian Studies lecture and Research presentation
The UCD Foundation for Italian Studies is hosting two events, both have relevance beyond the discipline of Italian Studies.
Prof. Jenny Burns from the University of Warwick is giving a public lecture on Thursday evening, 20th September 2018 at 6.30pm in Theatre R Newman, and will give a research presentation on Friday afternoon, 21st Sepember 2018 at 2pm in J104 Newman.
All welcome!
---
August
On August 28th, the Italian Institute of Culture in collaboration with the UCD Foundation for Italian Studies will host a conversation between Booker prize winning novelist John Banville and Claudio Magris, author of the best-selling and critically-acclaimed Danubio (Danube) entitled 'Danube and other rivers'. Ursula Fanning, Associate Professor SLCL, will act as moderator.


---