Academic Term 2019/20
February
Dublin Dante Summer School (DDSS)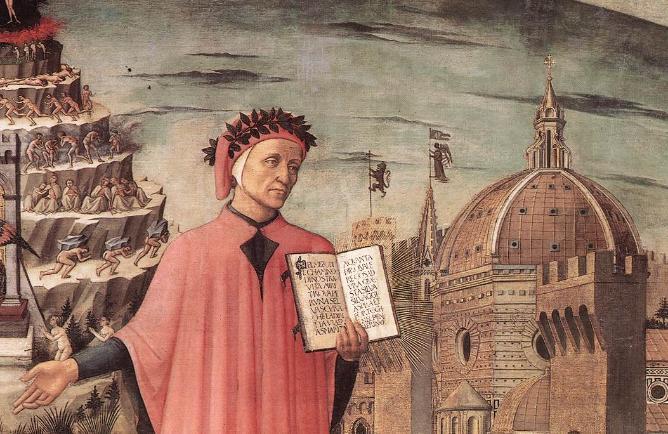 Second Year: 22-26 June 2020
Journeying between Eternities: Dante's Purgatorio

We are delighted to announce the launch of the second edition of the Dublin Dante Summer School (DDSS) which will run for another two years, June 2020 and June 2021. 2021 will then mark the anniversary of Dante's death with a special edition of our School.

Reading: Der andere Himmel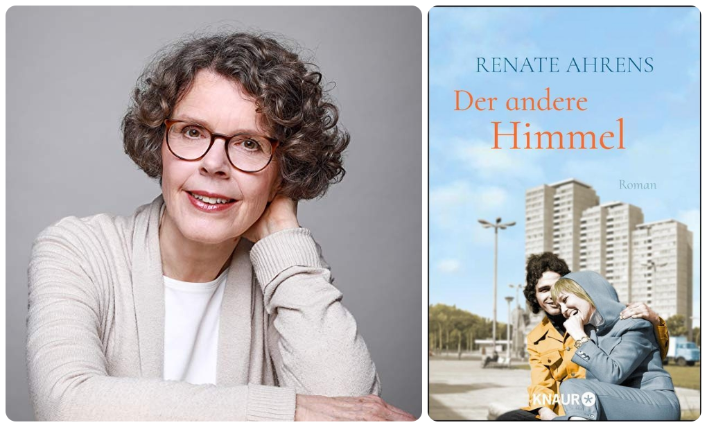 The German author Renate Ahrens, a frequent visitor to our School, will give a reading from her latest novel, Der andere Himmel, on Thursday 5 March at 10:00 in room D301, and the previous evening (Wednesday 4 March at 18:30) in the Goethe Institute. This is part of a DAAD funded Writer-in-Residence programme shared with NUIG and UL.
Language Project at SLCL
With the introduction of the Common European Framework of Reference for Languages (CEFR) Companion Volume , our school has embarked on a process to review and enhance our language modules for all stages (for French, Spanish, German, Italian and Portuguese). We aim at mapping all our modules on offer with the CEFR and its Companion with the specific focus on the integrated approach of all language skills. We have worked on all beginners levels (A0 to A1 CEFR) and reviewed the module descriptors with a specific focus on Learning Outcomes, Assessment and Feedback resulting in some technological enhancements in some modules.
Languages Connect
We are very pleased to announce that after months of negotiations involving SLCL and the Applied Languages Centre, Senior Management at UCD has agreed to commit to the aims and goals laid out in Ireland's Strategy for Foreign Languages in Education 2017-2026 (and accompanying Implementation Plan 2017-2022), known as "Languages Connect". This strategy aims to enable students (at primary, secondary and third level) to improve their foreign language competency and communicate more effectively. It acknowledges the current shortcomings and argues that a change of mindset is needed in the teaching and promotion of foreign languages so that we will no longer lag behind our European neighbours. A formal steering and working group has now been established within UCD to promote and expand language learning within UCD, while working towards the implementation plan set out in "Languages Connect".
UCDictionary
The UCDictionary Project aims to celebrate UCD as a multilingual community and empower students and staff to embrace and share their language skills whatever they may be.
November
Congratulations to all SLCL prizewinning students at the NUI Awards Ceremony at the Aviva Stadium on 26 Nov.
In the photo from left to right:
Sarah McEvoy (BA German and French, MA Modern Languages, PME), NUI Scholarship in Education awarded to the top student in the Professional Masters in Education
Anthony Hyland (BA German and Italian), NUI Dr H H Stewart Literary Scholarship in German and Commendation in Italian
Marianne Faust (BA German, French and Italian), 2nd prize Dr H H Stewart in French
Katie Donnelly (BA German and English), 2nd prize Dr H H Stewart in English
Not in photo
Megan O'Reilly (BCIT with Spanish), 2nd prize Dr H H Stewart in Spanish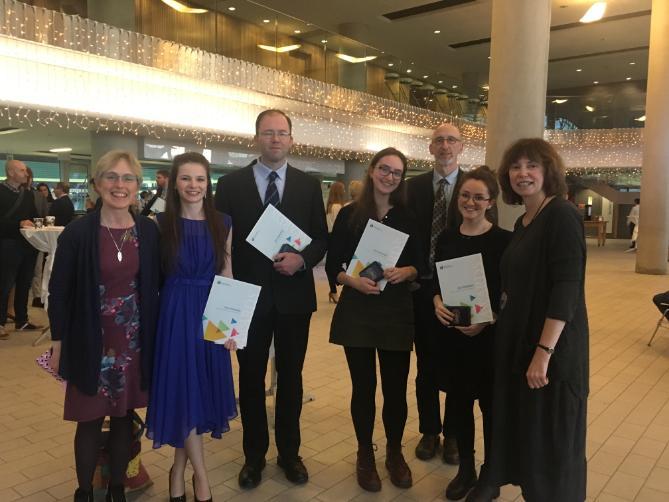 Congratulations to Cría Dowling who was awarded the GILBA medal (German-Irish Lawyers and Business Association) on 16 Oct. 2019 in TCD. This award goes to the top final-year student taking German with Economics or BCIT.
In the photo from left to right:
H E Deike Potzel (German Ambassador to Ireland)
Cría Dowling (B. Comm. Intl.)
Michael Hördt (Chair of GILBA)
Congratulations to the committee of German Society (auditor Julie Gannon, 2nd year BCIT) for the celebration of the 30th anniversary of the Fall of the Berlin Wall on 9 Nov. at a reception for all their members in the Global Lounge. The wall cake was baked by Emma Kelly (2nd year BA German and English)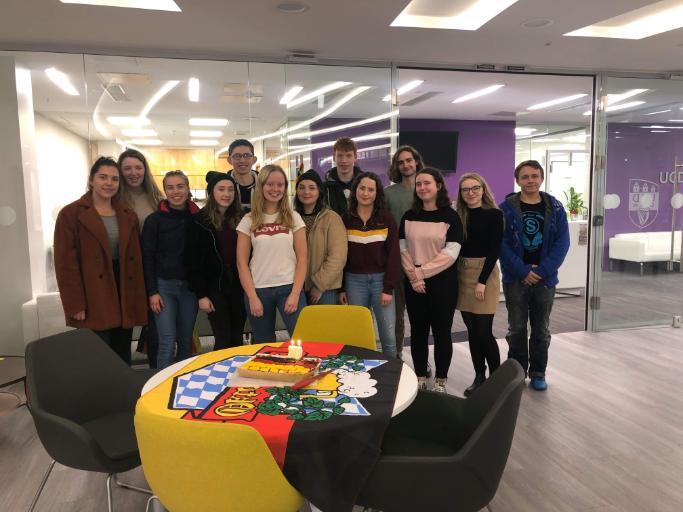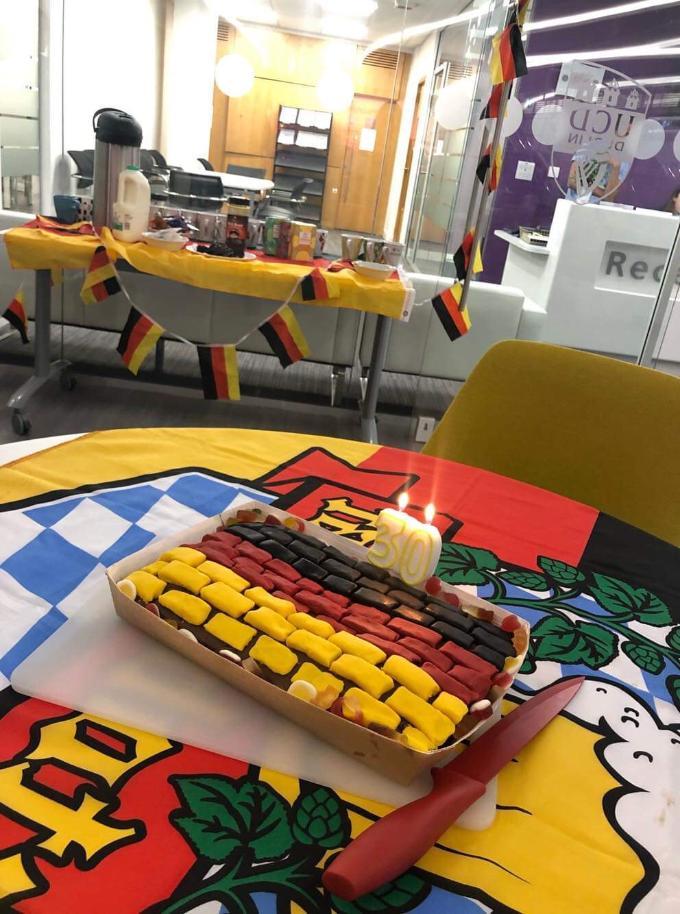 Talk: On the Ruins of Empire: Reading the Vestiges of the Colonial Past'
by Charles Forsdick
Friday 15 November, 2.00 pm, H.204, Humanities Institute

Charles Forsdick is a leading figure in French and Francophone Studies and on a broader level a dynamic advocate for the place of language studies in contemporary society. He has worked extensively on travel writing, postcolonial culture and 'dark heritage', among other topics. This talk derives from current research into the history and legacy of penal colonies in the former French empire (from Guyana to Vietnam, via New Caledonia).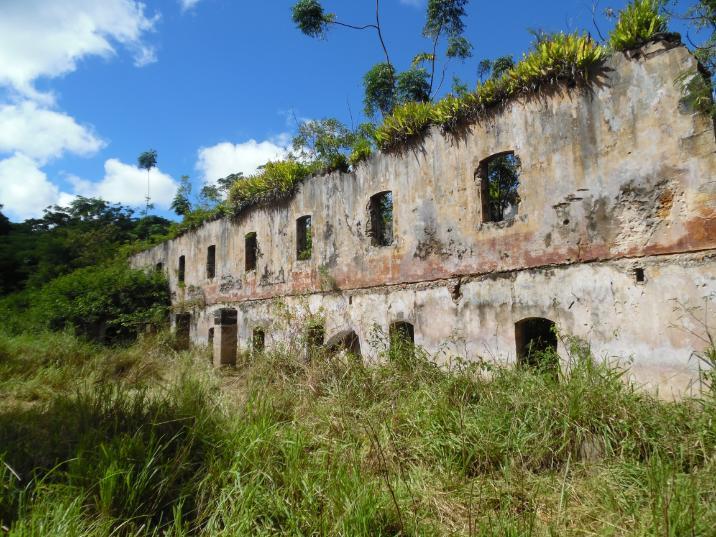 September
Research Series 2019-20, Semester 1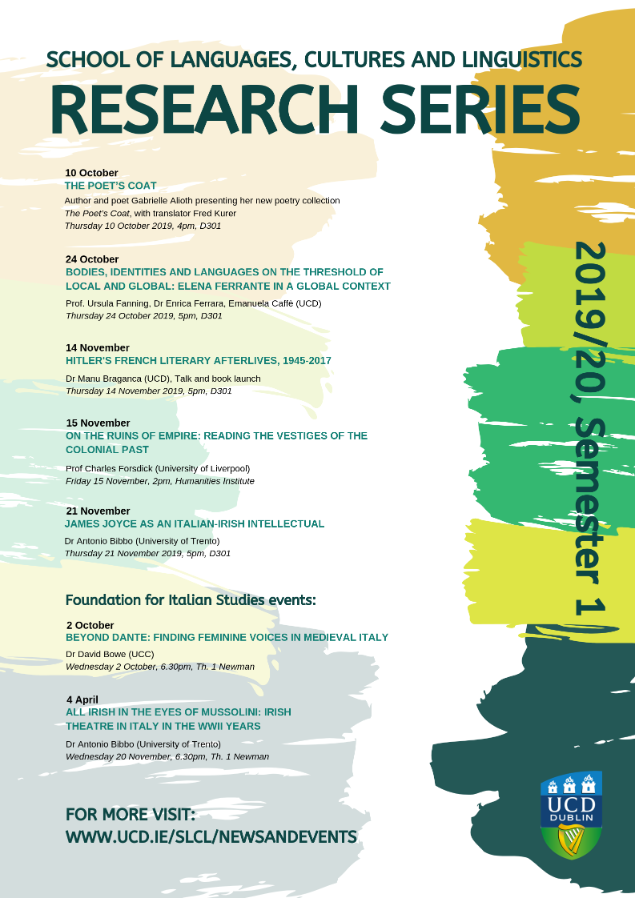 Dangerous Women
Our lecturer, Dr Pascale Baker, has been involved in the creative project 'Dangerous Women', an anthology, containing fifty pieces all answering the question "What does it mean to be a dangerous woman?".
Dr Baker has been involved in the writing of a piece co-authored with Catalina Jaramillo on 'Motorcycle Murderers: Female Assassins and Femmes Fatales'. Since the 22nd August a campaign to fund this book, which hosts poems, short stories, comics, essays, opinion pieces and more, written by a selection of amazing women from around the world. has been running.
For more information visit: https://unbound.com/books/dangerous-women/
TALK: Beyond Dante: Finding Feminine Voices in Medieval Italy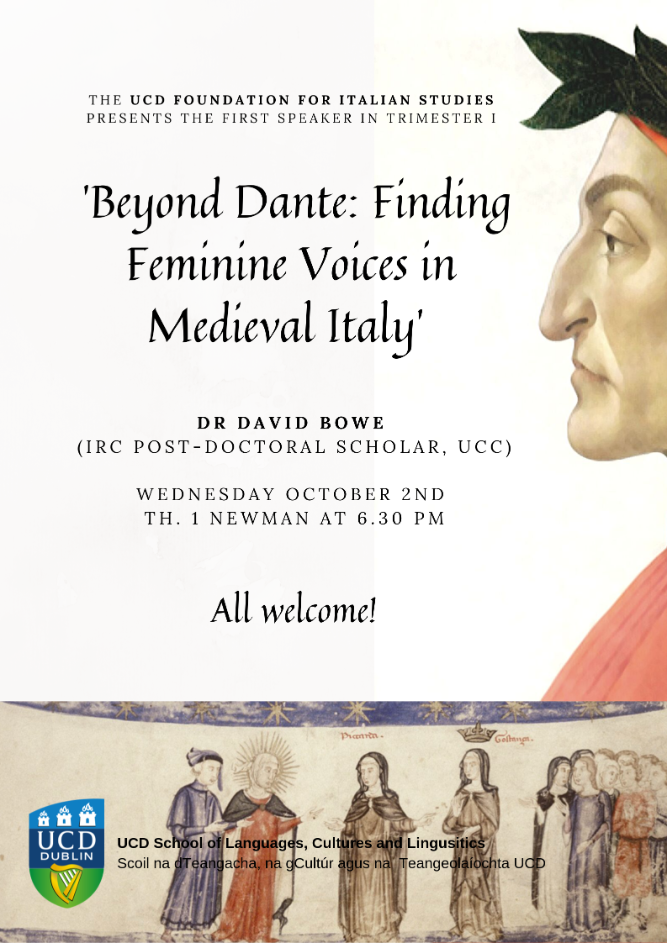 August
The UCD School of Languages and Cultures and the School of Irish, Celtic Studies and Folklore invite submissions for this conference based around bandits, ballads and outlaws in popular tradition and in folklore.
Date: 10th and 11th December 2019 at the National University of Ireland, Merrion Square, Dublin.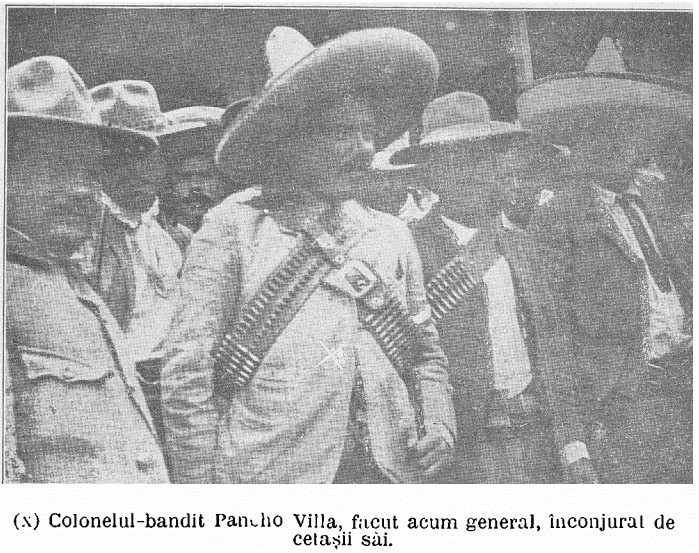 School of Languages, Cultures and Linguistics
University College Dublin Belfield, Dublin 4, Ireland. T:
+353 1 716 8302