Adult Safeguarding Legislation and Policy Rapid Realist Literature Review (2017)
This project is part of Sarah's research on safeguarding.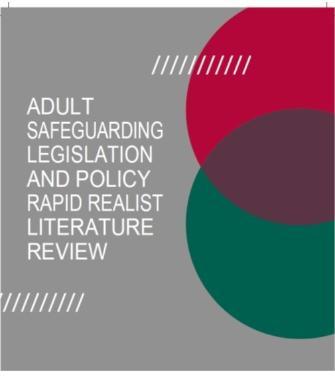 Principal Investigator
Co-Investigators:
Dr Marita O'Brien, Independent Researcher and Health Policy Analyst
Judy Walsh, Assistant Professor of Social Justice, School of Social Policy, Social Work and Social Justice, UCD
Ms Joanne Mc Inerney, Research Assistant
Professor Jim Campbell, School of Social Policy, Social Work and Social Justice, UCD
Naonori Kodate, Associate Profess of Social Policy, School of Social Policy, Social Work and Social Justice, UCD
Research Overview
Adult safeguarding is increasingly attracting policy and practice interest internationally. The investigation of the alleged abuse of vulnerable adults, including older people, has become an important feature of professional practice in Ireland. This implies important organisational challenges in ensuring that adult safeguarding responsibilities are delivered in ways that ensure positive outcomes for all stakeholders. In 2017, the Health Service Executive (HSE) tendered for a Rapid Realist Literature Review (RRR) in order to inform and underpin their review of Safeguarding Vulnerable Persons at Risk of Abuse - National Policy and Procedures (2014).
Methods
A RRR approach was employed to review the national and international literature relating to Adult Safeguarding Legislation, Policy and Practice in five jurisdictions; England, Scotland, Northern Ireland, Australia and Canada. This desk-based evaluation set out to address the question 'what works, for whom and in what circumstances?'
Findings
In all jurisdictions reviewed, key to striking a balance between protection and rights is the participation of the 'adult at risk' in the safeguarding process including access to independent advocacy to help promote autonomy. Central to all safeguarding policies is the need to make inter-agency working obligatory and to ensure policies and processes are in place to do so. Sustainable resources at the preventative and protection stage are imperative in addition to adequately resourced adult safeguarding teams. The introduction of legislation can offer jurisdictions the opportunity to consider the introduction of measurable outcomes and if appropriate, reprioritise service provision across the preventative-protection continuum.
Publications
Research Report: Download
Donnelly S; O'Brien M; Walsh J; Campbell J; McInerney J; Kodate N (2018) '111 Rapid Realist Review of Adult Safeguarding Legislation and Policy Internationally - Lessons for Ireland'. Age and Ageing 47 (suppl_5) :v13-v60. Doi: 10.1093/ageing/afy140.86
Contact the UCD School of Social Policy, Social Work and Social Justice
Hanna Sheehy-Skeffington Building, University College Dublin, Belfield, Dublin 4, Ireland. T:
+353 1 716 8198
| E:
sp-sw-sj@ucd.ie
|
Location Map