Shifting the Burden of Criminality: An Analysis of the Irish Sex Trade in the Context of Prostitution Law Reform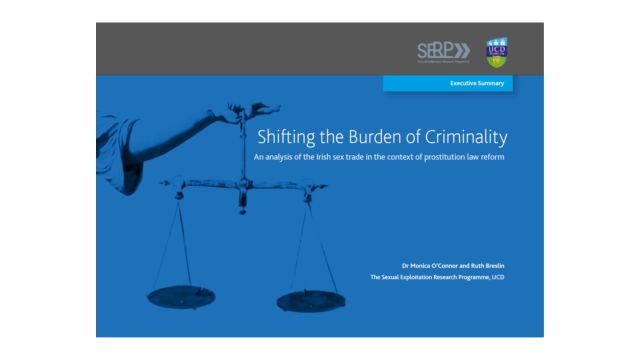 This research was funded by the Department of Justice and Equality under the Dormant Accounts Action Plan 2018, and was supported by the School of Social Policy, Social Work and Social Justice, UCD.
Principal Investigator:
Assoc. Prof. Marie Keenan, UCD School of Social Policy, Social Work and Social Justice, Dublin, Ireland
Other Investigators:
Ruth Breslin, Researcher, UCD School of Social Policy, Social Work and Social Justice, Dublin, Ireland
Dr Monica O'Connor, Senior Researcher, UCD School of Social Policy, Social Work and Social Justice, Dublin, Ireland
Download Full report here
Download Executive Summary here
Project Outline
This study provides empirical data on the commercial sex trade in Ireland in the context of the current laws on prostitution. The research was funded by the Department of Justice under the Dormant Accounts Action Plan 2018, with the intention of contributing to the evidence base to inform the 2020 review of Part 4 of the Criminal Law (Sexual Offences) Act, 2017.
This comprehensive study explores the profile of women in the Irish sex trade, their entry routes into prostitution, the demand of sex buyers, the nature and extent of organised criminality and violence within the trade, and criminal justice responses.
Research Aim
The overall aim of this study is to provide empirical data on the commercial sex trade in Ireland in the context of the current laws on prostitution.
Methods
This study is undertaken using a multi-methods approach, which drew on a range of different means of enquiry. A broad variety of sources is used to gather and analyse data, including:
Service user data from Ireland's two largest support providers5 for women in prostitution,6 which span four years 2015-2018
Qualitative semi-structured interviews with key frontline workers providing direct support to women in prostitution
Detailed case studies of women in prostitution compiled in collaboration with frontline service Ruhama
Service user records of 144 women currently in prostitution accessing the HSE's specialist Women's Health Service (WHS) in relation to their experiences of harm and violence in the sex trade and their interactions with An Garda Síochána
Qualitative semi-structured interviews with senior members of the GNPSB – the Garda National Protective Services Bureau
Ireland's largest online prostitution advertiser (Escort Ireland), with a focus on the profiles of those advertised and the reviews of women posted by sex buyers
Official recorded crime statistics for prostitution provided by the CSO (Central Statistics Office)
Press reporting of Garda actions against sex buyers and the organisation of prostitution
Press reporting of violent assaults against women in prostitution.
This study achieved full ethical approval from University College Dublin's rigorous Human Research Ethics Committee and from An Garda Síochána's Research Unit, and adhered to the highest ethical standards throughout.
Conclusions
The study starkly illustrates the multiple vulnerabilities and adversities facing women who are drawn into Ireland's sex trade. Women and girls take many different paths into prostitution, but coercion, deception, and difficult choices made in very constrained circumstances tend to litter these paths.
These experiences are compounded by buyers with no concern for the women's welfare or true circumstances – most are focused entirely on their own sexual gratification – which often leads to demands for risky acts and complaints or even aggression if their demands are not fulfilled.
The harms to women as a result are clear, but this does not give pause to those who organise prostitution and profit as a result – the levels of organisation within the trade identified by this study continue to give cause for grave concern. As do the levels of fear and violence experienced by women in prostitution and perpetrated by those who seek to dominate and control them to fulfil their own sexual or financial desires.
Based on the evidence presented here, it can only be concluded that this highly exploitative trade cannot be permitted to persist or expand. While no single piece of legislation can fully mitigate the negative consequences for women of an inherently harmful and frequently violent system, at just over three years old, the official statistics, reports from women, service providers and the GNPSB presented in this research indicate that the initial outcomes of the 2017 law reform are very promising.These indicate a major shift in the burden of criminality in the right direction – from the seller, who is now decriminalised, to the buyer who is criminalised for fuelling the demand for women that sustains the sex trade.
Whilst persons in prostitution can no longer be criminalised for soliciting or loitering, the statistics also clearly indicate a steep decline in women being prosecuted under brothel keeping laws. However, the need for clarity and guidance in relation to distinguishing between individuals simply living/seeing buyers in premises and those who are organising and profiting from the prostitution of others is recognised as a key area that needs continuing improvement.
There is no doubt that Ireland's sex trade causes untold misery and harm to very many of the women who are caught within it, many of whom were facing difficult andlenging life circumstances to begin with. Buyers are indiscriminate, displaying indifference and anger rather than concern when there are clear indicators of control, coercion and even trafficking in evidence, underpinning the importance of addressing demand to reduce the number of girls and women being pimped and trafficked for sexual exploitation.
Full and effective implementation of the Criminal Law (Sexual Offences) Act, 2017 by all relevant State bodies is therefore required as a matter of urgency to tackle all those responsible for sexual exploitation, and to minimise the serious harms and human rights breaches endemic to the sex trade as far as possible, building on some of the promising practices and interventions highlighted here.
Recommendations
The study makes a series of recommendations relating to:
Law enforcement and justice: including proactive operations against sex buyers to deter the demand that fuels the trade; continued education and training of An Garda Síochána to ensure that the culture change involved in shifting the burden of criminality from seller to buyer in prostitution is fully embedded across the police service; activities to enhance women's safety and confidence in reporting crimes committed against them; dedicated national guidelines for brothel raids that ensure that the negative impacts on women found on brothel premises are minimised as far as possible; enhanced resourcing of operations by An Garda Síochána targeting pimps, traffickers, the organisers and advertisers of prostitution; and action by State bodies to expunge all historical criminal records relating to convictions for selling sex;
Holistic support: including enhanced resourcing of specialist NGO and statutory services with a proven track record of providing holistic, trauma-informed responses to women in prostitution both locally and nationally; exiting prostitution to be recognised and resourced by the State as a statutory right – with a package of supports (similar to those currently provided to victims of trafficking in Ireland) that includes regularisation of their immigration status, access to housing, health services and social protection, access to justice and the provision of education, training and employment opportunities;
Public awareness: including targeted awareness raising efforts to ensure that women in prostitution know that they are decriminalised and the protections they can expect; enhanced awareness campaigns so that buyers know that their actions are illegal; specific education programmes for young people on the harms of prostitution and sexual exploitation; and broader public awareness strategies to enhance public understanding of and support for the law, ensuring its wider normative and declarative effects;
Monitoring and research: ncluding continued monitoring of the implementation of the 2017 Act, enhanced by improvements in the way prostitution offences are recorded by An Garda Síochána and in the official statistics; further research in a number of key areas to strengthen the evidence base in this area in Ireland, including a more in-depth exploration of the mental health impacts of prostitution; an examination of racialised systems of exploitation within the Irish sex trade, the patterns, tactics and recruitment methods used in drawing migrant women into the trade, and how these can be tackled from a prevention perspective; and an exploration of women's entrapment within prostitution and the complexities of the exiting process, including documenting a model of good practice in the provision of exiting supports.
Launch Webinar
Hosted by UCD's Geary Institute for Public Policy, this webinar on Nov 19th 2020 is an opportunity to get informed about Ireland's sex trade, and will provide important insights into the impacts of recent legislative reform in this area. This original research shines a light on the experiences of women in prostitution in Ireland, the involvement of organised criminality in the operation of the sex trade, and policing and legislative responses. The research study is an essential new addition to the evidence base in this field and deconstructs many of the popular misrepresentations regarding the impacts of Ireland's prostitution legislation on those caught up in this exploitative trade.
Speakers: Dr Monica O'Connor and Ruth Breslin (co-authors), SERP
Chair: Associate Professor Ursula Barry, Gender Studies, School of Social Policy, Social Work and Social Justice, UCD
Respondent: Dr Marie Keenan, Associate Professor, School of Social Policy, Social Work and Social Justice, UCD
Link to Launch Event here
Contact the UCD School of Social Policy, Social Work and Social Justice
Hanna Sheehy-Skeffington Building, University College Dublin, Belfield, Dublin 4, Ireland. T:
+353 1 716 8198
| E:
sp-sw-sj@ucd.ie
|
Location Map