Mitchell Scholars in Equality Studies
The Mitchell Scholarship Program, named to honor former US Senator George Mitchell's pivotal contribution to the Northern Ireland peace process, is designed to introduce and connect generations of future American leaders to the island of Ireland, while recognizing and fostering intellectual achievement, leadership, and a commitment to community and public service.

Up to twelve Mitchell Scholars between the ages of 18 and 30 are chosen annually for one year of postgraduate study in any discipline offered by institutions of higher learning in Ireland and Northern Ireland. The School has hosted several scholars in recent years. Some of those individuals are profiled here:
Mona Lotfipour (2012-13)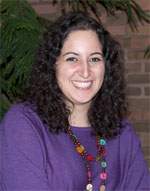 Mona Lotfipour immigrated to the United States with her family from Iran at the age of 7. As an undergraduate at Franklin & Marshall College, she majored in Biochemistry and Molecular Biology, Health and Human Rights. She founded the F&M Volunteer Income Tax Assistance Program, in which 75 students helped more than 500 low-income families realize more than $800,000 in tax credits. After interning at a primary health clinic in South Africa, she saw the need for preventive health efforts to address the AIDS pandemic. She launched the ONE Goal, a program that uses soccer as a tool for public health education. The initiative matched American volunteers with South African facilitators to reach more than 300 South African youth. Interested in achieving both sustainable peace and improved health care in rural communities, she hopes to combine an academic background in conflict resolution with a medical degree in order to work with local leaders in conflict regions to create sustainable health clinics.
Melissa Boteach (2006-07)
A native of Reisterstown, Maryland, Melissa obtained Bachelor's degrees in Government and Spanish from University of Maryland-College Park. She established the Fair Trade Advocacy Club at College Park to educate students about the inequities of the global trading system and to promote certified fair trade products at the university. She studied in Argentina and wrote her senior thesis on social movements related to unemployment in South America. Melissa has also been a leader in the Jewish Student Union and Jewish Excel Team. She spent two months in basic training with the Israeli military and participated in a dialogue between Jewish and Muslim women. She received the prestigious national Harry S. Truman Scholarship as well as the Oppenheimer Scholarship awarded to a University of Maryland student committed to public service. Melissa is now working as a Policy Associate for Equal Opportunity and Social Justice at the Jewish Council for Public Affairs in Washington, D.C.
Monica Bell (2005-06)
Monica graduated from Furman University with a bachelor's degree magna cum laude in Political Science and Sociology. Monica is a 2002 Truman Scholar and was honored with Furman's American Legion Medal. After graduating from college, Monica joined the staff of the South Carolina Democratic Party. After her Mitchell year at the School of Social Justice, Monica attended Yale Law School, where she was President of Yale Law Women and an editor of the Yale Law Journal. She took a leave from Yale to serve as the South Carolina political director of Senator John Edwards' presidential campaign. After graduating from law school, Monica clerked for U.S. District Judge Cameron McGowan Currie and then joined the Legal Aid Society of the District of Columbia as a Liman Fellow focusing on policy and appellate advocacy. As of August 2011, Monica has re-entered the academy as a Ph.D. student in Sociology and Social Policy at Harvard. Monica plans to use the Ph.D. to build on her previous on-the-ground and educational experiences by pursuing a career in research and teaching on the interaction between poverty and civil legal and administrative structures.
Jasmin Weaver (2004-05)
Jasmin graduated with BA degrees in Philosophy and Environmental Planning from the University of Washington, where she was president of Associated Students, representing the 35,000 UW students before the administration and in the community. She was founding chair of Affordable Tuition Now!, a grassroots organization dedicated to removing financial barriers to higher education, and was the plaintiff in a successful lawsuit that blocked an illegal tuition increase and returned $1.5 million to UW students. She has lobbied state legislators on higher education issues and served as an intern to a Washington state senator. After college, she served as the Commissioner for the Washington Commission for National and Community Service. Following the completion of her degree in Equality Studies she spent the summer of 2005 working in the Seattle Mayor's office. Jasmin graduated in June 2006 with a Masters in Public Policy from Harvard's Kennedy School of Government. She is currently working in the Harvard Budget Office as a Harvard Management Fellow.