College Long Service Awards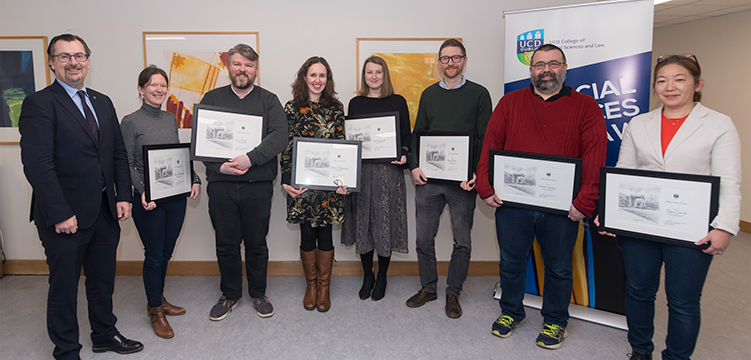 Pictured at the College Award ceremony Professor Colin Scott, College Principal, Professor Jessica Bramham, Mr Danny Moran, Dr Muireann Ni Raghallaigh, Ms Ewa Szczupak, Mr James Mahon, Mr Dominic Shellard and Yuko Conlon.
The College of Social Sciences held a special award ceremony to celebrate and recognise colleagues working within the College who commenced employment in the University in 2008. The awards were presented by the Principal of the College of Social Sciences and Law, Professor Colin Scott who congratulated the service and dedication of colleagues over the last ten years.
The full list of recipients of 10-year Long Service Awards from the College of Social Sciences and Law are:
Dr Tim Crowley- UCD School of Philosophy
Mr Danny Moran- UCD School of Psychology
Mr James Mahon- UCD School of Politics and International Relations
Dr Brendan Rooney- UCD School of Psychology
Professor Jessica Bramham- UCD School of Psychology
Professor Ronald Davies- UCD School of Economics
Ms Ewa Szczupak- UCD Sutherland School of Law
Ms Helena McCann- UCD School of Philosophy
Mr Dominic Shellard- UCD School of Social Policy, Social Work and Social Justice
Ms Yuko Conlon- UCD School of Politics and International Relations
Ms Katarzyna Glosnicka- UCD School of Politics and International Relations
Dr Sean L'Estrange- UCD School of Sociology
Professor Eoin Carolan- UCD Sutherland School of Law
Dr Muireann Ni Raghallaigh- UCD School of Social Policy, Social Work and Social Justice